For this week's U.S. Geography lesson we are focusing on Wisconsin. One of the fun facts we like to discuss for each state is the specific state food. This has been such a fun part for each state. Since we were studying Wisconsin we felt the need to sample several types of cheese. :) Plus I knew my husband would be able to hook us up with several samplings from the market. SCORE! It is probably important that I mention no one in our family is lactose intolerant...:) If we were this little cheese party would have been no bueno! Although, we may want to consider salad for dinner... I gave each of the kids five index cards, numbered 1-5. After tasting each type of cheese everyone had the chance to give a "cheese rating". We wrote down each rating and then at the end discussed the results. I was expecting just a few types of cheese but when we arrived at the market my husband brought out 10 different types! Like many times before, he is used to me calling and requesting random things. Does anyone remember the cow heart lesson last year?
See here
:)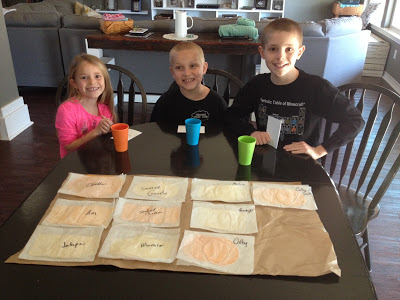 Let the games begin!!! We had the following samples: Cheddar, American, Jalapeno, Smoked Gouda, Smoked Cheddar, Muenster, Asiago, Gruyere, Colby, and Colby Jack.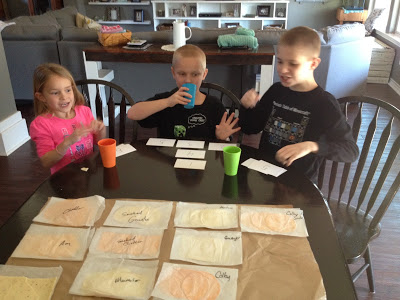 At this point things were going well. We had only sampled the basics... Cheddar and American.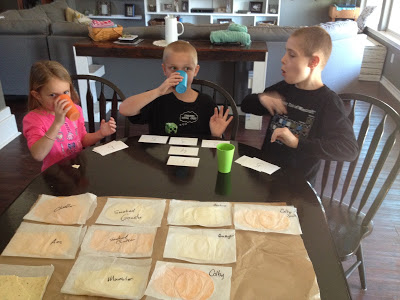 This was the aftermath of sampling the very spicy jalapeno cheese. This is by far one of my favorites but left the kids feeling a bit caliente! They all agreed that it tasted great at first but then "gotcha ya in the back of the throat".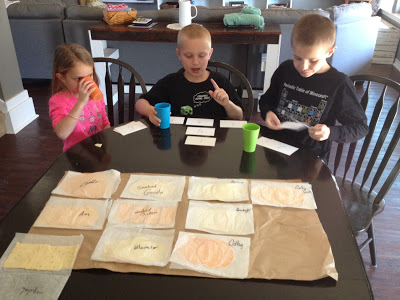 We resorted to water and crackers to "cleanse our pallets" in between cheeses.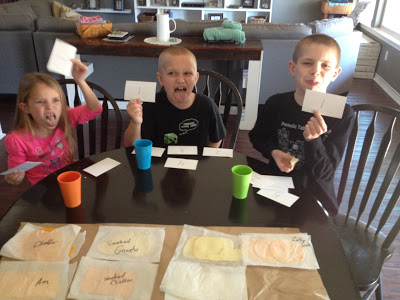 Then it all went downhill. This was the aftermath of the Asiago. The Gruyere had everyone running to the trashcan due to taste and smell...pee-yew! We agreed that just because it is "fancy" doesn't mean it is good!
Overall, Cheddar, Colby Jack, and Muenster were the top favs. What can I say, we are not sophisticated cheese eaters! :)
**We use
Road Trip U.S.A.
for our Geography Curriculum. It is fantastic and easy to use with multiple ages.