Today was our 109th day of school for the 2015-2016 school year. We started in late July because we really enjoy taking a week off every six weeks. BUT we definitely hit the mid year blues this week. Now with it being Thursday afternoon, I can see the light. We made it through and we still love one another! :) This time of year is so hard. We have so many days under our belt but so many still to come. We are in the middle of curriculum so nothing is new and exciting. It is very easy to forget the fun activities and focus only on daily grind. So today I decided to live on the wild side. Ready? I cancelled every one's spelling lesson... I will let that soak in... SPELLING LESSONS CANCELLED!!!!! Now seriously, this may not seem like a big deal but it made my kids' day. Just knowing they had one less subject to tackle brought a fresh feeling into the classroom. Since everyone was working diligently I decided to really get wild and head to the park to finish our studies. :) We packed up our books, ran through McDonald's (I have eaten salads all week and boy did fried food taste good), and headed to the park. We played the music really loud in the car and danced the whole way. Let me just say my kids were like, "THIS. IS. THE. BEST. DAY. EVER!" :) The weather was beautiful and we stayed for 2 hours. Tomorrow we have CO-OP with our friends and fabulous teachers and then a calm and relaxing weekend. We made it! Here are a few pictures from our week.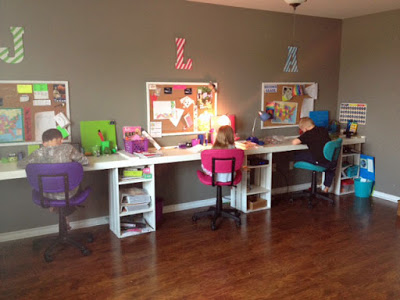 Working hard! :)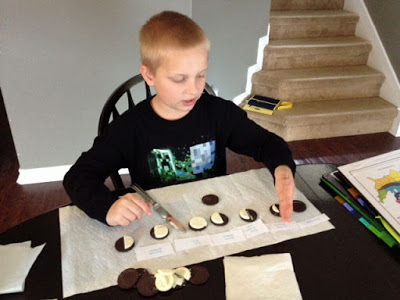 Learning the different phases of the moon using Oreos - so fun!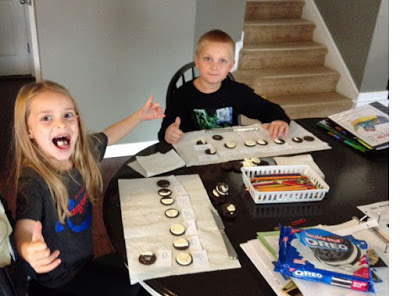 Eating her different phases of the moon...:)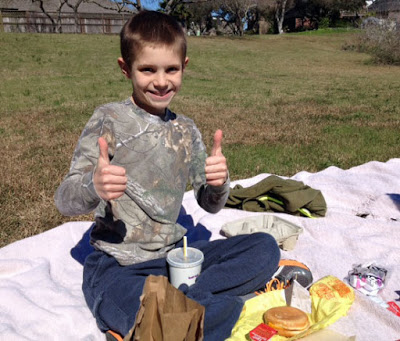 Ending the week at the park!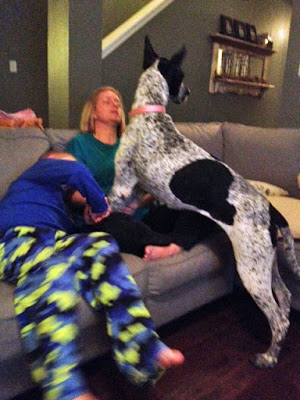 Probably the worst picture of me, EVER but I had to include it. My daughter took this picture the other night when our Great Dane, Dixie, insisted that I hold her. MY. WORD.
I love to see what other homeschool families have going on through their week. I thought it would be fun to show you a peek of our week. It was nothing earth shattering or overly exciting but it included lots of learning and loving one another (even when we thought we weren't going to make it another minute). :)