I received my fourth Stitch Fix shipment earlier this week. I have to say, the boxes are getting better each time. I really like three of the items I received this time but now I am trying to decide if I really want to pay for them. I have learned through this whole Stitch Fix experience that I have a warped view of what clothing should cost. Since I am a huge Old Navy and Target shopper, the thought of paying more than $24.99 for a top makes me sweat a bit. I selected "as low as possible" for my pricing range with Stitch Fix and I still have sticker shock with each item. Most of the items have averaged the $55-$65 range - for a top! I could easily get three tops at Target for that price... I know, I need to readjust my mindset. I am working on it. :)
So, let's see what was in this shipment.
1. Black and gray striped dress. This was a huge no - no. I looked like a Kardashian sister from the back. My curves do not need horizontal stripes because those stripes become waves! This will be the first thing I put back in the box.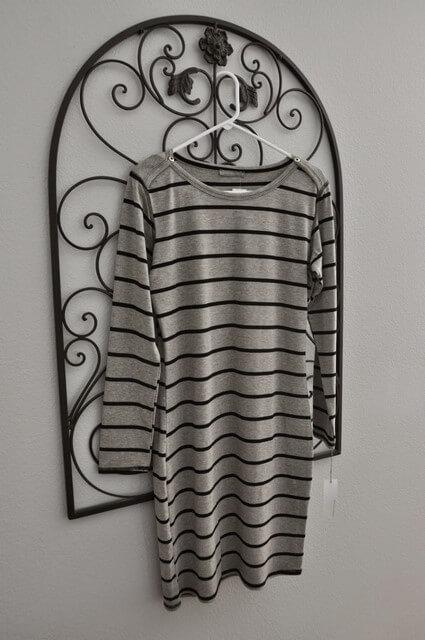 2. Black, shear top with embroidery. This top is pretty but it hit my hips at a weird length. I don't love it enough to pay the price.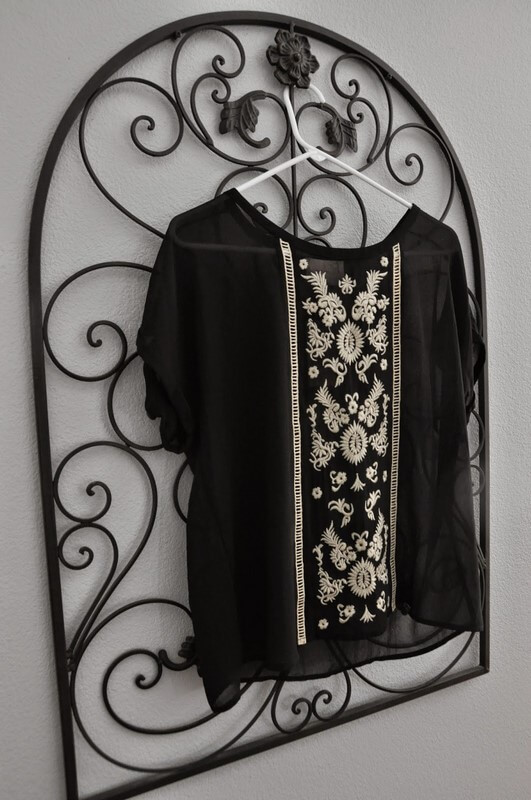 3. Gray sweater. This item I really like. I love sweaters and I especially like the detail on this one. It is so soft and I find the design very different. I like how the fold at the top ends up being the pockets on the bottom. I already have a gray sweater that I have owned for a couple of years. I bought when I was forced to buy a swimsuit. The sweater made me feel a little better about the shock and horror of the swimsuit. Since this one is gray I am having a hard time justifying it but I really think it is a keeper.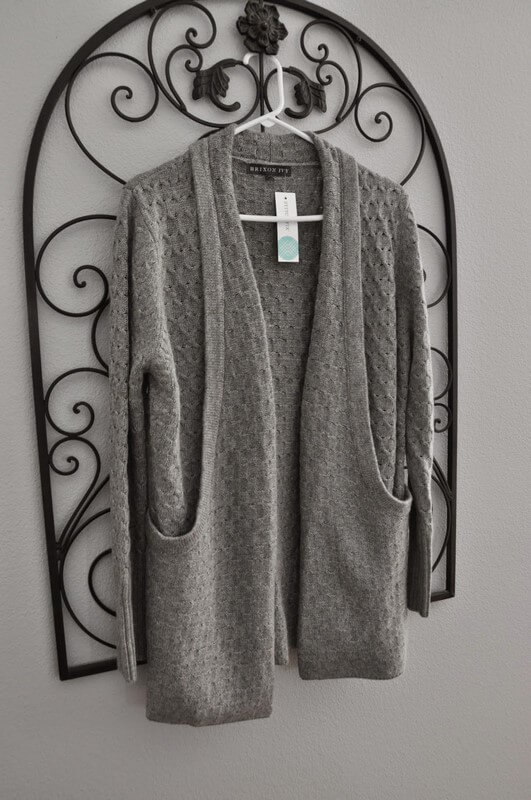 4. Navy top with embroidery and button detail. I was surprised I received two tops that seemed so similar. I thought this one seemed to mirror the black top I showed earlier in the post. However, I really like the detail in this top. The back has three gold buttons that are so cute. Since, my hair is so short (too short but that is another story) the buttons will show.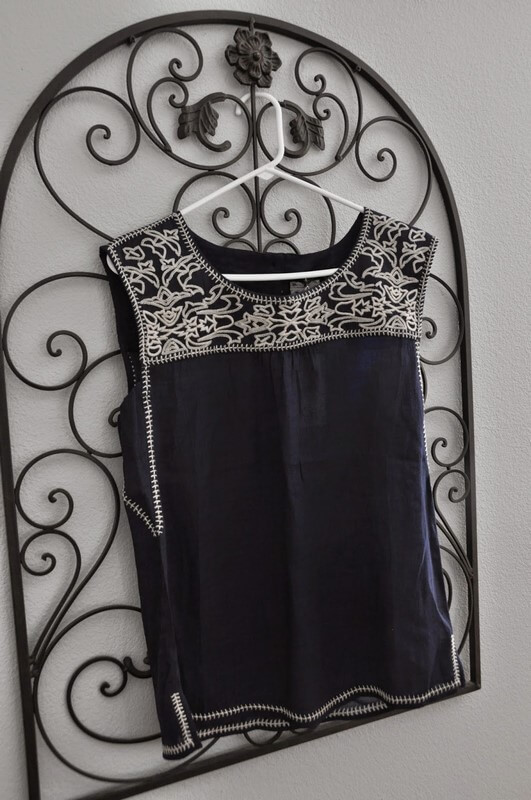 Here is an up close picture of the back buttons. So cute!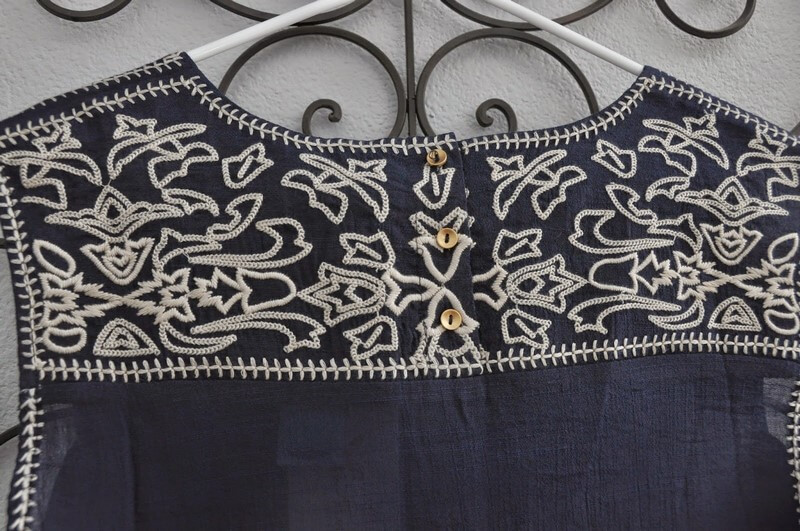 5. Orange and white blouse. This is my favorite piece out of the entire shipment. I love everything about it. The sleeves are especially cute. It is hard to show them in the pictures but the cut at the bottom of the sleeve is something I have never had before. I will most definitely keep this top!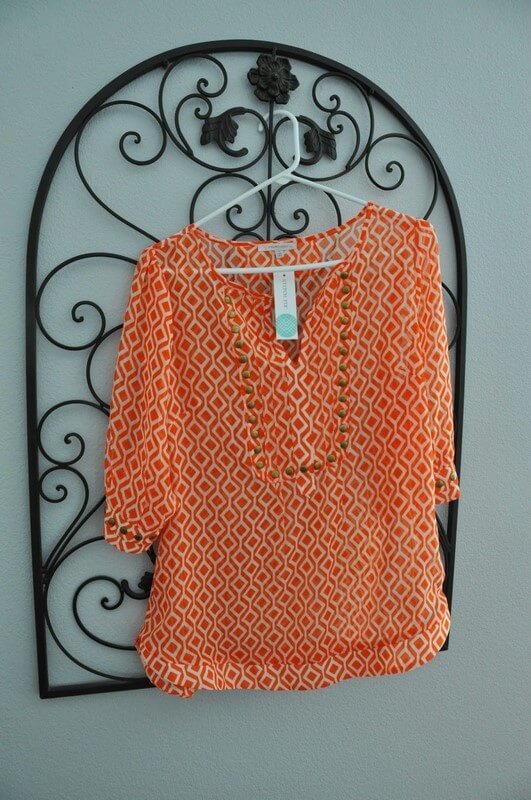 This is the back of the sleeve where the elbow will show.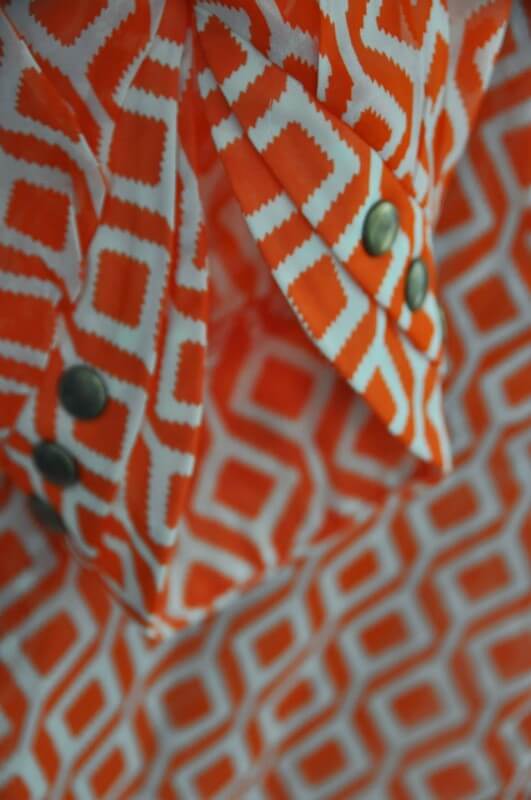 Overall this has been my best shipment to date. Of course, since I was thinking of canceling! :) The prices still seem really high but the items are things I typically don't see in stores around town. I think maybe I just need to relax and learn to spend a little more money on my clothes....maybe $40 per top... :) That statement makes me hyperventilate a little...I need help!