Eeeeee!!!! This project has made me so excited, my own coffee bar!!! My husband and I both love coffee. He typically has a cup in the morning before work and I like my coffee in the afternoon. I use it as my "
Me Time
" . It motivates me to get everything done so I can sit and drink a cup of coffee in the afternoon. We have been working on updating our kitchen. One of the things we added was a full coffee bar. We love it! The kids will also enjoy using it for hot chocolate and apple cider when our weather cools off. Where we live, cold weather lasts a whole whopping 6 weeks in January and February! We drink a lot of hot chocolate and apple cider during those 6 weeks. :) We have finally finished the bar so I will let you take a peek.

We have dark grey walls in our home with white twin. That is why we chose a turquoise paint color for the antique window frame. My husband removed the glass from the frame, spray painted and distressed the word, then added chicken wire to the back of the frame (for texture).
We added "glass" knobs to the bottom of the frame to hold coffee mugs. I found this tiny cake plate at Hobby Lobby. It is perfect for muffins or biscotti. The chalk board was my great grandmother's which she used in school. The white candy dish is my mother's. I love it because I remember it always being stocked with chocolate or mints when I was a child.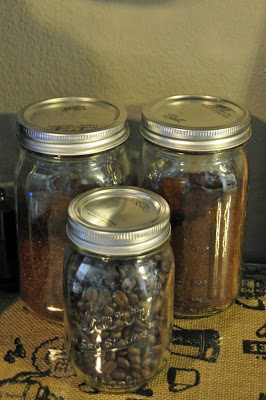 The mason jars for coffee storage was my husband's idea. It is hard to tell in the picture, but the mason jars are really large. They were given to him by one of his older customers at the meat market (she loves to can vegetables, etc.).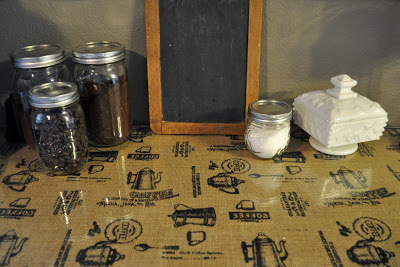 In this picture, you can really see the detail of the burlap table cover. It is old fashion coffee pots, really cute. We had a piece of glass cut to fit perfectly over the burlap and table.
In each section of the frame, we displayed old family items. This is a hankie made by my great grandmother.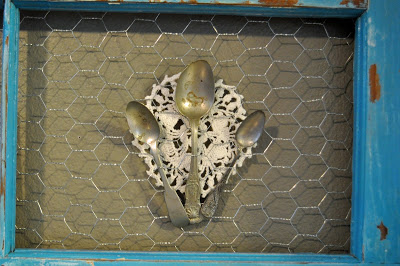 These are spoons which were brought over from Scotland by my great-great grandparents when they moved to the United States. The doily was also made by my great grandmother.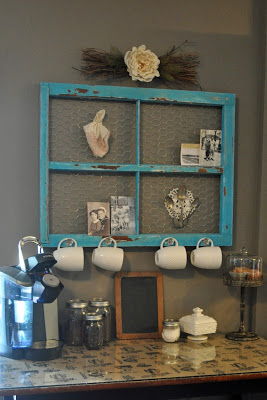 I love, love, love this addition to our kitchen!!!
The best part...the coffee is always fresh!
Elizabeth