About a month ago, I posted the ever so awesome Pumpkin Spice Granola. It is so good!!! I have made it twice since I found the original recipe and I decided to share it with our Thanksgiving guests. Due to my husband's schedule we never go out of town for Thanksgiving. It is understood by both sides of our family that the five of us stay home and everyone is welcome to join us. Since we established this tradition our Thanksgiving has become my favorite holiday. Typically both sides of the family come over plus friends or pretty much anyone who needs a place to go. Have I mentioned before that my husband and I love feeding people? I think I have.. maybe one of twice. :) We love it - it is our love language! I always try to have a special treat for our family and friends to take home (along with their leftovers). I have baked homemade bread, made hot chocolate mixes in mason jars, holiday potpourri bags
(see here)
, and this year will add the granola.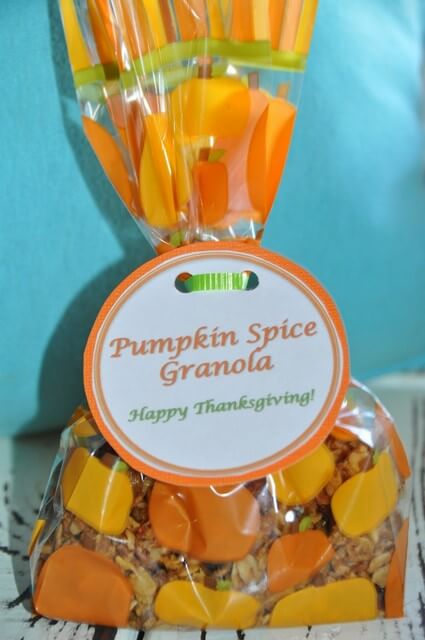 Here is the original site for the recipe,
Pumpkin Spice Granola recipe
as originally posted by
Joyful Healthy Eats
. The first time I made the granola I stored it in mason jars
(see here)
, however, this time I thought the bags would be cute. I placed the granola into festive bags, then added a label and ribbon. If you would like to use the label feel free to print below.
Here's to wishing everyone a wonderful Thanksgiving filled with love, family, friends, and FOOD! :)