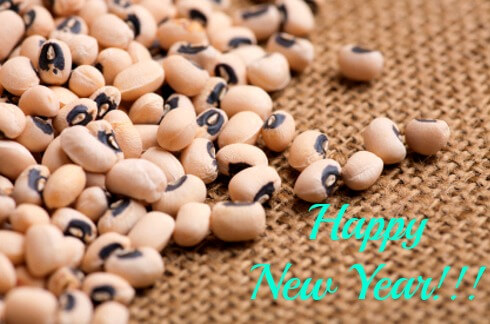 There was one major tradition that I was introduced to when I started dating my husband. His Dad firmly believes that eating black eyed peas on New Year's Day brings prosperity. With having a third generation family business, prosperity is a serious matter. It doesn't matter who you are, how long you have been in the family, or if you even like the way they taste - if you are in the family you eat black eyed peas. PERIOD I remember when we first started dating, I could hardly swallow one black eyed pea. Then as the years went by I would act like a five year while trying to swallow one spoonful with a huge glass of tea. Nineteen years later, I can honestly say that I have grown to like these little peas...beans...peas - it's confusing, man! I do think the name has a lot to do with the distaste; black eyed beans, black spotted beans, white and black beans all sound so much better. So now, I look forward to this deep-rooted, Southern tradition. Our kids have joined in since they were on solid food. However, their opinion are split on the issue. They all agree to eat them because of the tradition of prosperity, however, their love for the pea/bean varies. Our oldest will choke down one and only one with a huge glass of tea. Then he will grimace and shake as if he just made a huge sacrifice for our family business. Our middle child will eat and eat and eat multiple bowls of black eyed peas... only for the rest of us to suffer in misery later... Our youngest will gladly eat her bowl while proudly proclaiming how they are "full of protein" (she is all but 5).
I could give you an actual recipe but that isn't how I make them. This is what I do:
I will remind my husband at least six times to please bring home a bag of black eyed peas and 1lb. of bacon. Just like my turkey at Thanksgiving, I cross my fingers and pray that my black eyed peas do not get sold to someone else. :) Once the beans make it safely to our home, I soak them over night in cool water. Then on New Year's morning while I am enjoying my coffee, I chop and fry the pound of bacon. From here I chop an onion, green bell pepper, and red bell pepper. After removing most of the bacon grease, I add the onion and peppers to the bacon and cook for a few minutes. I drain and rinse the beans and place them in the pot with the rest of the goodness. Next comes water and chicken broth.**I use low sodium chicken broth in place of water for most recipes. It really gives everything a better taste. The water/chicken broth must cover the beans. Next it is time for seasoning. I typically just use salt and pepper along with a small amount of Cajun spices. I bring everything to a boil and then simmer for a 2,3,4 hours. **Cornbread and hot sauce must be present at the table. :)
It is not a recipe, it is love, and the hopes of prosperity for our family business. Too much??? On New Year's Day this is how we rank what is important: God
Family
Black Eyed Peas - Amen!!! Here's to 2016!!!