After my mom had the kids over for their summer sleepover
(here)
, I asked if I could borrow her camera to download her pictures. We always joke with my mom because she never deletes pictures from her memory card (as in NEVER). I decided to look through some of the older pictures of my kids. I unexpectedly came across pictures of my grandmother (my mom's mother) at my mom's house when she visited in 2009. The pictures actually took my breath away and brought tears to my eyes. I didn't get to see her very often because we lived several states away. However, she always sent me letters, newspaper clippings, and care packages. I also spoke to her on the phone and visited every summer when I was a bit older. I just LOVED every thing about her. She had the most amazing stories, gave great back rubs, and read books with so much energy and expression.
After she passed away in 2010, it saddened me that my own kids would really never know her. Both of my sons met her but they were so young I don't think they will remember being with her. My cousins and their children lived in the same town as my grandmother. They have countless pictures of their kids in her lap, reading books, at her house, etc. Well now I have that too, the pictures include my grandma and my sons. She is reading books, playing the piano, have conversations with them - all the things I remember her doing with me.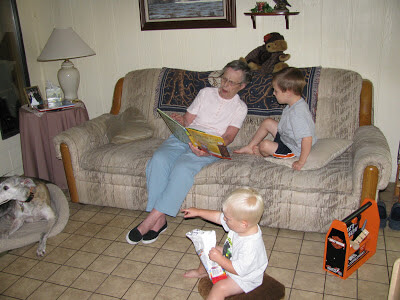 What I would give to have her read another story to my kids (and to me).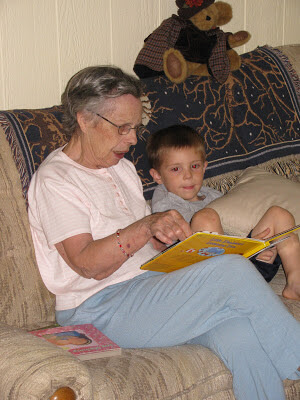 I can hear the expression in her voice. She would point out every detail in a picture or story.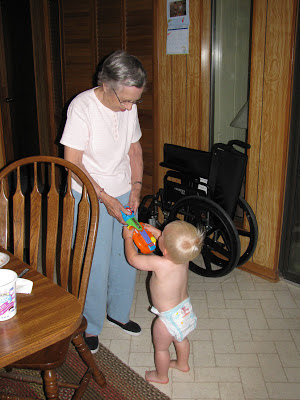 This picture was fun to look at. I had forgotten how chunky our youngest son was at this age.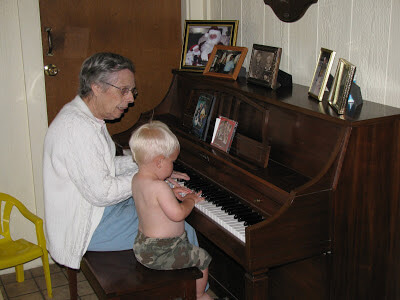 This picture melts my heart. Since then, the piano has been moved from my parents' house to my house. The kids "play" it all the time.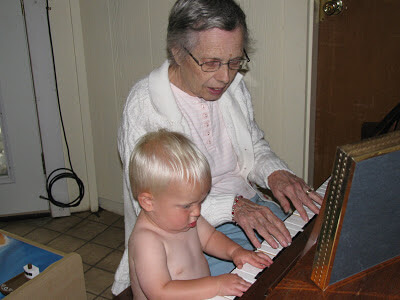 Oh my word, it doesn't get any better than this. :)
I guess I will no longer raze my mom about keeping old pictures on her memory card. These pictures were an expected and priceless surprise. Thanks Mom!
Elizabeth