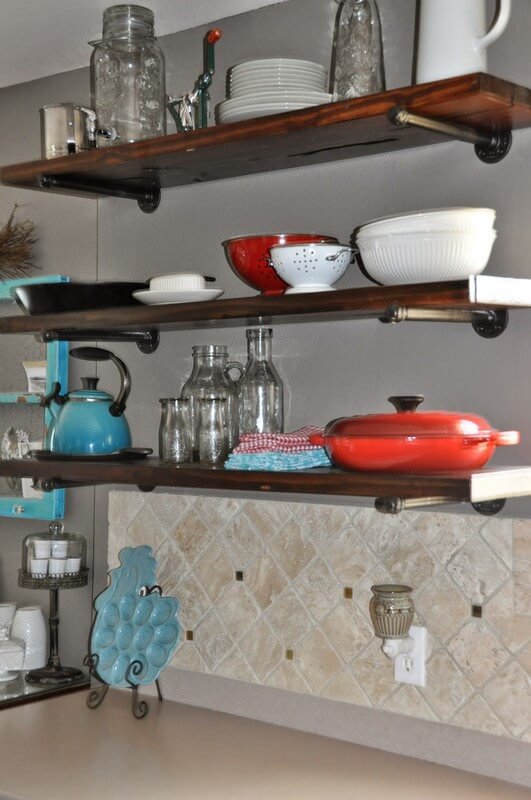 About a year ago, we did a major DIY overhaul on our kitchen (
see here
). We painted cabinets, removed cabinet panels and added glass, changed light fixtures, painted the walls and added a new curtain (
see here
). We also took out the plastic kiddie table and made a coffee bar (one of our all time favorite projects -
see here
). About a month or two ago we decided the kitchen needed just a bit more DIY-ing (not really a word). My husband loves all of the shelving ideas I have pinned from Pinterest and HGTV. We really like the vintage farmhouse look and slowly I think we are achieving it.
He suggested we remove one of the cabinets. Halt! Back-up!!! I had already agreed to the glass paneled doors in two of the cabinets. That alone took a lot of cleaning out and arranging. Now he wanted to remove a cabinet!!! I wasn't so sure about this idea. Where was I going to put my junk? Where would I hide things when my door bell rang unexpectedly? I told him I would remain open to the idea, HOWEVER, he had to keep the old cabinet in case I didn't like the outcome.
Once again, I cleaned out, threw away, and rearranged the kitchen. Did you know that a kitchen cabinet is only held up by a few screws? I was shocked! All of the weight from my precious dishes was being supported by a few small screws. We weren't sure what we were going to find behind the cabinet. Luckily, the wall was textured and just need to be repainted.
My husband wanted to support the new shelves with iron brackets. He couldn't find exactly what he wanted so he and his brother tried to make them. He had made them before for the shelf in our bedroom (
see here
. Things weren't going so well this time so he decided to use pipe fittings and floor flanges.
He stained 2x12 pieces of pinewood using all of the left over stain we already had in the garage. He just mixed the different colors until he had the shade he wanted. After the stain dried, he rubbed each piece of wood with several coats of tung oil. This really helped in achieving the aged look. Also, the oil made the wood super smooth which helps with dusting. He attached each shelf to the wall using 2 - 12x3/4 pipe fittings and 2 circular floor flanges.
In the end, I am very happy with the outcome and he was able to hang the old cabinet in the garage for storage. :)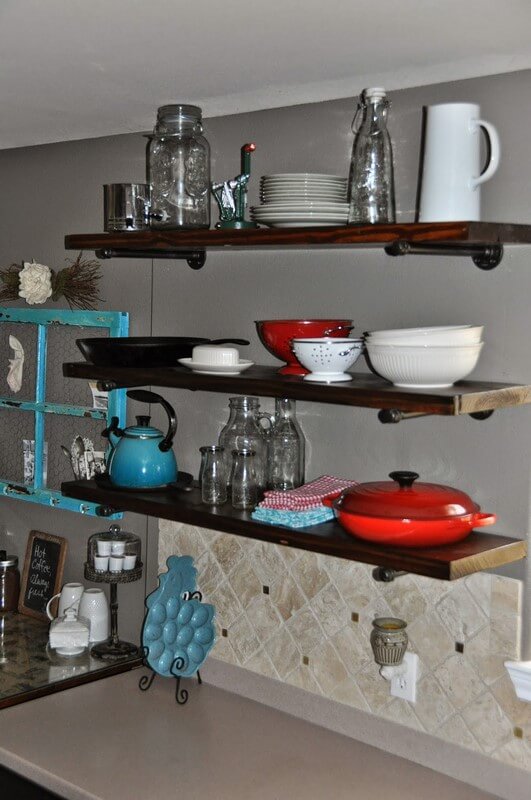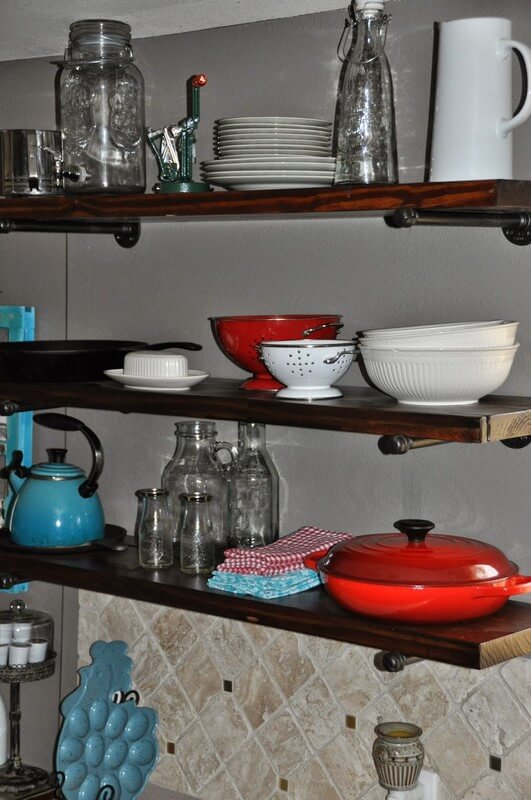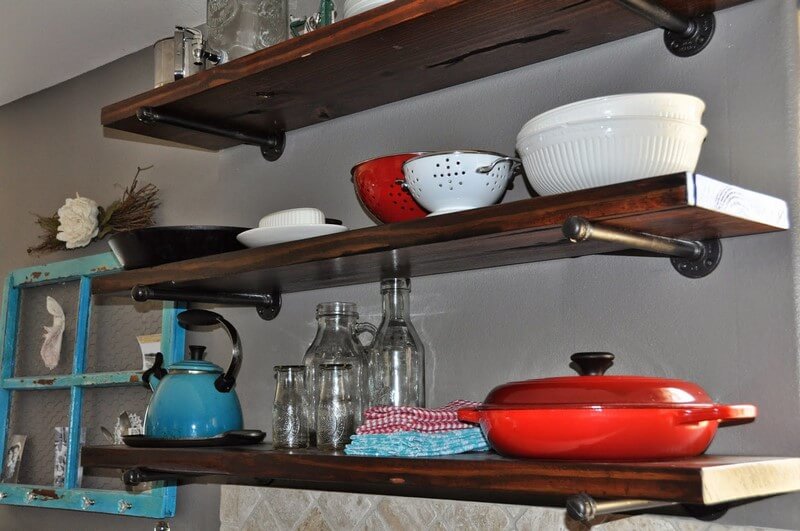 This picture gives a good view of the pipe fittings and flanges.