My family recently went through a major life change. It was one of those changes that you really never see coming until it is literally knocking on your door. For the past couple of years, my husband and I discussed how nice it would be if I could resign from teaching and stay home. However, we built our family on a two income budget and we just never had the guts to cut that income in half. Earlier this school year, my son was enduring some serious struggles at school. A very long and stressful story later, we decided that we didn't have a choice. I needed to resign and begin homeschooling. The decision was literally a leap of faith. We had no idea if it would work, if we would have the money for our bills, etc. We did believe that God would provide and see our family through this very tough season.
Seven months later, we are doing better financially then we did with two incomes (crazy, I know) It is a true blessing from God. We always joke that we could have taken the "plunge" so much sooner. I have had many friends and family members ask just how did we go from two incomes to one. I will be the first to tell you that there is nothing fancy behind this budget plan. It is simple and to the point. Most of it has been inspired by Dave Ramsey
(here)
and close friends/family who also live on one income.
Before we could put our monthly household budget into action we had to take care of some debt.
We cut the day care bill completely. We have three children (one in public school and two in full time daycare). Since I was going to homeschool our oldest child the other two did not need to be in daycare - everyone stays home with me.
We refinanced our home for a great interest rate.
We were very fortunate to have an opportunity that allowed us to pay off my car.
We called our phone/TV/Internet company and negotiated our monthly payment. We did the same with our electric company.
We pretty much cut all eating out and fast food runs. We have slowly added those back in but it is very limited.
We decided to implement the "envelope system". We pay our bills with checks or online banking. All other expenses are paid for in cash ONLY. If there isn't any cash for an item we don't purchase it that month. I will admit this was a bit of an adjustment for the kids. They didn't quite understand why we couldn't run through a drive-thru or go out for ice cream just because we had the urge.
We also surround ourselves with friends and family that respect and honor our budget. What I mean is, we no longer "keep up with the Joneses". We are happy with the blessings we have been given. We are no longer concerned with what everyone else has.
At the beginning of each month, I go to the bank and withdraw cash for certain items. Those items are highlighted in blue on the household budget sheet below. Then I go home and sort the appropriate money into envelopes and label the envelopes. Now everything is allotted and ready for the month. I also list the purchases for each category on the outside of the envelope. That way I know exactly where the money went. For example, if I allot $50 for clothing then I want to know exactly how I spent that $50. My husband and I also allot "blow money". That is a certain amount set aside for each of us to spend as we like throughout the month. Some months there isn't any "blow money". That is always our last expense calculated because it is not a necessity. I keep all envelopes, cash and the household budget sheet in a binder. It is essential to keep everything together and organized.
BINDER

Household Budget / Management Binder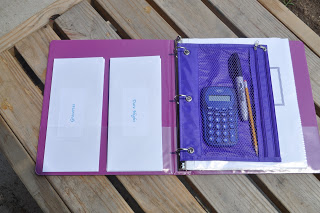 labeled envelopes kept in pocket of inside cover
Sharpie, calculator, pencil kept in zipper pouch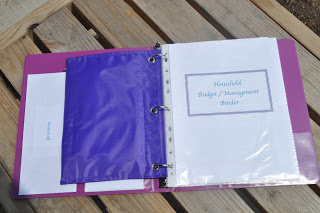 inside cover sheet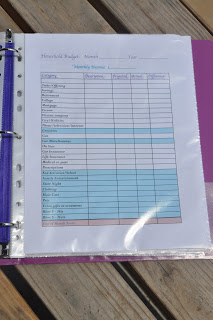 Household Budget Sheet
*Remember, everything highlighted in blue is allotted cash for envelopes.
PRINTABLES
* I used Avery EcoFriendly White Shipping Labels (which use Avery Template 5163).
* After clicking (click here to print), you will be sent to a Google Doc page. From there select "file", then select "download". The image will download to your computer and then you can print from there.
Binder Cover Page
Household Budget Sheet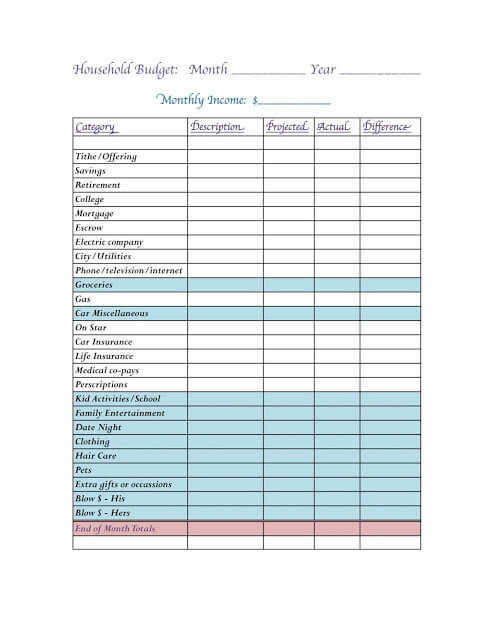 Envelope Labels Sheet 1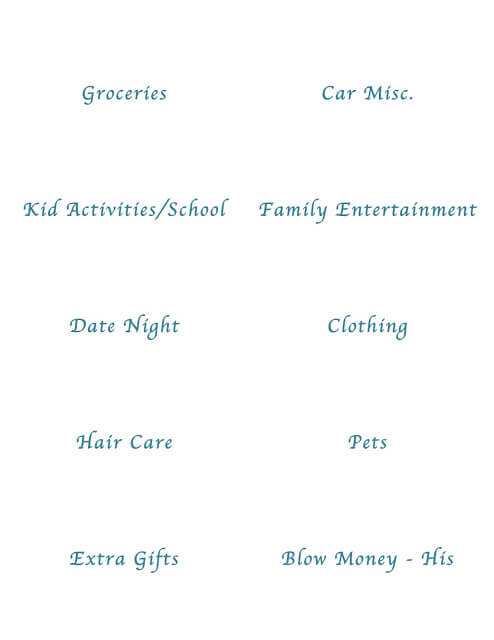 Envelope Labels Sheet 2
(I included several blank labels for any extra expenses or other categories that you may need)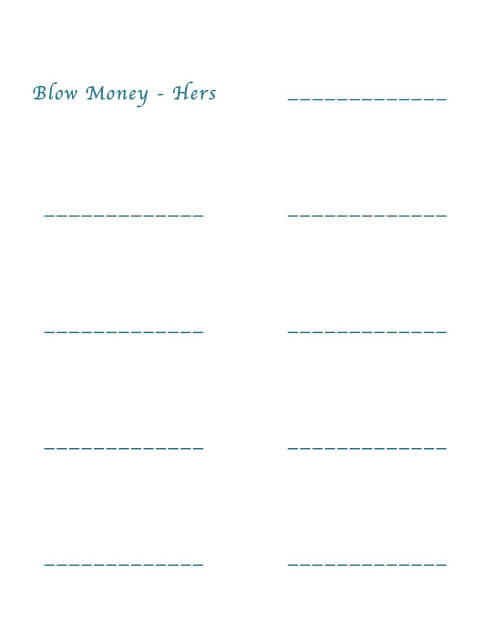 I keep everything organized in page protectors and in one binder. I also keep a calculator, pencil, and Sharpie in a zipper pouch at the front of the binder. It is also helpful to keep all home management items in the binder, as well (i.e. birthday/anniversary dates, home project ideas, chore charts, etc.). Currently, I have all of my pack lists for our upcoming vacation located in the back of the binder. Over the weekend, I will divide and organize our money envelopes for vacation spending. This has made it so easy to keep track of everything.
Like I said, our budget is as simple as it gets. However, it is my hope that someone will benefit from the ideas above and the free printables below.
Elizabeth