We are continuing our living room update. The latest project has been shelving for picture frames. We have a huge wall in our living room. I think it is hard to decorate really large walls - it is almost too much space. Last week, we installed our
Living Room Credenza
which did a great job of taking up space. But we felt the sides of the wall appeared empty. My husband built shelves using poplar board and wood trim. He painted them white and mounted them on the left side (looking at the wall) of the credenza. I love them!!! The white really pops against the gray walls.
He took two pieces of poplar board and attached them together in an "L" shape or right angle. This allowed for one side to go against the wall and the other become the shelf. Then he added the wood trim to the front to act as decoration. Each shelf is 4 feet long.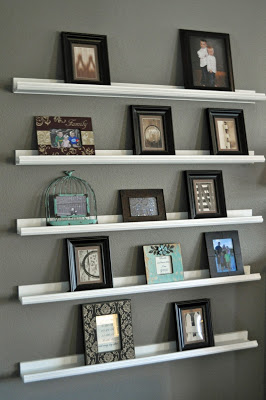 There is a larger space between the bottom two shelves to allow for larger frames.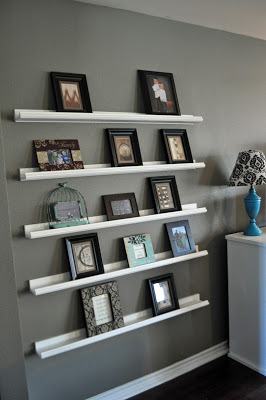 I really like the look of the dark gray walls, white shelves and baseboards, and dark floors.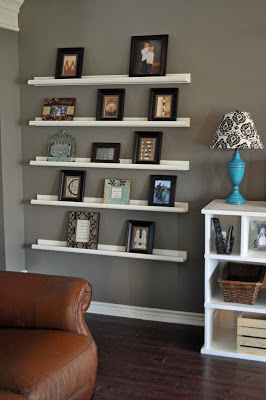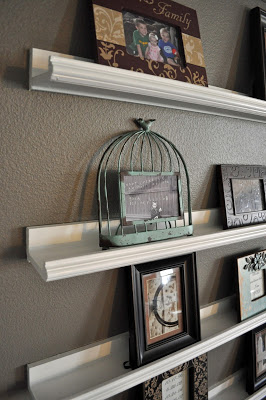 This shows the "L" or right angle of the poplar boards plus the trim on the front. Using liquid nails and a nail gun, he attached the shelves to the wall. We were very careful to make sure the shelves were level and evenly spaced.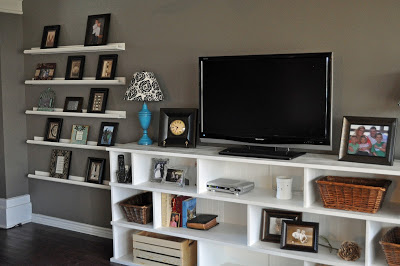 The total amount for fives shelves was $57!!! I love a great project, especially when the price is low and it requires minimal trips to Lowes! :)
I will reveal the right side of the credenza next week when I finish that project. :)
Elizabeth