It is unusually quiet in my house right now. The kids are upstairs in the loft watching a movie. It is really cold and rainy outside and I am enjoying my favorite sweater and a cup of coffee. I need to remember this moment when life resumes to normal. I am sure that will be in less than 15 minutes. :)
With my beautiful moment of peace and quiet, I decided to get on Pinterest. I noticed I had 22 notifications! What? It has only been a few days since I have been on Pinterest. I clicked on the drop down box and realized the 22 notifications were 22 new re-pins of our beloved coffee bar. This sends the total to 522 re-pins!!! Now I realize in "blog land" that is not much but in my world that is A LOT of re-pins. What a huge compliment!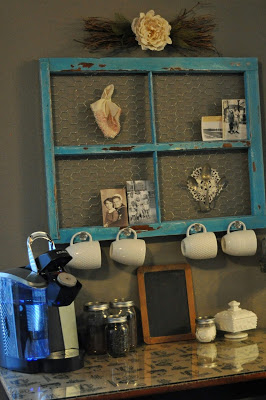 It has become one of my favorite parts of the kitchen. My husband and I use it constantly. The kids also enjoy it for making hot chocolate or apple cider. Since the original post
(DIY Coffee Bar)
, I have added black wooden crates to the bottom shelf. These have come in handy for storing my purse, tote bag, items that need to be returned to various stores, etc. I love the coffee bar and I love that 522 people like it, too! :)
***While I was writing this post and enjoying the rain and my cup of coffee, I also enjoyed the company of our puppy, Lucy. She is about 5 months old and has quite the personality.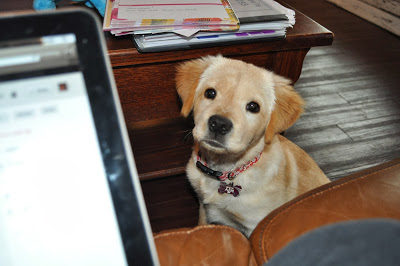 Such a sweet face...
Now, back to my cup of coffee. Come to think of it, I should probably run upstairs and check on the kids. It has been too quiet for way too long.... :)