Wow! It has been awhile since I have posted anything. It seems like it has been one thing after another and all of those things are keeping me from blogging. :) We have eight weeks of our school year left so I have been busy evaluating this year's curriculum and researching for next year. Researching curriculum is one of my favorite things...no, really...I am serious. You may think that with homeschooling our curriculum would be very limited. Nothing. Could. Be. Farther. From. The. Truth. There are so, so, so, sooooooooooo many options. Hopefully in the next couple of weeks I will be able to write a couple of posts regarding what we used this year. For today, however, we will talk about the brain. :) We are currently using the
Answers in Genesis - The Human Body book
. The kids have loved this book. Just to give you a small example, my second grader hit his jaw and loudly stated that he may have "cracked his mandible". It was to funny but at least he is applying the vocabulary! I found a super fun craft
(from Ellen McHenry's Basement)
on Pinterest called a "brain hat". This was a quick craft, just perfect for reviewing the parts of the brain.
Click here for the link
.

I really liked how each colored area also included fun drawings. This visual really helped the kids remember which part of the brain completed various functions.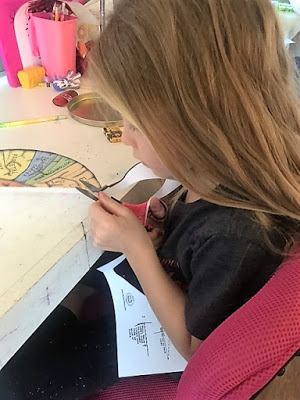 The cutting was very simple. I think it would be fine for kids age 5 and up.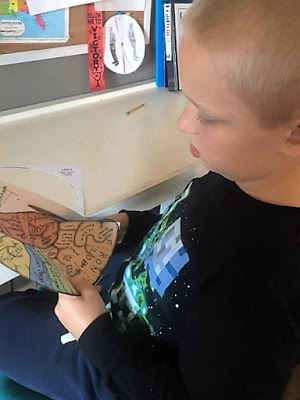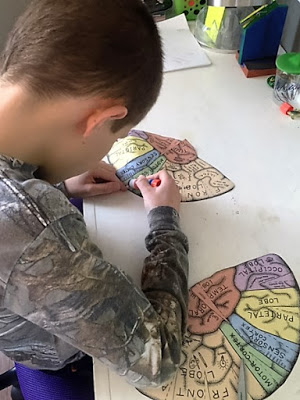 After cutting the specific lines, we formed two shallow "bowls" which were actually each hemisphere of the brain. Then we attached the hemispheres with tape.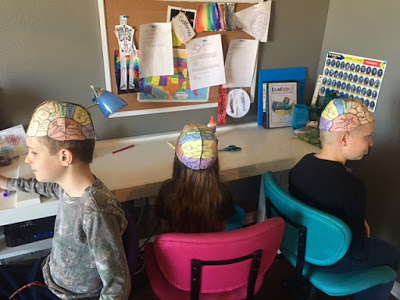 Here is a left side, back, and right side view of the brain hats.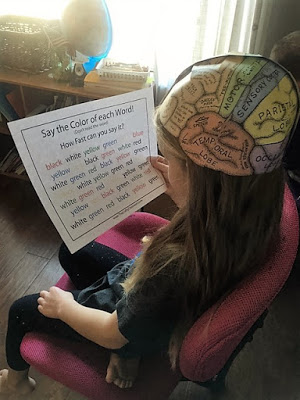 We also had fun with this list of words. You have to say the colors you see as fast as you can. It is harder than it looks, since the words are "color words" but not typed in the correct color. If that made any sense at all...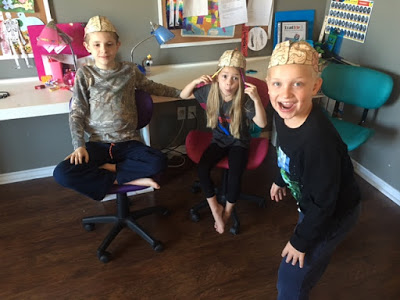 I will leave you with this gem of a picture. It pretty much says it all!!! :)
Happy Monday!