Well, we have been here almost 1 month. It feels completely like home. Just about every box is unpacked, walls are mostly decorated, and our list of projects has begun. :) However, more than the gate discussion, pictures of sunsets, loss of water pressure and septic upset, the main topic of conversation has been THE CHICKENS. We inherited three chickens and who knows how many fish with our little piece of the country. We had no idea the chickens were going to be left, but here we are and here they are so.... I am now a lady with chickens. I really never saw that title coming! But here is the deal. These chickens won't do what chickens should be doing. It doesn't seem to matter what I read, discuss with friends who own chickens, or try these chickens will not lay eggs! I am feeding them the right food, changing their water, laying golf balls in their boxes to show them where to put their eggs (yes this is a legit technique), and greeting them in the morning with, "Good morning, Girls"! And what do I get...NOTHING! In fact, the one chicken that actually laid on her golf ball liked it so much that she wouldn't get off. Apparently, she was trying to hatch it! Oh come on! If I do the above then they should produce - this should be simple.
Sunny - she does nothing but walk around
Popcorn - this is a rare site that she is out. She is always hiding up high.
Drumstick - yes, we named our hen with a male name. Why? Because I was insistent that she was a rooster because she has the red flappy thing on her face... But after the name had stuck we figured out he was actually a she with a he-name. Oh well! She is actually my favorite and shows the most promise for laying eggs. In this picture she was trying to hatch her golf ball. We raise'em smart around here!
In other news my footwear has changed drastically. What was once cute flip flops and sandals (10 months out of the year) has been replaced with these rubber camo boots. I have them on most anytime I am outside. Totally fashion forward, completely time-less, and very much all weather. :)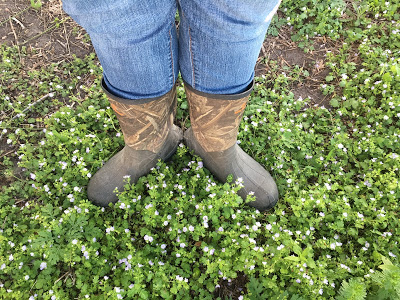 This is one of the trees that surrounds the pond. My husband nick-named it the "Love Mesquite". The reference makes me want to sing "Love Machine" every time I walk passed it.
Here is a super cool cloud that I saw Monday night when we were leaving for Scouts. Oh yes, we drove all the way into to town only to realize there wasn't a scout meeting... Mental note: Check calendar EVERY. SINGLE. WEEK. REGARDLESS. This pretty much made me stare at my gas gauge and morn the unnecessary loss of go-go juice. May it rest in peace...sniff, sniff, sigh...
I can't seem to write a post, make a status update, or send a text without including a sunset picture. It is my new love language.
Well, I will keep you updated on the chickens. Hopefully, one of them will figure out how to lay an egg!