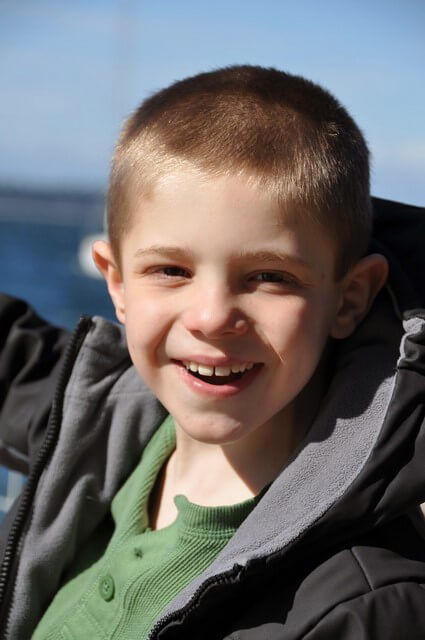 Good morning! This is an amazing time for our family! Let me explain. :) This week is National CHD (Congenital Heart Awareness) Week. As I have said many times before, our oldest child was born with Tricuspid Atresia - Hypoplastic Right Ventricle. He underwent heart surgery when he was 4 days old and then open-heart surgery at 3 months and 20 months. He is a very active boy and other than his scars you really cannot tell he is any different from the average ten year old. When he was three years old we had a bit of a scare when he was also diagnosed with a sinus node dysfunction (or sick sinus node). God makes our hearts with natural pacemakers. These natural pacemakers insure that our hearts "fire" properly (keeping our heart rates in regular). One of our son's "natural pacemakers" had become lazy and was no longer firing. Thankfully God gives us more than one natural pacemaker (we have a back-up pacemaker). Our son's "back up" was picking up the slack for the weak one. Because of this, we were told he would definitely need a pacemaker implanted but when exactly was a huge question. It signs would come on pretty sudden but it could be weeks, months or years away. Every year he wears a holter monitor before his annual cardiology check up. This monitor keeps track of his heart rate for a 24 hour period. Due to this sick sinus node (lazy natural pacemaker) he has always had very low (freakishly low) heart rates. Every year we brace ourselves. Will this be the year the pacemaker has to be implanted? Will this be year he has to go back in for some type of surgery? As his mother, I watch him like a hawk. He probably has no idea that I am checking the coloring of his lips, fingernails, and toenails on a daily basis. He probably has no idea that when he is sleeping in a tightly curled position that I straighten out his legs for better blood flow and circulation. Does this help? I have no idea, but it makes me feel better. :) Every time he is laying on the couch I begin checking signs for him being lethargic. I ask myself, "Is he lethargic or is his just being lazy?" This is the life of a CHD parent. It really just becomes second nature. I will probably look at the color of his lips the day he graduates college, gets married, and so on. :) Yesterday was his annual cardiology check-up. This is not just a fast doctors appointment. This is at least two hours of blood pressures checks, pulse ox readings, e.k.g., and an a very long echo cardiogram. He usually tolerates all of it well except for growing a bit impatient during the echo (but who could blame him?). We were going through the paces yesterday when the doctor came in to give her final report. She sat down on the edge of the examining table and looked at me with this shocked look on her face. In her very heavy Spanish accent (she is from Spain and speaks so fast), she began to tell me that his sick sinus node seems to be firing... WHAT?! I immediately asked her to tell me again. Yep, that is right, I heard her right, his sinus node that has been so lazy (and not doing its job) has started firing again!!!!! His heart rates were a good 20 points higher across the board than a year ago. His resting heart rate has raised to 50 beats/minute, his average active periods were 80 beats/minute, and his really active times were hitting 165 beats/minute. That last number is not even possible when your sinus node doesn't fire. His pulse ox (SpO2) reading was also bouncing between 98%-100% (meaning his body is actually receiving 98-100% of oxygen). He has NEVER hit 100%! This is the actual reading on his discharge papers from yesterday's appointment:
Chronotropic incompentence with sinus node dysfunction---Appears resolved
APPEARS RESOLVED - CAN YOU BELIEVE IT! PRAISE GOD!!! Now the cardiologist did say that this could be due to the Strattera he takes for his ADHD but she really couldn't count that to be 100% accurate. She said she really couldn't explain the reason for the sinus node firing. After that she just kind of chuckled. It was such an amazing moment and we are all still letting it soak in. Does this "fix" his heart? No Does this mean we no longer have worries? Absolutely not What it means is that he still lives with a hypoplastic right ventricle BUT for now the sinus node is working and that takes the threat of having a pacemaker out of the equation. We don't know how long the node will continue to fire but for now we are praising God and giving all the glory to Him. 1 out of every 100 babies are born with some type of heart defect. That is a pretty serious statistic. The rest of this week is CHD Awareness week. Please take a moment and say a prayer for all doctors, nurses, families, and especially the kiddos with CHD.
"I praise you because I am fearfully and wonderfully made; your works are wonderful, I know that full well." Psalm 139:14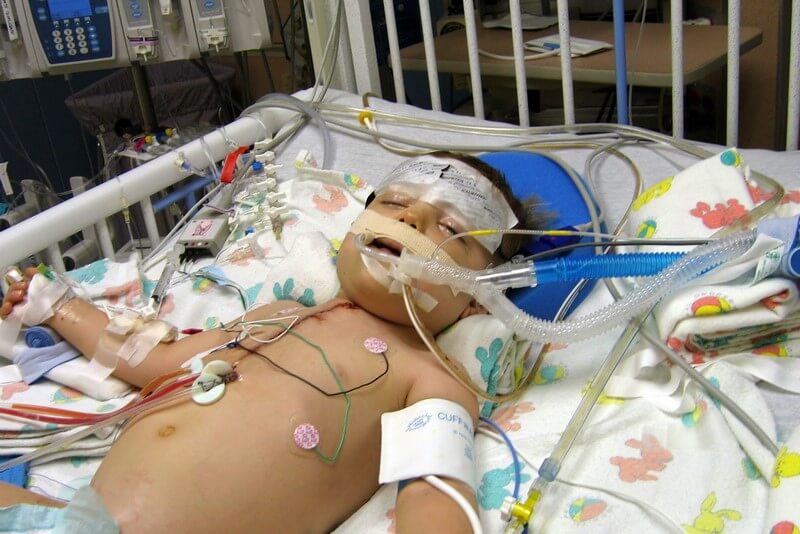 I know this picture probably look so scary to most. To us it is a reminder of how great God is and how his hand has been on our son from the very beginning. He has blessed us with amazing doctors and nurses. He has blessed us... beyond measure.
If you would like to follow all of our son's surgeries you can go to a post I wrote last year. Please
click here
if you would like to see his journey.
Thank you so much for all of you who read this blog. It is means so much to me that you would take the time out of your day to spend a few minutes here.