Tomorrow is Thanksgiving!!! I love this time of year. I enjoy baking, cooking, planning, the list goes on and on. For the past several years, Thanksgiving has been at our house. My husband is a butcher (at his family's butcher shop) so you can only imagine how busy he is this time of year. When we first got married, he made me promise that we would always stay home for Thanksgiving. It is a tradition that I love and don't plan on changing anytime soon. We split the preparation of the meal between my mom, mother-in-law, and myself. Which reminds me, I should mention that we always have both sides at our house, meaning my husbands parents and my parents. I am sure that is unusual but for us it is the norm for Thanksgiving. It is great because we are not running between houses eating three Thanksgiving meals. :) This year, our family has had a lot of stress, especially in the last month or so. I feel like I have been so distracted just trying to get through each day that I really haven't put much thought into Thanksgiving. I would begin to think about it and then get distracted by the struggles of the day. I missed the feeling of being caught up in meal planning, preparing, and baking. Until this morning... :) The kids and I had to take our 13 week old puppy to the vet for a check up. After adopting her from Animal Control, we learned that she had severe pneumonia and possible distemper. We have been nursing her back to health for the past couple of weeks. I am thrilled to say that she received a clean bill of health this morning from the vet! Her lungs are clear and she has even gained 3 pounds in the last two weeks. We are so thankful for her recovery! With that weight off my shoulders, I happily jumped into Thanksgiving baking the moment we got home. I pushed up my sleeves, pulled out my recipes and ingredients, and turned on Christmas music. It was such a great feeling. It felt like the first time in months that I had relaxed and just enjoyed the moment.
A little mommy confession here: I told the kids they could each play their DS or iPad, allowing me to really enjoy my moment in peace and quiet. I know I could have asked them to join me and "make memories" but I decided to be selfish and keep it to myself! :)
The best part of my Thanksgiving preparation was assembling this year's take home gift. Every year, I make something for my guests to take home (along with leftovers). Some years, I make cinnamon rolls, other years I make homemade bread. It changes each year. This year, I decided to make stove top potpourri. Using fresh cranberries, whole cloves, cinnamon sticks, and a small orange, I made the cutest little gift bags.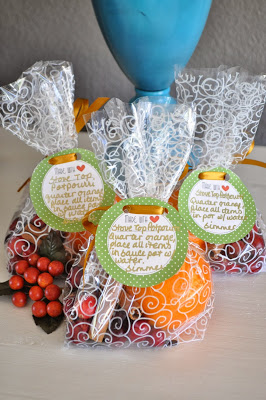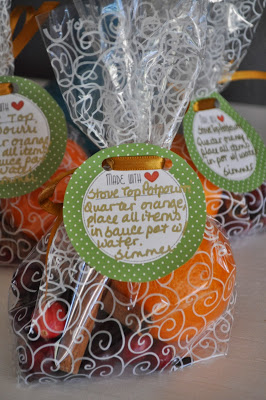 (The tag reads: Made with Love - Stove Top Potpourri, quarter orange, place all items in sauce pan with water, simmer)
These are just the best little gifts. I couldn't be happier with the outcome. The stove top potpourri lasts for weeks. You just leave it on the back burner and when you want to fill your home with the amazing scent, you add water and simmer. It is so pretty and smells wonderful.
Happy Thanksgiving!!!