Hello Everyone! Just a quick post and short update. Over the weekend, the boys (the big and the two littles...who aren't so little anymore) went on a camping trip with our Boy Scout Troop. Without any boys around, my little shadow and I did all things girly. :) While both of us girls love camping and being outdoors, we very much appreciate mani/pedis and shopping. This was her first experience for a professional manicure and pedicure, and I think we have created a monster. She was in love with every part of the experience. :) I guess it is a good thing that I rarely go or this could get expensive. We also watched 4 Barbie movies, 1 Tinker Bell movie, and Moana (which I loved). She spent a LOT of time soaking in bubble baths while I caught up on the latest People magazine. She happily took over her dad's side of the bathroom, as well, as his side of the bed. :) Plus my mom was able to spend time with us on Saturday, such a nice bonus. We loved our weekend together!!! ** While working on this post, my laptop stopped charging and is completely dead. I am trying to finish this post on the iPad, however not all of the pictures are showing. I took adorable pictures at the salon while we enjoyed our pedicures.
I don't have all the details of the camping trip since I wasn't there. But from what I hear, it went really well. They encountered quite a bit of rain, and everything came back soaking wet and smelly! I have several other pictures that my husband sent me, but they all include other kiddos (so I didn't want to post them here). I had to color dots over the faces in the below picture. Many of the pics showed the boys WAY down inside of caves and crevices. I am extrmemely claustrophobic, so just the sight of the pictures made me cringe. Needless to say, the boys didn't inhereit my issue with small or even medium sized spaces.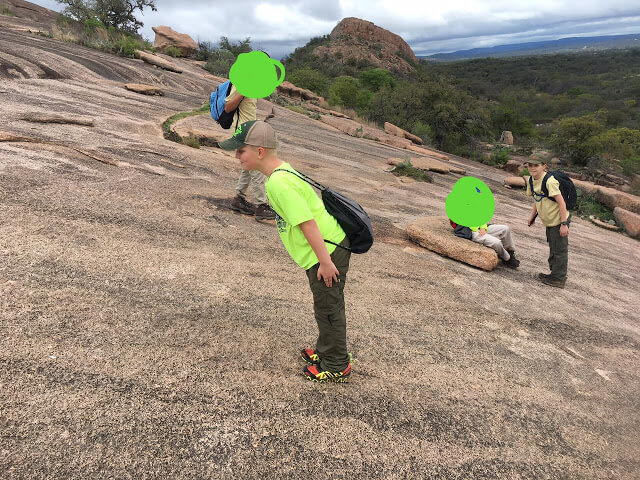 (leaning forward from such a steep incline)
It wouldn't be a post without a sunset picture. This was Saturday night after a lot of rain. It just amazes me how many colors are displayed in one sunset. Stunning!
*** One last thing, I am making a change with how I link blog posts on Facebook. I tyically link to both my personal FB page which I share with my husband, as well as, the blog FB page. After this post, I am no longer going to link to my personal page. If you would like to keep up with the posts please do one or all of the following. :)
or you can subscribe by email
Happy Monday - go to bed early and try to catch that hour of sleep we lost. By the way, our coffee on the porch this mornign was in dark - pitch black - not cool.