Over the last few weeks we have been working on various types of plants, and all of the parts. We have learned how to identify leaf patterns, classify according to vein structure, various root systems, and now the details of flowers along with pollination. The kids have been so excited throughout this unit. They love getting out in the backyard and really getting a hands on lesson. Today, we reviewed the main parts of a flower by dissecting real flowers. We had five different types of flowers (hibiscus, sunflower, Esperanza, and blooms from a zucchini plant and star cactus). We also had a quick lesson on safety with an x-acto knife. :) Using their notes from earlier in the week, each child had the opportunity to dissect the various types of flowers and locate the following parts: petals, sepal, pistil, stamen, and ovule. I often have people ask how I teach three different grade levels when using the same lesson. My kids are kinder, second grade, and fifth grade. We work through Bible, Geography, and Science as a family and then they complete Math, Language, Reading, and Spelling individually. Both boys are taking Texas History for their specific grade levels at our weekly co-op and then they have assignments to complete (at home) throughout the week. So, back to how I teach three grade levels using the same lesson. This is a wonderful part of homeschooling. It really is not as difficult as it may sound. I start with what I call "middle of the road" information. This is usually around a 3rd grade level and then I amp up the material for my fifth grader and tone down the material for my kindergartner. For the flower dissection, I really wanted my kindergartner to enjoy exploring the parts of the flower using descriptive words and recognizing the key parts (petals, pistil, stamen). For my second grader, I wanted him to be able to identify
all
of the parts we have been studying with some description (petals, sepal, stamen, and ovule). My expectations for my fifth grader went beyond identification. I also wanted him to explain (in detail) the function of each part. We are also using
Answers in Genesis
for our Science curriculum which is geared towards teaching multiple ages at the same time. It is wonderful! Needless to say the kids had a blast and the dissection was the perfect hands-on activity for reviewing the parts of a flower.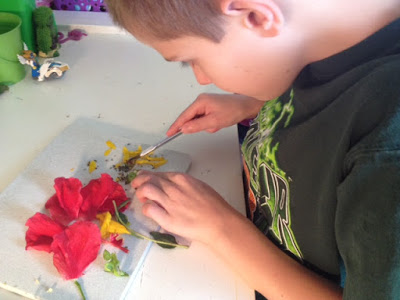 It really worked out that I only had one x-acto knife on hand. I don't think I could have controlled three kids and three very sharp objects at one time. I know my limits! :)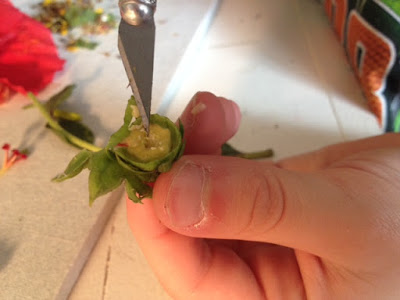 We found some very new seeds deep down inside the hibiscus.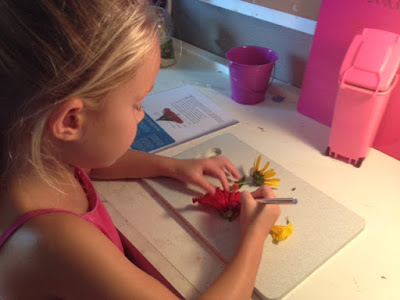 Since only one child could dissect at a time, the other two continue working on their individual assignments until it was their turn. This was a great motivator to get things done.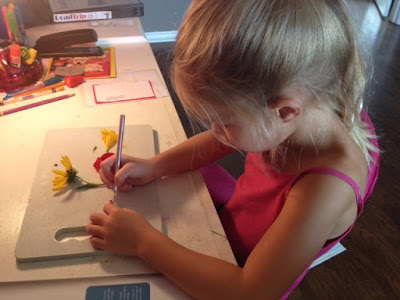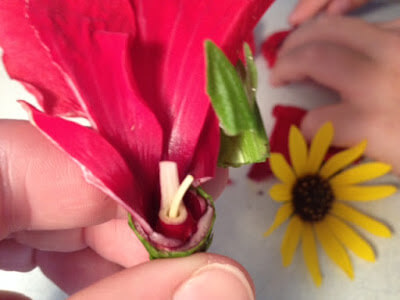 It was really exciting that we were able to see and identify all of the parts we had learned about earlier in the week.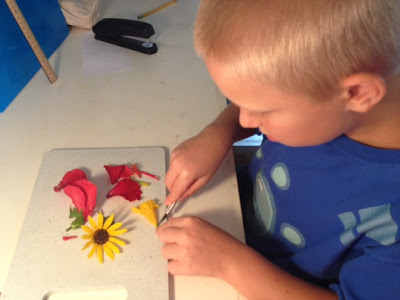 We only had one bloom from the star cactus and zucchini plant. So, to keeps things fair (because that is oober important to my kids), I did the dissecting and they watched.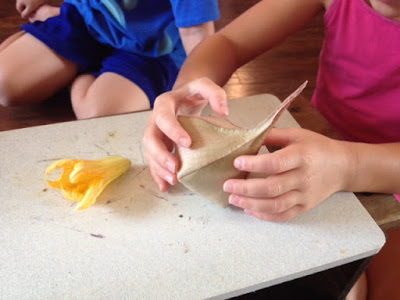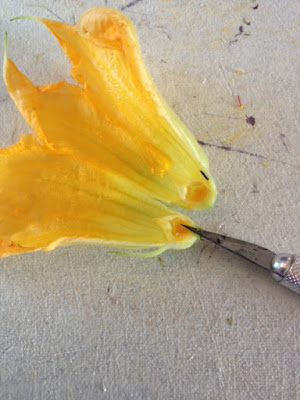 The inside of the zucchini blossom really showed the ovary of the plant. This was a very exciting discovery because it looked just like the picture in the book. :)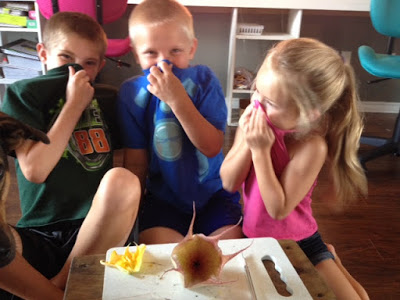 The star cactus bloom smelled SO BAD - as in week old fish bad. This was a great example of how some plants have fowl odors to attract flies. It was soooooo gross!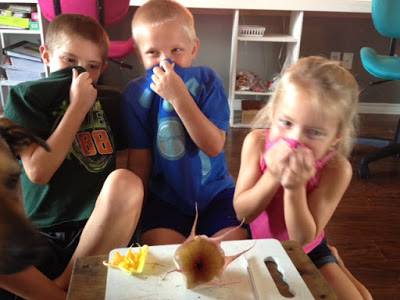 Then, Ginger, our two year old family member joined in. She doesn't seem impressed by the smell, either. :)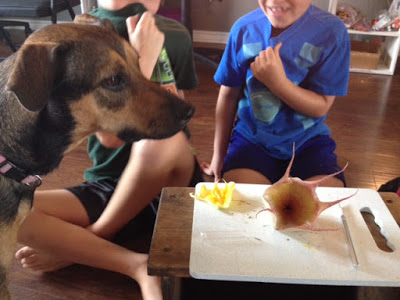 There were some other neat parts to the star cactus bloom but by that point I had the awful smell on my hands and I did not want to touch my phone to take pictures. I will say the inside of the bloom was really furry, which was also a neat discovery.
It was such a great lesson filled with excitement and some not so great smells. :)
Just a thought: To get a large variety of flowers you could call a flower shop and ask if they have a blooms that could no longer be sold. This may be an inexpensive way (possible free) to get your hands on various types of flowers.