When we made the decision to homeschool our kids, one of my concerns was regarding the various activities they would miss (especially in the upper grades). When my husband and I were in high school we were both involved in extra curricular activities/sports. My husband played football, threw shot put and discus, plus raised pigs with F.F.A. (which probably sounds really strange if you are not familiar with FFA). I was on our high school dance/drill team and pretty much lived and breathed anything that had to do with dance. He actually asked me to be his girlfriend after the Burning of the C (one of our homecoming festivities). Which just so happened to be 19 years ago from this very day. Which now makes me feel very old, so back to real reason for this post. :) Like I was saying, the choice to homeschool did make me wonder if our kids would miss out on some of those experiences. This is our fourth year to homeschool and I once again my pre-conceived idea has been proved wrong. We are very blessed to live in an area that has a large and very involved Christian homeschool community. Last night, our homeschool athletic program was celebrating the homecoming football game. The program is called W.I.N.G.S. (Winning in God's Service) and focuses on making disciples through athletics. We decided to attend the game as a family and see what it was all about. The program falls under T.C.A.L. (Texas Christian Athletic League) which allows the team to play other homeschool athletic programs, as well as, private schools from around the state.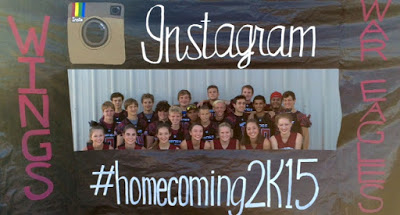 2015 Varsity W.I.N.G.S. War Eagles - football players and cheerleaders
Like I mentioned earlier, my husband and I were both very involved in high school. Plus, we went to a 5 A high school where athletics were a big deal and everything was done on such a huge scale. I was a little unsure of what the homeschool program would involve. Let me tell you, this program (W.I.N.G.S.) is a big deal! Every little detail was obviously taken care of with so much attention and love. In the homeschooling community, just about everything is volunteer/parent driven. If you are a homeschooling parent you are involved 100%, which means every student's parents are involved 100%. This makes for such a wonderful feeling and attention to detail at all events. Just like in traditional school settings, parental involvement makes all the difference.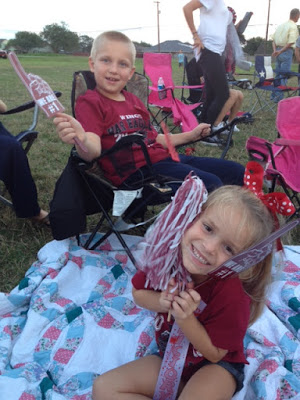 Having a great time with all of their spirit gear!
When we pulled up to the game I was surprised to see how many people were in attendance. I bet there were at least 200 people, all stretched out along the sides of the field. Everyone had chairs and blankets and most importantly, front row seats. :) There was a concession stand with food and drinks along with spirit ribbons, team shirts, clappers, and pom-poms for sale. The team had a great run-thru sign for their entrance onto the field. The cheerleaders performed to the fight song and the crowd joined in with clapping and cheering. There was also the mascot, War Eagle, which was pure entertainment for my kids. I am pretty sure my oldest would like his future to be War Eagle! It was such a special night. The team won by a long shot :), the cheerleaders did a fantastic job during half-time, and my kids loved every minute of it. At the end of the game, all of the fans lined up in two rows on the field and cheered while the team ran through in victory. My kids got such a kick out of
the players giving them high-five's as they ran through. :)
This was our first experience with Six Man Tackle Football - it is really exciting and action packed!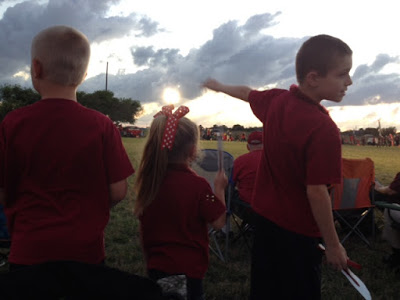 Cheering and checking on the rules with Daddy
It just goes to show (once again) that the world of homeschooling offers so many opportunities. Tonight, is the homecoming dance for the older students. Which I must add, the parents have really gone the extra mile to teach them the proper etiquette for a dance. For example, rules such as:
1. Ask as many people as you can to dance. Everyone came to dance - help to make sure they have fun. 2. You may not decline an offer to dance with one person and then proceed to dance with someone else during that song (this is in response to how much courage it takes a young man to ask a young lady to dance)
. These rules are so precious and necessary, yet rarely taught these days! I love that little details like this are the expectations and the norm for these young adults.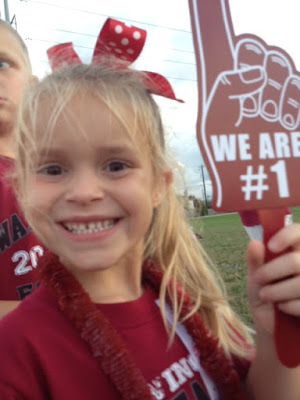 We are #1! :)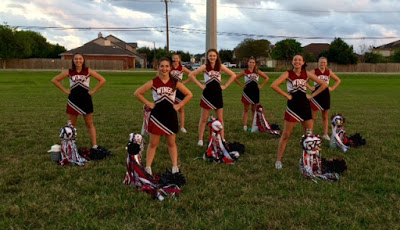 Varsity Cheerleaders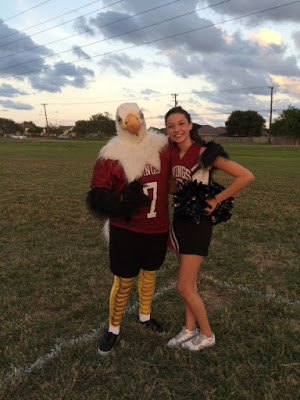 Spirit!!! War Eagle and Cheer Captain
Again, I am so thankful we live in this homeschooling community and my kids will have the same opportunities in a few years. God truly blessed our family when he placed us in homeschooling.