I have to admit, when we started school this morning it felt as if we were really dragging. As we went through our lessons, I just couldn't help but shake the feeling that we have hit the October rut. We have been schooling since late July and will reach our 50th day this week. We needed a pick-me-up that is for sure! After lunch the kids and I were making our way upstairs for our afternoon lessons when my youngest son screamed. Somehow he was still downstairs (not really excited to read) and heard a thump at our window. Then he discovered it was a small hummingbird. My first response as I was running down the stairs was to keep the dogs inside. They would have had way too much fun with that poor little bird. My second response was a plea to God that it had not died right in front of my son. All of my kids are huge animal lovers and pretty much live for any type of animal, vet, or rescue show on TV. In fact, they play "animal rescue" all the time around the house. As we watched the tiny bird, it was obvious he was a bit stunned. I decided to call my mother-in-law who is also a big time animal lover. She rushed right over with syringe and hummingbird food in hand. The kids watched in great concern as she picked up the bird and began to feed him.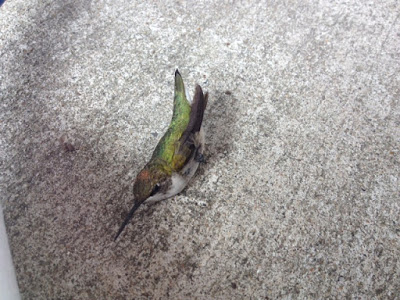 This was the little bird when we first saw him. He was not doing well and was very much stunned.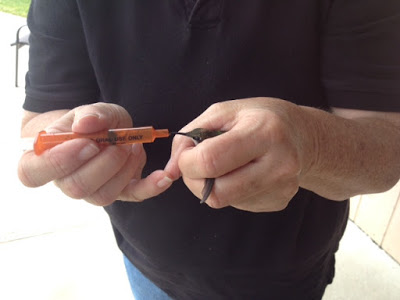 Here is my mother-in-law feeding him from the syringe. We were able to see his long tongue as he ate. As concerned as we were it was also so cool to see a hummingbird up close and still.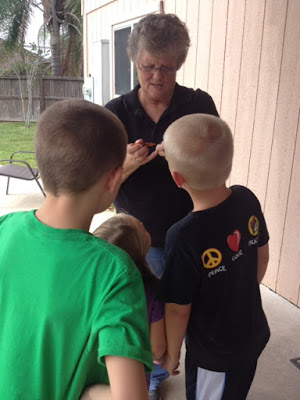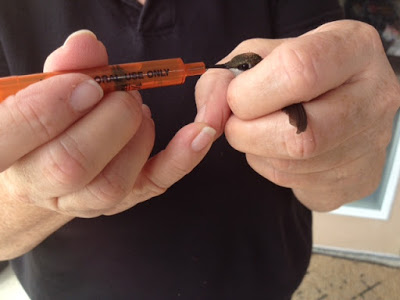 He was so pretty. The kids guessed that he was a ruby throated hummingbird because he had a tiny red patch under his throat. Because of this, they also guessed that he was a male.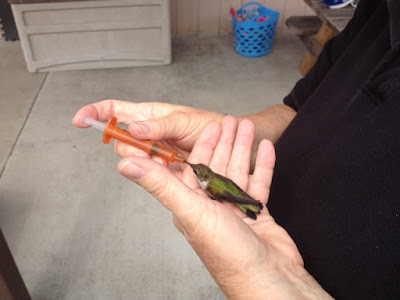 Due to his tiny size, my oldest son decided he must be a juvenile and not fully grown.
Our plans for the afternoon (to go the movies with friends) were derailed with this little guy. We called a local non-profit animal rescue center called the ARK. They said they couldn't send anyone out to our house to pick him up but that we could deliver him (45 minutes away). Well that was a no brainer - road trip!!!! The little hummingbird stayed in my mother-n-law's hand all the way there while she continued to feed him with the syringe. The kids made several references to how they were on a real life animal rescue. :)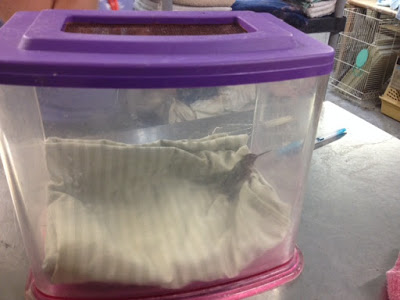 Here is our little guy at the ARK in the hospital building.
From this point, we said good bye and then visited some of the other patients. Oh, and yes, the woman at the ARK confirmed that he was a juvenile, male, ruby throated hummingbird (proud momma moment right there). :)
It was an extra special day. I don't think they will be forgetting any time soon. After all, they saved a life today. :)

P.S. We also lost a life - "George" my youngest son's whale shark stuffed animal which he got at the Georgia Aquarium this summer. Apparently, while we were in the backyard with the hummingbird, the dogs entertained themselves by removing George's eyes.
"George" may he rest in peace
So, in the middle of the bird emergency I was also dealing with this tradegy and an overly upset 7 year old. I will be placing a call tomorrow to the Georgia Aquarium and having a new one delivered....
I really should not ask for excitement - ever- again.... P.S.S. Update on George. Just a few minutes after I posted this, my mom stopped by. With her magical touch she will be able to fix both eyes and now George will also be a rescue. :)