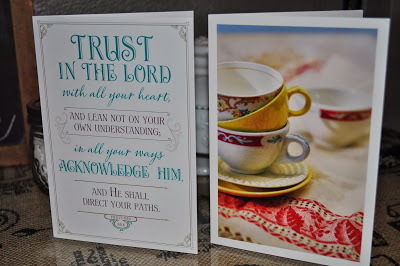 Do you get excited about getting mail? I don't mean bills or junk mail but instead something that is addressed just to you? Catalogs are great but my day is made when I find a small piece of stationary with my name on it. It just makes me smile and feel all warm and fuzzy inside. :)
This week I was pleasantly surprised by two pieces of mail! Two of my dear friends blessed me with lovely hand written cards. What a special treat! Both of these ladies are very busy and they took the time out of their schedules to write a note to me. It made me feel so special.
I want to make others feel the same way. As women, we should constantly love on one another. Keeping our daily endurance up is much easier (and pleasant) when we have received a little encouragement and support. Let's bless one another by taking the time to write a short little note. An email, text, or phone call is also nice but there is nothing like a handwritten note.
I am going to make a commitment to write one note a week and send it to a friend, loved one, or any woman I think needs a little love and encouragement. If you would like to join in the fun that would be amazing. Just think of how many women we can blessed through small notes of encouragement. It is the little things that go such a long way. Below are just a few Bible verses I feel are full of encouragement and support for women. "May the God who gives endurance and encouragement give you a spirit of unity among yourselves as you follow Christ Jesus." Romans 15:5 "She opens her mouth with wisdom, and the teaching of kindness is on her tongue." Proverbs 31:26 "She is clothed in strength and dignity, and she laughs without fear of the future." Proverbs 31:25 "He leads me beside the still waters. He restores my soul." Psalm 23: 2-3 "... serve one another in love." Galatians 5:13 "I can do everything through Him who gives me strength." Philippians 4:13 "And my God will meet all your needs according to his glorious riches in Christ Jesus."
Philippians 4: 19 "And we know that in all things God works for the good of those who love him, who have been called according to his purpose." Romans 8:28 "The Lord is the everlasting God, the Creator of the ends of the earth. He will not grow tired or weary, and his understanding no one can fathom. He gives strength to the weary and increases the power of the weak. Even youths grow tired and weary, and young men stumble and fall;
but those who hope in the Lord will renew their strength. They will soar on wings like eagles; they will run and not grow weary, they will walk and not be faint.
" Isaiah 41:28-31 "Be still, and know that I am God." Psalm 46:10
Have a fantastic Friday and be a blessing to someone!

* Keep small note cards / stationary in your purse to use when you have a few moments (ex. waiting in carline, sitting at a child's rehearsal or practice, etc.)