Wow! The last couple of weeks have been insane! I thought about listing every "extra" activity, fundraiser, field trip, festival, birthday, etc. but it hurts my brain. Let's just say I don't want another season like the last two weeks for awhile. I am a home-body. I prefer to be in my house with my family having a quiet evening (well as quiet as a family of five can be). The good news, the end of November is looking promising... :). One of our activities was a cake auction for my oldest son's Cub Scout pack. This year, all of the proceeds are going to our local children's hospital. We had 22 cakes entered into the auction and raised a nice amount of money for the hospital. I thought I would share some pictures from the cake we entered.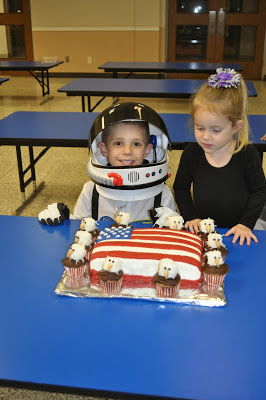 The boys also dressed in their Halloween costumes. His just happened to be an astronaut which went great with the Stars and Stripes theme of his cake.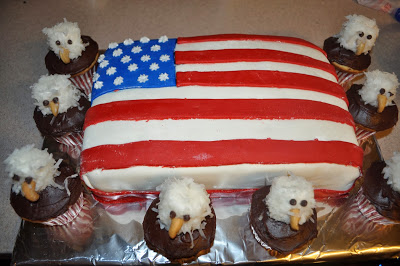 This was our first attempt with fondant. There were definitely some rookie mistakes, but overall we was pleased. My son was the brains behind the theme/idea and my husband and I were the manuel labor!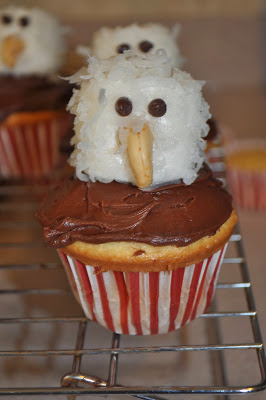 I just think these little eagle cupcakes are the cutest things. I wish I could remember the exact location of the idea but I know it was Pinterest.
He was beyond excited when he won Grand Champion, for the cake with the highest bid. :)
Now I am going to take a deep breath and gear up for the next couple of weeks. Like I said, the end of November looks peaceful...hopefully. :)