Christmas is one of my most loved seasons. I wait for it all year, pinning things on Pinterest, thinking of our traditions, writing down gift ideas, looking at new recipes, etc. Until this year.... I can't explain it, I am not sure what has happened, but.... I still love the season but I just can't seem to get into the rest of it. What I have figured out is that over the past years I have put way to much on my plate. It is my fault. My husband is not exactly the one sitting on Pinterest (for way too many hours) comparing our traditions to other families. The kids are not the ones who begin feeling the stress in October when a single gift has not been bought. Nope, I brought this little problem on myself. This is what I had hoped to accomplish this season: 1. Advent Wreath - This was going to be the first year for this tradition in our home. However, I never bought the candles... Come to think of it, I never bought the wreath. 2. Advent Calendar / Countdown - I started this tradition last year and our family loved it. Each day the kids would have a new activity or treat. On December 4th (this year), I hung the countdown envelopes. Yes, I was already 4 days late. I told myself that at least those were four activities I did not have to plan or arrange on our calendar. :) Well, today is the 17th and we only got to the 12th on the countdown. The interesting thing...the kids haven't even noticed! I guess those activities that I stressed over really didn't make that much of a difference to them. This is the perfect example of me trying to makes things...ummm, perfect, when the kids are fine without the fuss.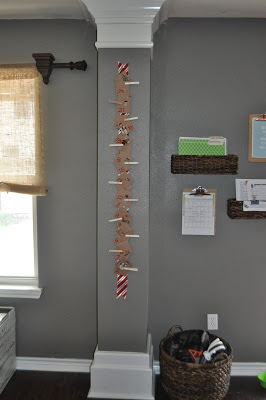 Each day has a small brown envelopes which contain an activity and a Bible verse.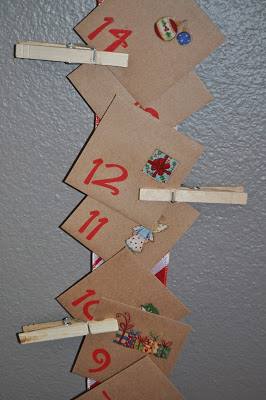 I painted each number each year and then decorated with a small sticker. Where was the time?!
3. Planning family activities from a new book I purchased with some friends of mine. Ummmm, where did I put that book again??? 4. Putting up the tree - In the past, we always put up the tree on Thanksgiving night. I think we finally got it up on December 1st or 2nd this year. THEN our adorable puppy chewed all of the wires to the lights. Now our once beautiful 8ft pre-lit tree is pushed to the side, actually it is blocking our front door. I don't know what to do with it and I can't muster up the patience to take it apart and wedge it back into the box. How did it fit in that box to begin with, anyway? Our replacement tree is 4 feet (supposedly) tall and is sitting on top of a table far away from the puppy. It reminds me of the tree I had in college. I thought about buying a real tree but we just sold our tree stand in a garage sale. Grrr...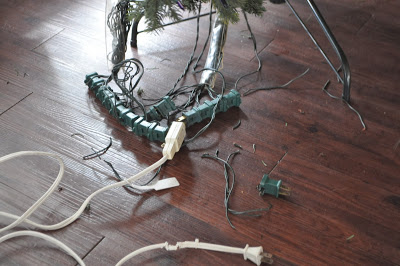 the evidence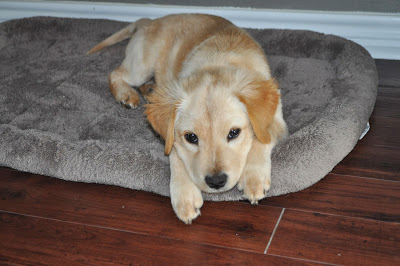 the accused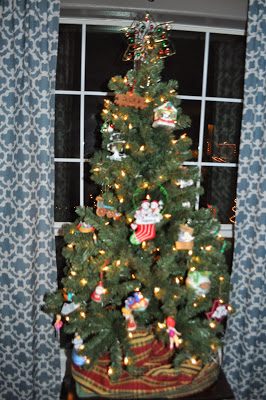 This looks so much bigger than it actually is. Also, I did not put out my favorite ornaments for fear that the tree would get bumped off the table.
5. Decorating Cookies - This will get done...at some point! 6. Looking at Christmas Lights - Also....at some point! 7. Sitting on Santa's Lap - Is it horrible that I have tried to figure out how to get out of doing this??? The list could go on and on, sigh.... What I have learned: I think my kids are just as happy cuddling up on the couch and watching "Home Alone" or making hot chocolate than all of the other Pinterest ideas I have piled onto my shoulders. Yes, my Advent Calendar / Countdown has been amazing in the past but it definitely did not work this year. I think I need to re-access and pick only the traditions that truly mean a lot to our family. Ahhh, I feel better about next year all ready! Here's to Christmas 2014! ***There was one more tradition this year and I hope it does continue. My mom and I took my daughter to see The Nutcracker. :) It was a fun girly afternoon!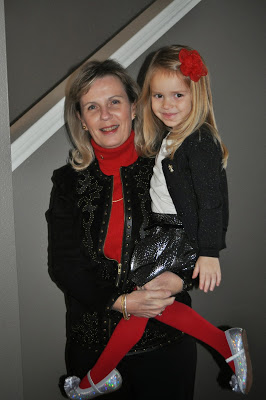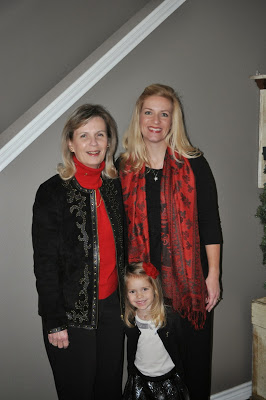 Hopefully in a couple of years she will be performing! No pressure.... :)
When we slow down and pause, we are reminded the true reason for the season and that is Jesus and family. Neither of which should involve stress, hustle, or bustle.
Now if I can just remember this post next year... :)