I am just in love with the popular look of adding multiple charms (or pendants) to one chain. I have seen some very pretty designs at James Avery (which come with a very pretty price tag) and much more affordable necklaces at Charming Charlie's. I also like them because I think they make great conversation pieces. I always want to know the story and reason for picking each charm.
I have thought about purchasing one of these necklaces for quite some time. However, I really didn't want to spend the money but also didn't want something that was going to turn my neck green! :) It dawned on me the other day that I already had everything I needed to make my own. I have several small pendants that I love to wear at different times. They have all been gifts, each with a special meaning. I wanted to use one of my gold chains so I picked out my three favorite gold pendants. I had to take everything into a jeweler because one of the pendants would not come off the original chain. When I showed it to the jeweler she chuckled and said that my husband had specifically requested that the pendant not be able to slide off. He was afraid I would lose it! I have no idea what would give him that idea!!! :)
I am so happy with the finished product.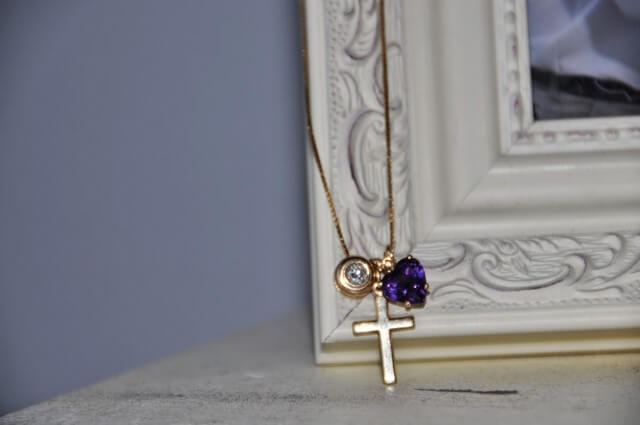 This picture really shows the vibrant purple color of the amethyst heart.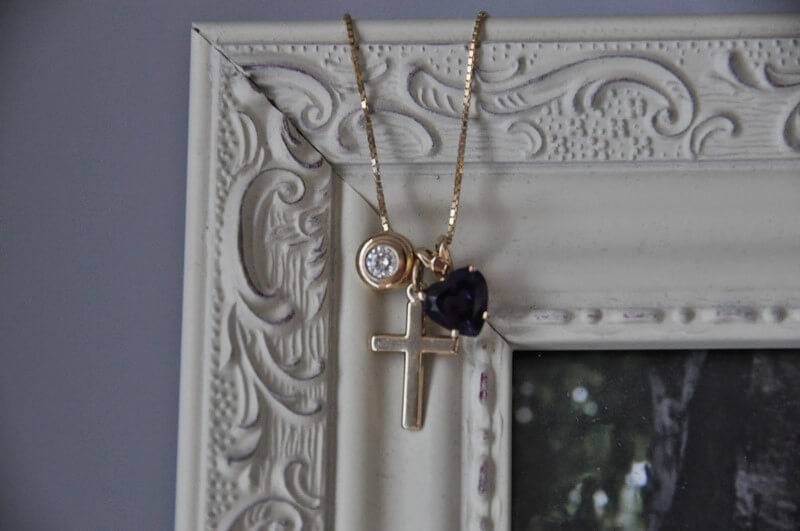 This picture (even though it is a bit dark) shows the detail of the bezel set diamond pendant.
Here is the back story to each piece.
The diamond pendant was given to me by my husband before we were married (still in college). It was a Christmas present and when he gave it to me he leaned over and told me, "Just so you know, that is real." To this day I still give him a hard time about that. We were young and he was very proud of his purchase and he wanted to make sure I knew it. :) This would be the same pendant that he had permanently fixed to the original chain. :)
The gold cross was also a gift from my husband just a couple of years ago. It is small and simple - I love it.
The purple amethyst (also my birthstone) was a gift from my parents. My mom picked it out during their trip to Hawaii.
So, there you have it. My new favorite piece of jewelry. The best part is I no longer have to decide which one to wear!