I don't think I have ever explained where the name of my blog came from. I LOVE the movie, Steele Magnolias. Actually, the word "love" is not strong enough. It is by far my most favorite movie. I think I know every line and could act out any scene at the drop of a hat. I thought the words, "a cup, a cup" would be great for a blog title because there are so many "cups" to life. Also, the movie always gives me warm fuzzy feelings about the important women in my life.
I have been wanting to make the "A Cup, A Cup Cake" for quite some time. Some people say, "Cuppa, Cuppa Cake" but that is not how I hear it. The cake recipe comes from the beauty shop scene when Shelby is getting her hair done for her wedding. Truvie recites the recipe out loud: "A cup of flour, a cup of sugar, a cup of fruit cocktail (with the juice), then you bake til gold and bubbly."
So, I decided to give it a try. I will admit, I have never made a cake that did not contain a single egg or butter. I had such a good time repeating the movie lines while I was making the cake. I will say, it has an odd texture (I think because it doesn't have any eggs or butter) but was really good with cool whip! Everything is better with cool whip!
There is no reason to re-type the recipe, just recite the movie lines. :) I baked the cake at 350 degrees for what seemed like forever. It took 40 minutes for this tiny cake to bake! I think I cracked the oven door and peaked in at least 10 times. :)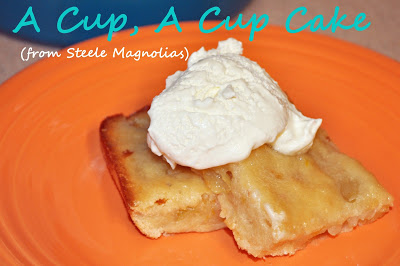 Here's to the title of my blog and the best movie EVER!
Elizabeth