Happy 4th of July!!! This day happens to be my oldest son's favorite holiday. He LOVES it and everything about it. All day long he talks about how amazing it is to live in America. Yesterday, he asked me how other countries celebrate the Fourth of July. I told him we were the only country since it is the day we gained independence. He was shocked! He couldnt' fathom that other countries ignore this amazing day. It was such a cute moment. For the past five years, we have celebrated at the Texas State Aquarium. It is the best view for the fireworks in our town. They shoot them off the U.S.S. Lexington on the bay; it is gorgeous! We always pack snacks, a blanket, glow sticks, and a soccer ball. The kids have a blast running around until the fireworks begin. I sit and take pictures the entire time (which makes me very happy). The funniest part of the fireworks is watching my husband. When we get to the aquarium, he drives around the parking lot trying to determine and plot which parking space will allow us to get out the fastest. We ALWAYS back into the spot, this shortens the end time of having to back out of the space... :). Then we make our way to our picnic spot. I can always sense that he is worrying about how far we are from the car. It is always a pretty good distance since we sit on the grounds of the aquarium but we have to park at the far end of the lot because this gets us out the fastest. Let's not forget our main goal of the fireworks (how fast can we get out of the parking lot). About five minutes before the fireworks begin we organize and repack our things. The only item left out is the blanket (thank goodness). This year he actually suggested that we take everything back to the car and then sit in the grass for the fireworks. I think he realized I was not going to go for that. Once the last firework was mid air he clapped his hands twice and hopped to his feet. He was literally picking up the blanket while the children were still on it. I thought to myself I had better move fast or I may get left behind. I frantically threw our camera bag on my back, picked up my large bag, grabbed our soft-sided cooler and two hands (thank goodness they were the hands of my children). My husband rolled up the blanket (I counted three kids so I knew everyone made it out of the blanket) and swooped up our daughter. Off we went, we were flying. You really aren't suppose to run so we were doing that awkward walk almost run thing. It is embarrassing and hysterical to watch when you are behind my husband who is 6'2" and not petite. At this point, I realized that the soft-sided cooler was hanging around my neck swinging back and forth. Don't forget, there is a major goal at the end of all this... I think I actually saw people laughing at us or maybe they were in awe of our "sleek system". I am going to go with the second option. Well, we made it to the car in record time but then got caught in major traffic due to the road closures. Oh well, it makes for great memories. He actually told me that the rush to the car is his favorite part. Oh my... Here are some pictures from our evening. No, there aren't any from the rush to the car. I would have lost a kid if I had taken the time to take a picture.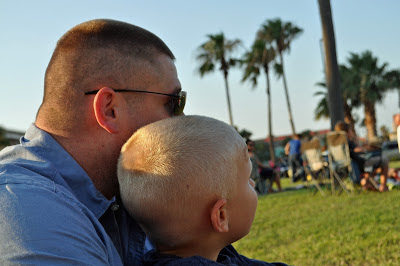 Such a peaceful picture. :)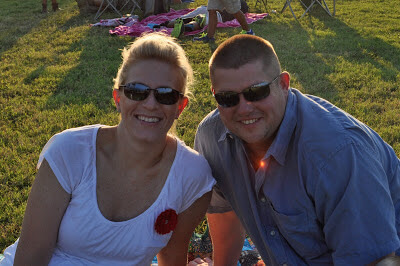 Our oldest son loves to take our picture.
This is how my husband played soccer with our main monkey hanging off his back.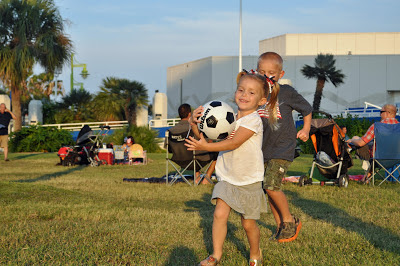 I was quite impressed with her skills...my dreams of ballet may be gone.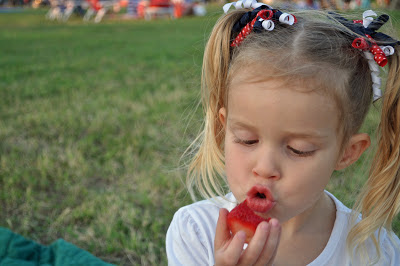 She loves her strawberries!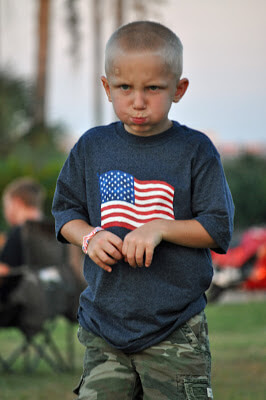 Any time I ask to take his picture I get something like this,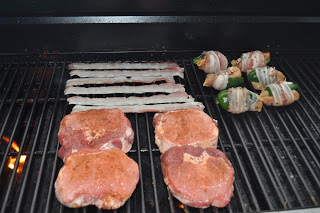 or this...
(He really is quite handsome)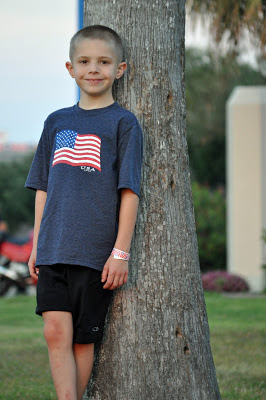 Out of the three, one child understands how happy I get when they give me a good picture. He is getting so old!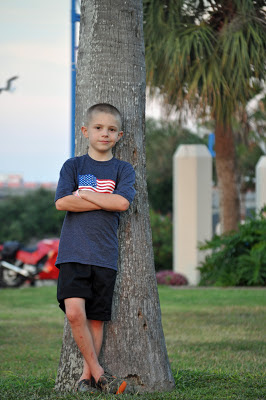 G.Q. pose!
We don't have pictures of the fireworks. If you remember, we have to pack everything up before they begin. :)
Happy 4th!
Elizabeth