I love that we have a so many wonderful resources at our fingertips through social media, Pinterest, and blogs. In fact, blogging and looking at various pins on Pinterest are two of my favorite pass times. I find both to be inspiring and motivating when it comes to home projects, kid crafts, and recipes. However, blogs and pinning can also lead to feeling frustrated and low on the self-esteem meter. I wonder what it was like to be a mother prior to Pinterest and blogs? Where these things are great for tips and tricks they can also make you feel like you are running a rat race or directing a cruise ship trying to plan the best parties, amazing activities, and keep your home looking like it is right off the pages of Better Homes and Gardens. Which I should also mention I am helplessly addicted to HGTV! If it happens to be one of "those days" which may require a lot of chocolate and my emotions may be a bit on edge, looking at Pinterest, reading blogs, and watching HGTV just may end me up in the corner throwing a bit of a tantrum... What? Is that normal? Doesn't everyone feel that way? You? No? Hmmmm..... must just be me. :) Here's the thing though, you only see what is perfect. Why would someone blog about the green, unidentifiable, at one time edible, something-or-other in the back of the fridge? Why would someone pin a picture of the mountain of laundry that just can't seem to wash itself? Why would HGTV highlight the closet that barely closes because it isn't safe to open it all the way. It should only be cracked and then quickly closed...for the safety of the family, of course. Things like this are not fun to watch, read, or write about. However, I will say that I always feel much better about myself after watching Hoarding:Buried Alive. :) Just sayin..... Let me give you some examples:
Example Uno:
This is our beloved
Coffee Bar
. We have had it in our home for almost two years and we love it more each day. :) However, it is used every day, multiple times a day. It is also directly across from the garage door (where we enter and exit the house). Therefore, it often becomes a catch-all. So, this is a picture of the coffee bar I took for the blog post two years ago.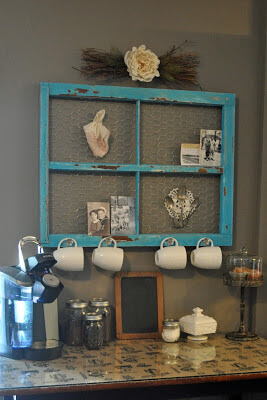 Below is a picture of the coffee bar as it looks this very moment. The above picture lives on Pinterest, the below picture lives in the real world.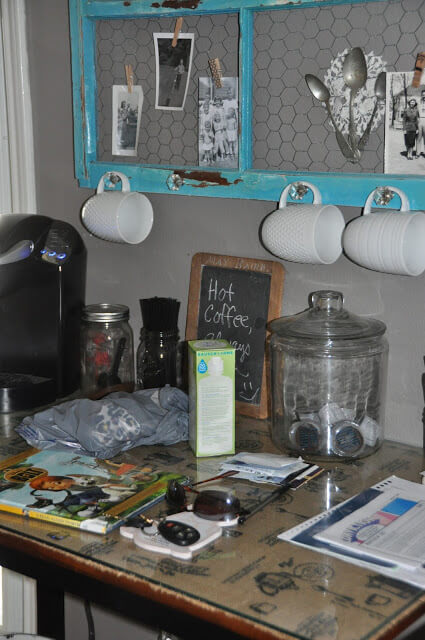 Example B:
Another of my favorite projects are the
Distressed Window Seats
my husband built. Let me just say that our throw pillows are just that - they are always thrown on the floor or all over the couch. I have kids. Kids do not sit and merely lean against a throw pillow. They roll, walk, throw, and of course use them as weapons.
Here is a picture that was used for the original blog post.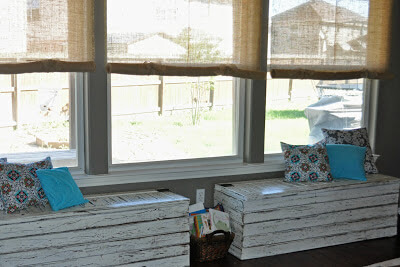 We recently bought a new couch which is much larger. We had to move one of the window seats up to our master bedroom to allow more space for the couch. The below picture is what the lone window seat looks like right now. :) Let me just say, we have walked past those throw pillows approximately 62 times today...no one has picked them up.
Again, the above picture lives on Pinterest and the below lives in the real world.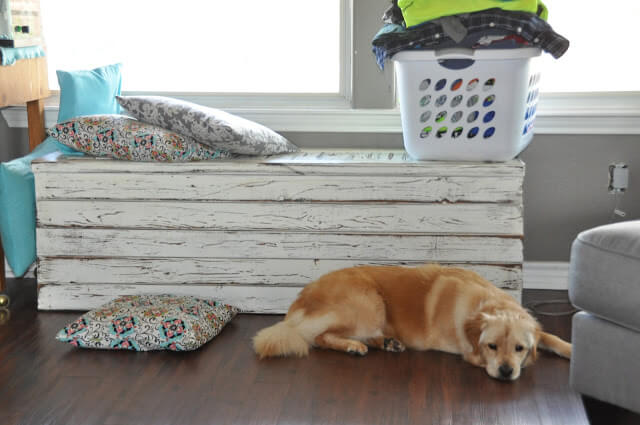 ( This is Lucy, aka Lucy - Goosey)
Example - 3
This is a picture I took last week for a post I never wrote (that happens a lot). I really like to keep fresh flowers on our table behind the couch. However, it doesn't happen as much as I would like. Now if I saw this picture on Pinterest and the title was, "Ten Steps to Keeping a House Nice and Tidy", I may assume that the rest of the house looks the exact same way. I must say that for some Pinners and blog writers this may be true but for me it just simply is not. I think that for the majority of people that isn't the truth, either. Or at least that is what I like to tell myself. :)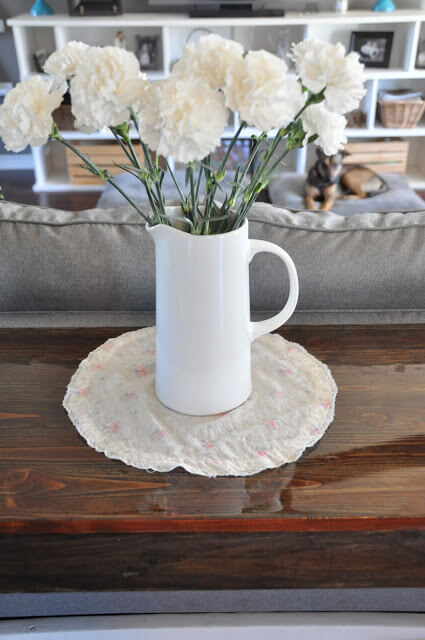 This is the same table and pitcher of flowers just a few days later. Because the first picture is such a tight shot, I could have easily cleared the middle of the table, pushing everything to the side, straightened out the cloth under the pitcher, zoomed in and got a beautiful, tidy picture.
What lives on blogs and Pinterest typically does not live 24/7 in the real world. Why? Because we sleep, eat, work, play, learn, live, laugh, and love in our homes and that is what is truly important. :)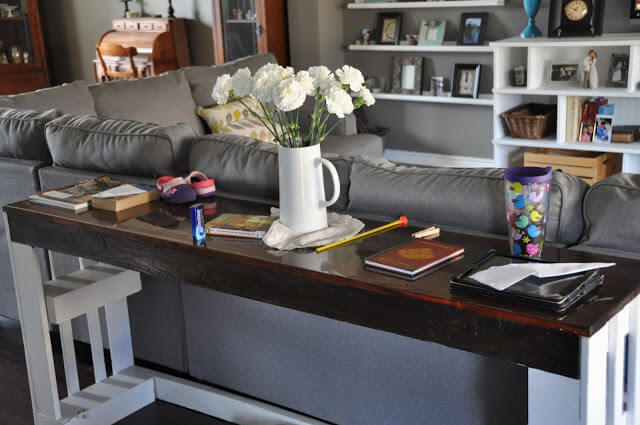 So, if you are someone (like me) who loves to read blogs, pin on Pinterest, and watch HGTV, knock yourself out. But when doing so remind yourself that most likely their homes looks like yours - lived in. AND by all means, do not read blogs, pin on Pinterest, or watch HGTV on a day that may require a lot of chocolate. That girlfriends, is some real wisdom. I need an emoticon for a snap, snap, snap. :)
Happy Monday - I need to go clean!