I often catch myself wondering what type of career my children will have when they are older. Our oldest son loves to build, read instructions, follow plans, etc. Our second son loves anything having to do with yard work. He loves mowing, edging, and using his pretend blower. Our daughter is only three, so for now she loves being a princess or playing baby dolls. I wanted to take a moment and show our oldest son's work in progress. No lie, he has worked on this project for months. Using wood, rock, and any other building scrap he could find, he has constructed a very sturdy fort. It is actually quite impressive in person. It has two rooms, a subfloor, a makeshift roof, and flagpole. Oh, and his younger brother helped him build a fire ring (pretend fire, of course). Like I said, impressive!!! Here are a few pictures.
*** Note: We live in a very dry climate. I heard on the news that we are actually a year behind in rainfall! I mention that because you will see that our backyard looks horrible (please don't judge). We have very little grass and huge cracks in the dirt.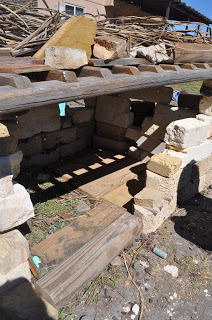 This is a picture of the fort from the front. You can see the small "window" in the middle that leads to the second room.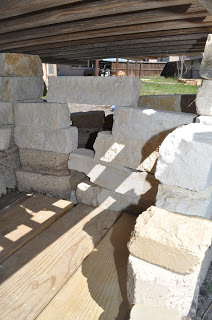 This is an interior view. You can see the ceiling and the subfloor.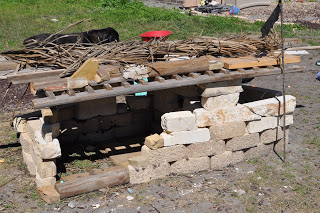 Here is another view from the front. Our neighbor gave him some palm leaves to help close in the roof.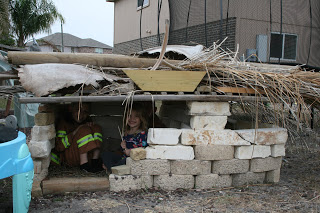 The kiddos love to hang out in the fort (it is hard to see all three in this picture). It was actually sprinkling but they were able to stay dry!! The boys were wearing their fireman costumes, that is why you can see the reflective stripes.
I really think he will grow up to build something. It may be architecture, inventions (his answer), or something in the engineering field. He is very proud of his fort and the fact that he designed and constructed it all on his own. :) I have realized when you have a child with ADHD, it gives them a huge advantage when you allow them to think outside the box. The need to have projects that do not have restrictions and guidelines is essential. Their minds can conger up much more than most of us can even imagine. We gave him complete freedom with this project, allowing him to take it to his level of imagination. Incredible!
Elizabeth