Time and time again, I have cleaned out my pantry only to find it a complete mess within a couple of weeks. I just cannot keep it organized. Although, it does not help that I have three sets of little hands constantly digging, climbing, spilling, and rearranging it. I say climbing because I have literally caught them climbing on the shelves to get candy that I hid on the top shelf. When they want to work together they are an unstoppable team (and sneaky, like ninjas)! Not only do I want to clean out and reorganize, I also want to restock the essentials. I cook every day. Yes, I said
every
day. We are on a tight budget, therefore, eating out (even fast food) is really not an option. I also love to bake. It is in my genes (and in my blue jeans when I don't exercise). :) All of the women in my family relieve stress through baking. Plus, it has become a deeply loved hobby of mine. I love making recipes that I know have been made by my mom, grandmother, great grandmother, and cousins. This is going to take a couple of posts. I am determined to do this reno for under $20. I think it will be challenging but do-able. This is my pantry in it's current state....
I am not ashamed. The first step is admitting my problem, right? :)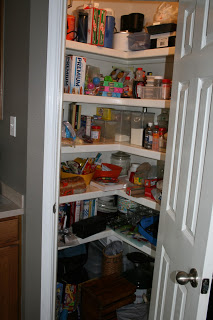 front view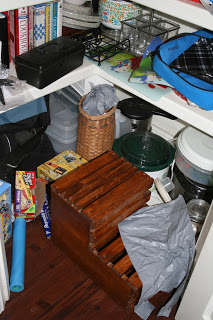 floor view
As you can see, the kids moved the step stool into for easier access. Is that part of a pool noodle on the floor??? Doesn't everyone have one in their pantry?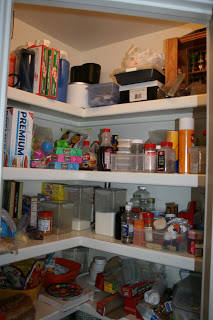 You can see all of the Easter candy and Peeps!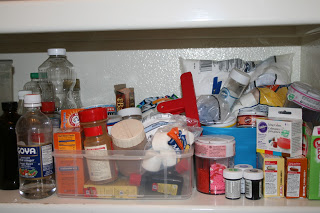 My baking shelf. What a mess!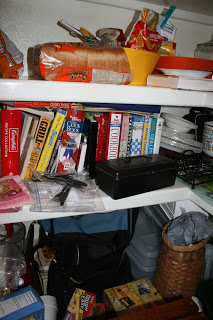 I have a lot of cookbooks. I really only use two or three of them. I think some of these will be going in the garage sale.
I recently found a great pantry supply list on The Pioneer Woman website. It has a printable version, as well. A lot of the items I already have but this is the most thorough list I have found. Click below to see the blog and list.
Well, I will let you know how it goes.
Elizabeth