My mom loves to plan sleepovers for my children and they
love
sleeping at "Ma's" house. Maybe I didn't make myself clear...they
LOVE, LOVE, LOVE
sleeping at Ma's house. She really plays it up big which is another reason they get so excited. This year (when we arrived home after vacation) she gave each child an official invitation for the 2nd Annual Summer Sleepover at Ma's. They felt so important to receive formal invitations.
She spends weeks searching online (especially Pinterest) for craft and experiment ideas and themes. This year the theme was red, white, and blue. Then a couple of nights before the big event she goes through the chosen crafts to make sure each craft will work well for the kids and to iron out any last minute wrinkles. In other words, she knows my kids! They do not do well with frustrating projects. They also have tons of questions, so you have to do your homework! This year the crafts / experiments included: foam dough, crazy experiments with baking soda and vinegar, swimming with glow sticks after dark, milkshakes (colored red, white, blue), eagle and flag crafts and a 4th of July surprise present for Mommy. The kids were also instructed to wear old clothes but bring clean clothes for eating out at McDonald's.
On the morning of the sleepover, they packed their suitcases the second they were awake. I told them Ma would not be picking them up until 2pm but they wanted to make sure they were ready in the event she arrived early. :)
My husband and I took advantage of an evening without kids and celebrated our 11th wedding anniversary a week early. We had such a great time running around town without having to worry about the kids. We even went out for milkshakes at 10pm just because we could! I know, we are quite the wild couple... :)
The next morning I called to check on everyone. The boys were watching cartoons and our daughter was still asleep. I ran and got groceries when my husband left for work. Then I ran through Starbucks and picked up frappaccinos for my mom and I. When I arrived the kids were not ready to leave so I said we could stay for awhile. We ended up staying through lunch and then a little after that! There is just something about being at Ma's house. :)
Here are some pics from their sleepover: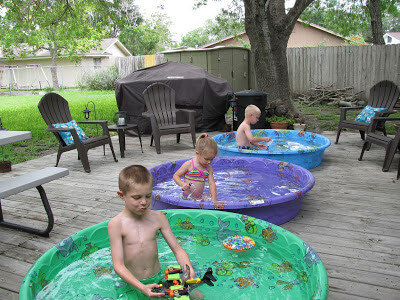 (My mom bought each child their own pool. Even though they are baby pools, the kids loved having their own. My oldest son was reading over my shoulder while I wrote this blog post. He said it was not cool to call them "baby pools".)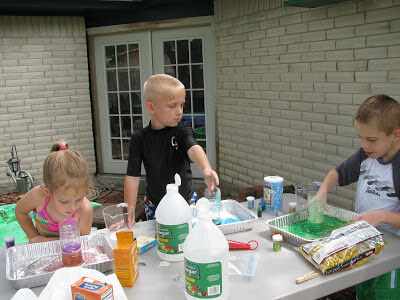 (Sparkling Explosion - vinegar, baking soda, glitter, and food coloring which makes a sparkly volcano.)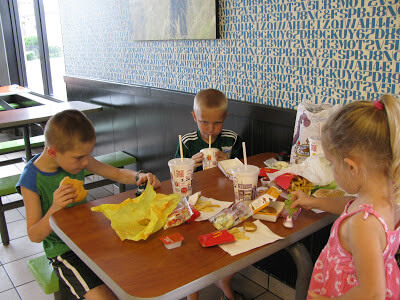 (Eating out at McDonald's)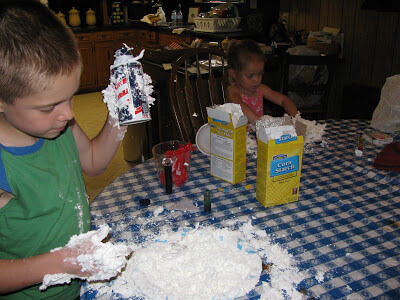 (Foam Dough - shaving cream, food coloring, and corn starch. After mixing all ingredients together the outcome should be like play dough. However, my mom said this made a huge mess and she will NEVER do it again!)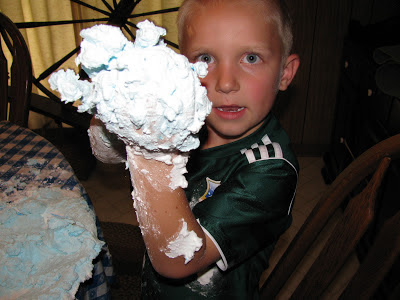 (BIG MESS!!!)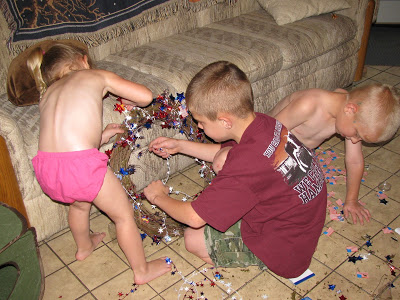 (The kids were very excited to make a 4th of July surprise for me. It is a wreath for our front door.)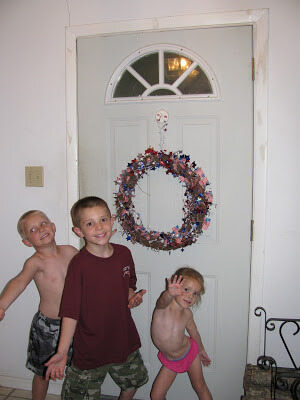 (Trying out the wreath on Ma's door)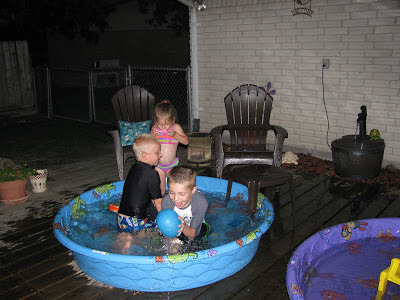 (Swimming and playing in the pools with glow sticks and balloons after dark.)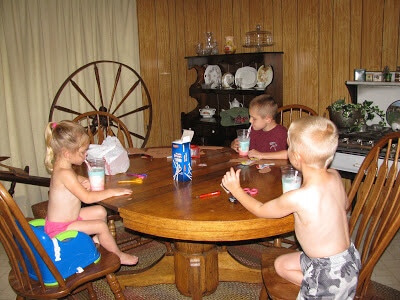 (Making red, white, and blue milkshakes)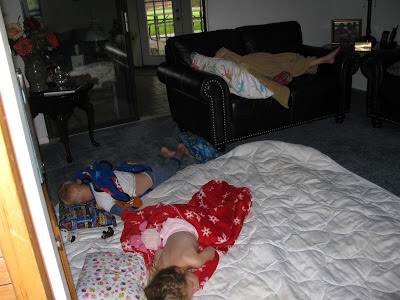 (Sacked out in Ma's living room after a full night of fun)
The kids also completed eagle foam crafts and flags made out of popsicle sticks. The second we pulled out of the driveway they asked when the next sleepover would be. I love the memories they are making. They will talk about these sleepovers to their kids some day. I guess I should starting planning... :)
Thank you Ma!!!!
Elizabeth