About a month ago, I took pictures of my kids wearing my husband's clothes
(view photos here)
. We thought he would love the adorable pictures for Father's Day. It was super cute to see their tiny bodies in his large clothes. Since then I turned the pictures into large 16X20 matte prints on canvas. Here are the finished products.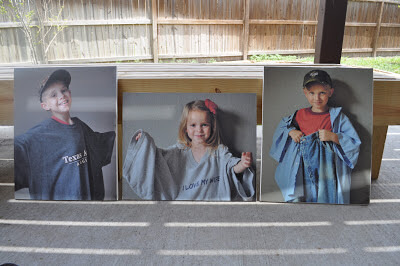 (please excuse the glare - it was caused from my patio cover)
I am not an expert at this but I am pretty pleased with the outcome.
Here is what I did:
purchased 3 - 16X20 canvases from Hobby Lobby (2 pack for &7.99 plus the 40% off coupon)
purchased Elmer's Multi - Purpose Spray Adhesive and Tree House Clear Acrylic Matte Coating
purchased 1 craft knife
I had each picture blown up to 16X20 at Office Depot. I asked that the prints be put on regular paper as opposed to photo paper (this really saves on cost). Each print was about $4.00 each.
trim each print to the exact size of the canvas (I went back at the end and trimmed off any extra edges with the craft knife)
spray the canvas with spray adhesive and attach print (smoothing out any bubbles or wrinkles)
allow spray adhesive to dry for at least one hour
spray clear acrylic matte coating, allow to dry for 24 hours
Mistakes I made:
I tried to use Modge Podge as the sealer. For me, this did not work. It caused huge bubbles in the print and I accidentally tore part of the paper. I had to go back to Office Depot to have a new print made. This is when I decided to use the clear acrylic spay.
Double and triple check your prints before leaving Office Depot. I noticed (after getting home) that one of the prints had lines running through it. No good...had to go back and have yet another re-printed (free of charge).
I would definitely do this again for future gifts. Now that I have the supplies, it will only cost me a new canvas and print.
Elizabeth