Strawberries, blueberries, raspberries...the summer fruit season is so yummy! For years, my mother-in-law has made the most delicious fruit dip. She mixes 1 8oz block of cream cheese with 1 7 oz. jar of Jet Puff. It is the best fruit dip and goes with just about any type of fruit. After trying a grape salad recipe
(Grape Salad)
, I decided to play with the ingredients to see what I could come up with. I took the cream cheese and Jet Puff from my mother-in -law's recipe and the sour cream with vanilla from the grape salad recipe. Then I decided to only use berries that are currently in season (although I think almost any fruit would be great). The outcome was Triple Berry Delight.
Ingredients:
1 7oz. Jet Puff
1 8oz. block cream cheese (softened)
1/2 C. sour cream
3 tsp. vanilla
7-8 C. mixed berries (I used fresh strawberries, blueberries, and raspberries.) Rinse and cut berries. I quartered the strawberries, halved the raspberries, and left the blueberries whole. In a stand mixer, combine Jet Puff, softened cream cheese, sour cream, and vanilla. Using the whisk attachment, whisk ingredients for several minutes . Once mixture is smooth, fold in berries with a large spoon. Cover and place in refrigerator for at least 1 hour (enough time to let the mixture set a little). Serve as a side dish or a dessert. It is "berry" wonderful!!! :)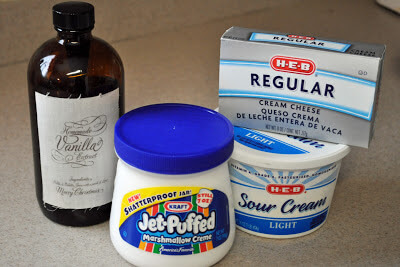 (Whisk ingredients in a stand mixer for several minutes)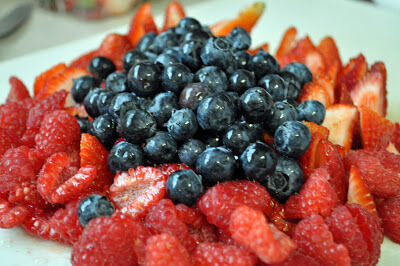 (Rinse and cut berries - combine with whisked mixture)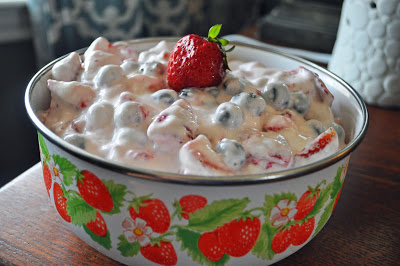 Triple Berry Delight
(This bowl was my grandmother's. I love having any excuse to use it!)
Enjoy!
Elizabeth