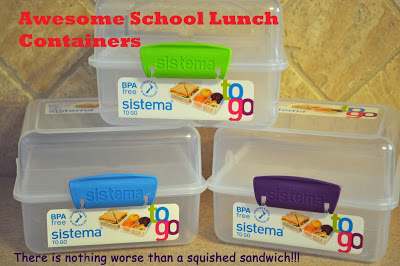 With school looming around the corner, it is time to test out some of our new supplies. I love new backpacks, school supplies, and lunch boxes. But sometimes, those new items aren't as functional as they are cute. So, we must have a "dress rehearsal" before the first day. Today, we are trying a new lunch container. My great friend, Audra
(A Cup of Daisies)
, recommended a lunch container by Sistema. She said it was the perfect size to fit in a lunch box and it kept her sons' lunches from getting squished inside their bags. I don't know about you, but I cannot handle a squished sandwich! :) I knew if it met her expectations it would meet mine. I was really impressed with the price, each container was approx. $5. I purchased three containers (two for the boys and one for my daughter). My daughter is not school aged, however, she will love having her lunch in a container like her brothers. Plus, I can make her lunch the night before when I make the other lunches (another wonderful suggestion from my friend). We plan to visit the boys for lunch so this will give her a reason to carry her lunch box (which she snuck it into the shopping cart when we were shopping for school supplies). :) Let's check out this snazzy little container. :)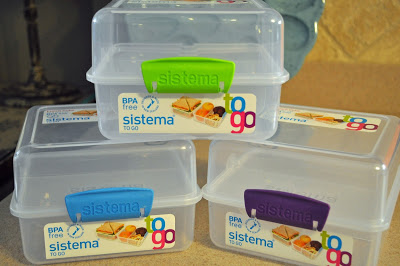 It has three compartments (one for a sandwich and two for small sides).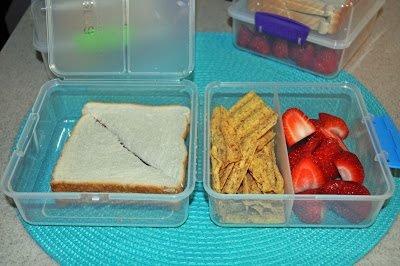 The sandwich compartment has an attached lid which I think is a great idea. It really keeps the bread from getting squished. The side compartments are big and roomy.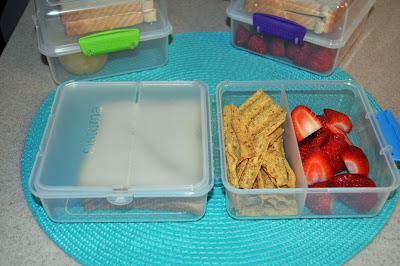 Sandwich compartment with the lid closed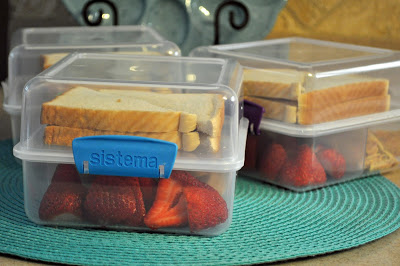 Everything folds up nice and neat. My sons have average size lunch boxes. This container leaves enough room in the lunch box for a drink, napkins, and one more small snack.
*** My kids are going through a "jam sandwich" phase. That is all they want for lunch, bread and grape jam. Is it the healthiest? No. Am I concerned that others will judge the food in these pictures? Not really. :) I am not going to make a pretend lunch filled with the healthiest and cleanest food just to make my pictures beautiful. I have to use what I know works...jam sandwiches. My kids are normal and they eat normal food. :) I am not saying that other kids don't eat those amazing and beautiful lunches (in the pictures) BUT my kids DO NOT. They like...you guessed it, jam sandwiches.
Just keepin it real, folks! (I mean that in the most loving way, of course) :)
Here's to many happy lunches and un-squished bread!
Elizabeth
* The containers were purchased at our local grocery store (HEB), however, I looked online and you can also purchase them through Amazon.