Ahhh, the first day of school.... Scratch that, OH MY WORD, THE FIRST DAY OF SCHOOL!!!! How can this be, how did it get here so fast?! Today, my oldest son begins 3rd grade and our youngest son begins Kindergarten. Wow! I cannot believe the summer is over. Both boys are starting the year at a new school, located clear across town. Why? This question should be complicated but it is actually quite easy to answer. Why? It was God's plan. It has become quite clear to my husband and I that God has been placing just the right people in our path. It began four years ago when we met a volunteer at church. She was our youngest son's teacher in the nursery. Little did we know (at the time) that she would be one of our biggest influences in sending our sons to a tiny elementary (clear across town). It continued two years ago when my oldest son joined Cub Scouts. His Pack Master would lead us to a wonderful woman who just happens to be the principal at our new school (clear across town). Her grandson is also in our Cub Scout den. A few months ago, we really began to entertain the idea of going to this new school (clear across town). We prayed and prayed and prayed. We had our Life Group, family members, friends, neighbors and anyone who would listen praying about our decision. Then we noticed a few more connections. My husband knew the school nurse from high school athletics. The school librarian is a long time customer of my husband's family owned business. The assistant principal has two sons (now Eagle Scouts) who were Cub Scouts under our Pack Master many years ago. It seemed there was one connection after another. This is an amazing display of God's hand, timing, love, and plan. It dawned on me when we were leaving the school after Meet the Teacher, this is God's protective bubble that he has put into place just for our family. Over the past four years, He has positioned just the right people in our path to help us transition and have a fresh start at a new school (clear across town). I picture it like moving chess pieces around on a board. It is absolutely amazing and mind-boggling all at the same time. I am sure we will have some struggles as we transition, however, God has positioned just the right people at just the right time. I must say the feeling is a bit overwhelming but it is also very peaceful. I keep mentioning that the school is located clear across town because never in a million years would we have considered this tiny school. Until a year ago, I wasn't even sure where it was located. The school population is half the size of the schools in our neighborhood. It is small in number but it feels so warm and large at heart. It was hand picked for our kids by God, even if it is clear across town. :) I thought I would end with a few pictures from our morning. It was raining outside so we had to take the pictures in the house.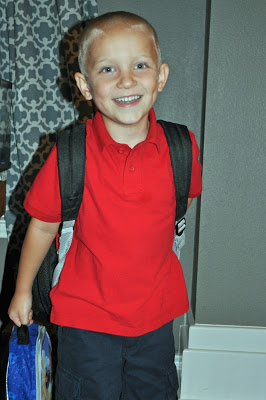 Kindergarten!!!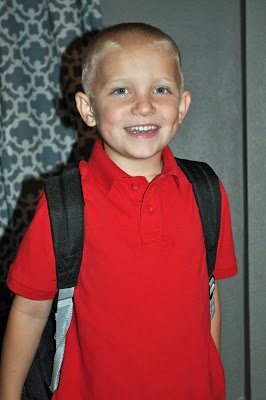 Those dimples get him out of so much trouble!!!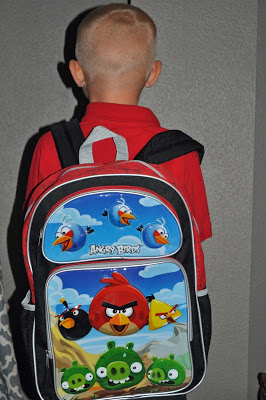 He was so excited about his Angry Birds backpack.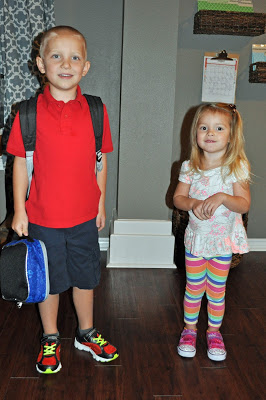 Letting little sister in the picture. Notice her clothing choices this morning.... :)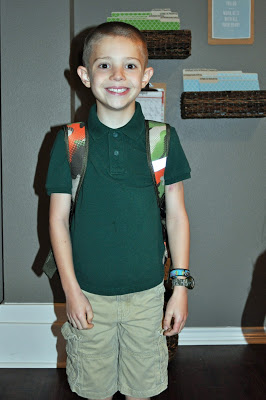 3rd Grade!!!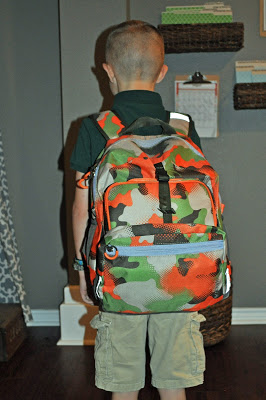 Played it safe and went with camo. :)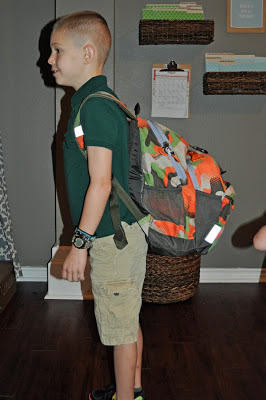 We were laughing at how big his backpack looks from the side. He was definitely loaded down.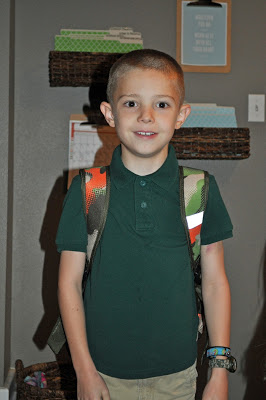 Could he look any older???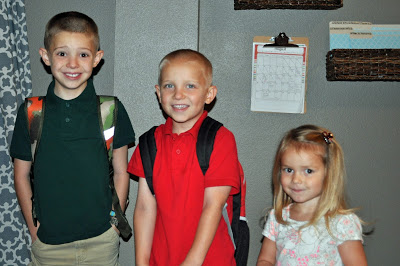 This is a pretty good picture for all three kids at 7am!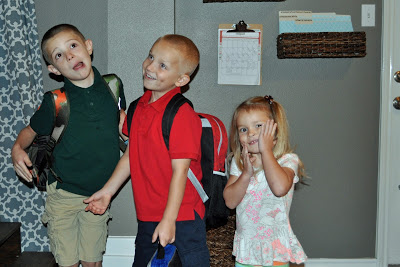 Much more accurate!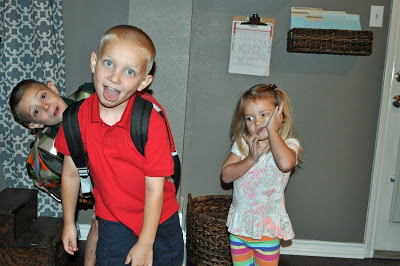 :)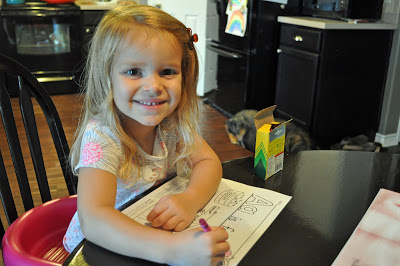 After us girls got back home, it was time for homeschooling with Mommy.
Elizabeth