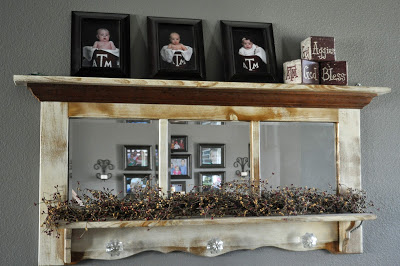 Not too long before our oldest son was born, my grandmother, "Grammy", gave us a Texas A&M metal bucket. My husband, his brother, and their father all graduated from Texas A&M so you know the Aggie Spirit is thick in our house. :) My mom and I took it to a photo shoot when my son was almost 3 months old. It was really hard to get him to sit up straight in the bucket. If you look closely you can see a black sheet in the background. That is actually my hand under the black sheet, holding him up.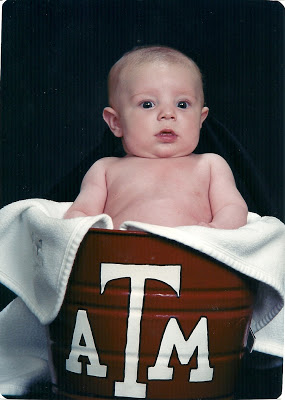 "Our Oldest"
He really wasn't crazy about the idea but he decided to tolerate it.
(I scanned the pictures from the originals I keep framed. Sorry, the scan quality is not great.)
When our youngest son was born, my mom and I dragged the bucket out and took it to his photo shoot. He was more than happy to sit in the bucket without being held up. Honestly, I think he was quite comfortable in it. :)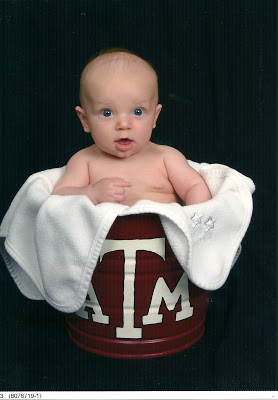 "Our Youngest Son"
See how happy he is, sitting up in the bucket! :)
Those blue eyes still get me.
Well by now it was considered a tradition. :) When our daughter was born...you know the story. Except there was a moment of panic when I couldn't find the white blanket that had been used with the boys. I think that is actually a towel shoved in the bucket. Oh well...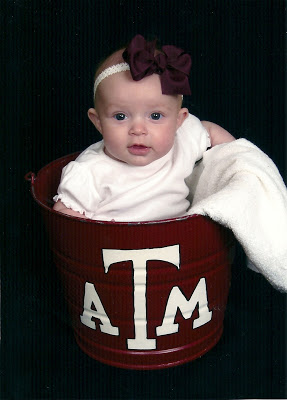 "Our Daughter"
She was a bit older than the boys when we had the picture taken. She cooperated but had a complete melt down when we took pictures in a different outfit. I remember sweating and being way over heated as I wrestled her into a new outfit. :) You know, moms will do just about anything for a good picture!
These pictures are some of my most treasured keepsakes. I keep them displayed in our entry way. The kids are much older now (8, 5, 3) but these pictures will always be on display. We will keep the bucket in the event they want it for their own children. Unless, they go to the University of Texas... then they probably won't want it. :) But then again, grandmas can be very convincing....
Elizabeth