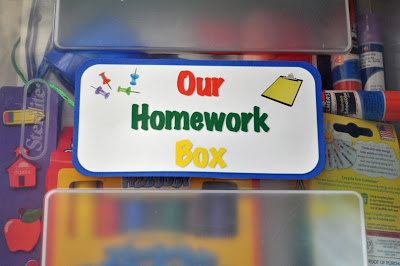 With the first week of school behind us, homework is in full swing. One thing that drives me crazy is having to search the house for school supplies to complete homework assignments. It never fails when your child needs a glue stick you can't find one anywhere. Or maybe they need markers, scissors, tape, notebook paper, the list could go on and on. The point is, why make homework more stressful by running around like a crazy person looking for glue? Oh and let me mention, when you actually find the glue stick it has shriveled to practically nothing. Is that just me? Sorry, apparently I have some pent up issues about glue sticks... :) Back on track, I find it much easier to have everything organized and in one place.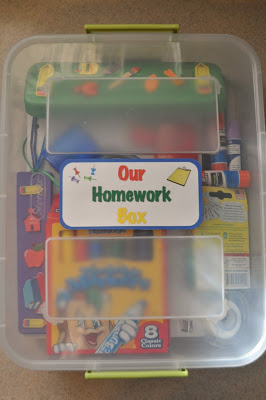 I used a document sized plastic bend with a lid that is easy for the kids to remove and put back into place.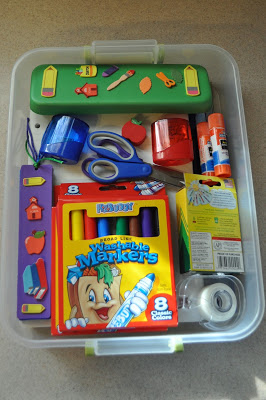 I filled the box with standard homework supplies: scissors, tape, glue sticks, crayons, markers, pencils, notebook paper, pencil sharpener, bookmarks, etc.
This little piece of organization took hardly any time and cost $0! We already had the supplies on hand from our
Back to School Party at Ma's
. I also found the plastic bend tucked away in a closet. At one point, I used it as sensory buckets when the kids were younger. I love it when things can be recycled!
Here's to an organized 9 months of homework. :)