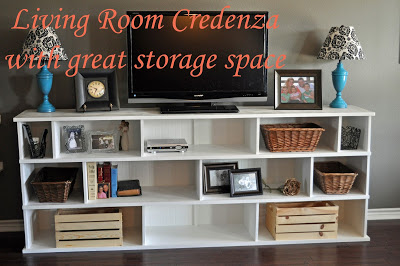 We have always had dark furniture in our home. Over the last year, we have started changing the look of our downstairs. The biggest change was the wall color. We went from a light beige to a really dark grey. The paint color is called Taos Taupe (Benjamin Moore) and we love it! However, after painting the walls we decided our furniture was too dark. We had dark floors, a dark wood entertainment center, and dark brown leather couches...it was just way too dark. We are not in the position to buy new couches so we had to begin making other pieces lighter. Here is our first piece, a living room credenza. Well, to be honest, I am not sure what the exact title would be. It is not an entertainment center but it is not a TV stand...so we went with credenza. I like the sound of it! :) On a whim, my husband and I scratched rough plans in a notebook. We are not designers or carpenters by any means. We just know what we like and figure the rest out as we go. I usually take care of the "look" and he does the building. My biggest concern was storage. I wanted cubbies for baskets and such. We decided a white toned paint would be best. It would off-set the dark floors and grey walls. We also added bead board to the back wall to give it some texture. We are both really happy with the finished product. Plus, considering we did not have any official plans, our measurements turned out really good. Anyone who knows me, is aware that math is not my strong point. :)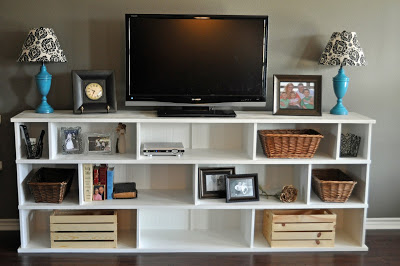 We have large and small storage spaces. The crates on the bottom will hold blankets for cuddling up on the couch. I haven't decided it I want to paint them or not. I kind of like the natural look.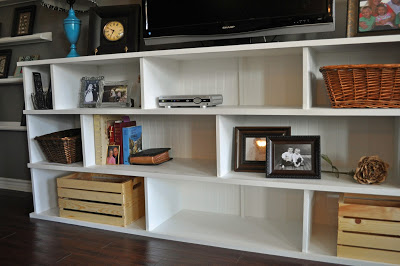 I love that he made the spaces large enough for bigger picture frames. It is also nice that we still have an empty cubby on the bottom. :)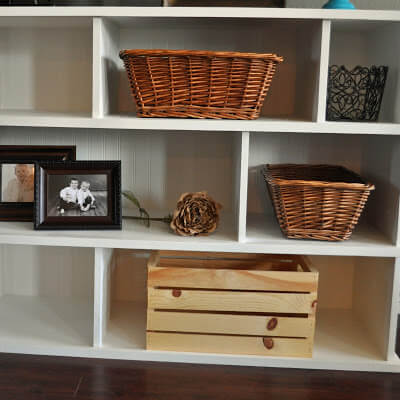 I used baskets and other items we already had on hand. This really helped to keep the cost down.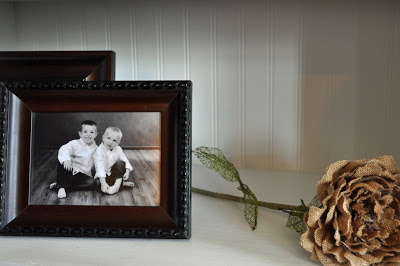 This shows the bead board in the back. I love the texture it brings to the piece.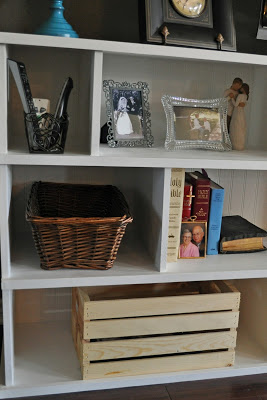 Left end of the "credenza"... :)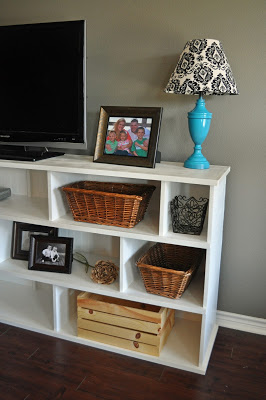 Right end of the "credenza"... :) It is such a fun word!
I love it! It makes the room look so much better.