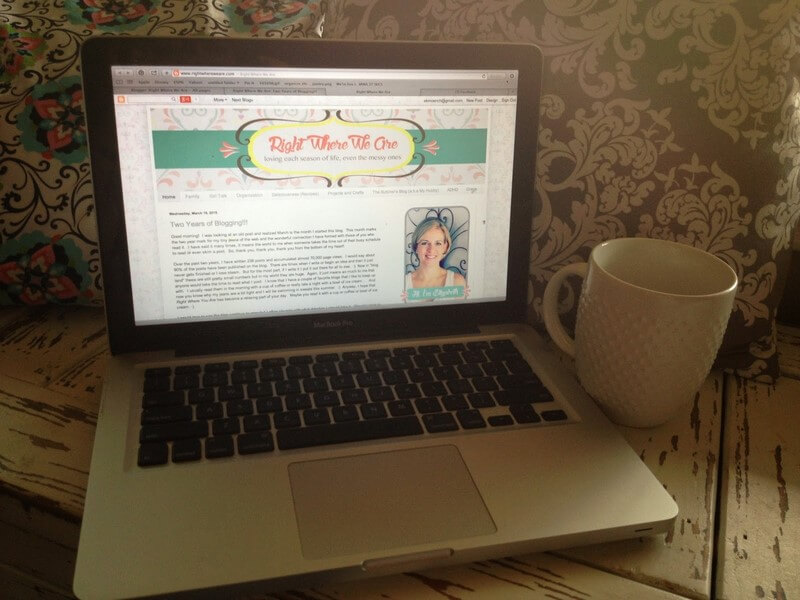 Good morning! I was looking at an old post and realized March is the month I started this blog. This month marks the two year mark for my tiny piece of the web and the wonderful connection I have formed with those of you who read it. I have said it many times, it means the world to me when someone takes the time out of their busy schedule to read or even skim a post. So, thank you, thank you, thank you from the bottom of my heart! Over the past two years, I have written 238 posts and accumulated almost 70,000 page views. I would say about 90% of the posts have been published on the blog. There are times when I write or begin an idea and then it just never gets finished or I lose steam. But for the most part, if I write it I put it out there for all to see. :) Now in "blog land" these are still pretty small numbers but in my world they are huge. Again, it just means so much to me that anyone would take the time to read what I post. I know that I have a couple of favorite blogs that I like to keep up with. I usually read them in the morning with a cup of coffee or really late a night with a bowl of ice cream…. And now you know why my jeans are a bit tight and I will be swimming in sweats this summer. :) Anyway, I hope that
Right Where You Are
has become a relaxing part of your day. Maybe you read it with a cup or coffee or bowl of ice cream. :) I would love to see the blog continue to grow but I often struggle with what direction I should take it. Should I stick to just "mommy" topics? Should I lean more towards the homeschool audience? My husband and I love DIY projects but those are so expensive and few and far between. I love food but I am horrible at taking pictures of food (that is harder than you think). For now, I have decided to just continue writing about our family life (which kind of includes a little of all the above). We shall see where it goes! :) Thank you to all of you for reading. As I have said more than once in this post, it really means so much to me. If you are new to my little blog, here are the categories I write under. You can also find these categories at the top of the page. Also, if you are ever looking for something specific you can search using the search tool on the right.
Right Where We Are Categories
- Click on the following links to view a list of posts (and links) for each specific category
Family
Girl Talk
Organization
Deliciousness (Recipes)
Projects and Crafts
The Butcher's Blog (a.k.a. My Hubby)
ADHD
Grace
THANK YOU! THANK YOU! THANK YOU!