Well, the holidays are over and now it is time to put everything away until next year. My house always feels so empty when the Christmas decorations come down. Some years I take the time to organize and clean out decorations I did not use. Other years, I throw everything in the Christmas buckets, stick the lid on, and call it done! This year, I decided to take the time and really organize my Christmas cards. I love sending and receiving cards!!! In years past, I displayed our cherished cards over my kitchen window. Using wooden clothes pins, I attached each card to the hem of the window valance. It was something I looked forward to, but this year I changed my window treatment. The new window covering (
DIY No Sew Burlap Curtains
) did not allow for the cards. Instead, I took a large red and white striped ribbon (about six feet long with wire edges) and hung it on a column between our living room and kitchen. Each time a new card came in the mail, I attached it to the ribbon with the wooden clothes pins. It was so much fun to add new cards and to see six feet of cards going down our wall. We filled the entire ribbon by the end of the season! But now what? The holidays are over but I just hate throwing out Christmas cards. I know how hard everyone works to get just the right card and just the right pictures. To keep the cards, I decided to use a small decorative box to hold the pictures until next year. It won't hurt so much to throw them out when I am getting new cards in the mail. :) It may seem silly to hold on to them for a year, however, it will remind me who I need to send cards to. This year, we had a really tight budget for cards. I ordered the amount I thought I needed, however, received cards from several other people. I felt awful not being able to send them a card in return. I have already noted that I need to increase the number of cards and budget for next year. In the box, I also included the cards my family has sent out over the past 10 years. Those are always so much fun to look at each year. I decided it would make the most sense to also include the ribbon, thumb tack, and clothes pins in the box, as well. Perfect! Everything is in one box and ready to go for next year.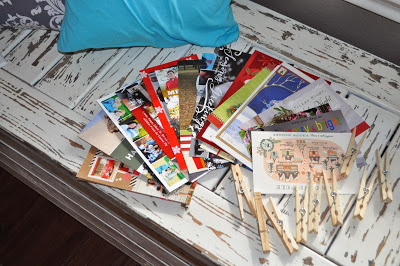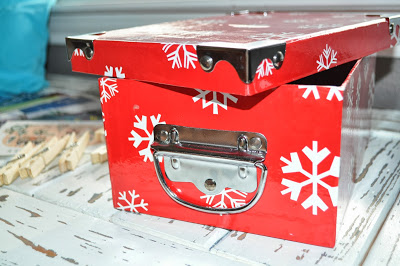 The best part, we received the box from someone else. So, this little piece of organization cost absolutely nothing!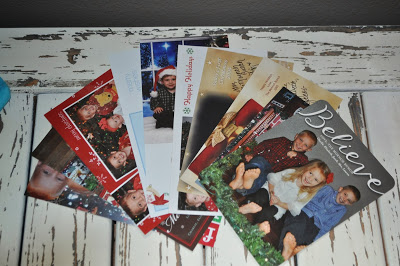 I treasure our family's Christmas cards.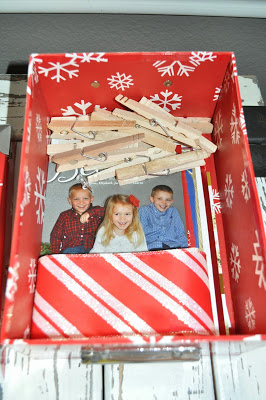 Everything tucked away, nice and tidy.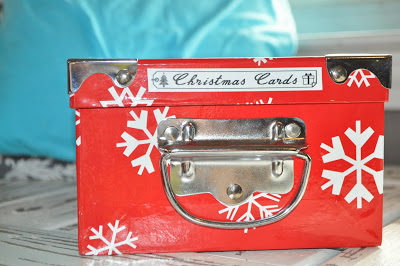 I labeled the box using my handy-dandy label maker.
Another way to do it would be to use a non-holdiay themed box. If you purchased a box that matched to every day decor, it could sit out all year long. I think a box like this would look really cute on a coffee table or credenza.
Happy New Year!!!

***Please hop over to Living Well Spending Less
Thifty Thursday
for some exceptional organization on a budget!