Whenever we go on a family vacation, I end up throwing our first aid items in either zip top bags or a small bucket. Since we leave next week, organizing and updating the first aid items was on my to do list. I decided to make a "med kit". This is what we used when I was in high school drill team. We used it when we traveled and performed off campus. Come to think of it, the med kit was used daily. When you have that many teenage girls in one location, someone is always in need of something. :) I purchased a small fishing tackle box at Wal-Mart. I think I paid around $8. Then I went through our first-aid items in the house and began to load it. Below are the items included in our med kit (you may need a few different items for your family).
hydrogen peroxide
survival wrap (those silver blankets that come in first aid kits)
gloves
cotton balls
gauze pads
burn treatment pads
cleansing wipes
thermometer with probe protectors
bandages of all sizes
hand sanitizer
children's allergy relief
children's ibuprofen
syringe
adult ibuprofen
adult allergy relief
aspirin
gas relief
anti-bacterial cream
anti-itch cream
tweezers
clippers
chap stick
small pair of scissors
two brown paper lunch bags (can be used for hyperventilating or if someone gets sick)
Epipen *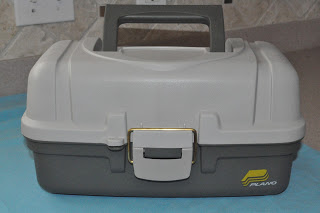 This is the tackle box I purchased at Wal Mart.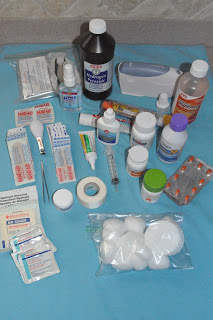 Here is a picture of all the items I put in the tackle box. The scissors and brown paper bags are not pictured. I added those after I took the photo.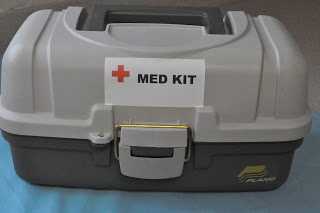 I decided to print large labels stating that it was a med kit. I want the kids to understand that this is not something for them to play with. Also, I would hate for my husband or son to accidentally grab this "tackle box" on our next Cub Scout fishing trip.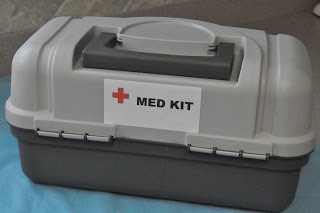 I also labeled the back of the box. Ok...I labeled each side, as well. :)
Free Printable Labels: I have included the labels for you. I used Avery EcoFriendly White Shipping Labels (which use Avery Template 5163).
* After clicking (click here to print), you will be sent to a Google Doc page. From there select "file", then select "download". The image will download to your computer and then you can print from there.
If you decide to use a tackle box or some other organizational bend, having a prepared and organized med kit is essential.
Elizabeth