Cookies! Cookies! Cookies! Everyone in my house loves cookies with a glass of milk any hour of the day. During the holidays, I love to use recipes that have been passed down in our family. However, on a normal day it is always a toss up between chocolate chip, oatmeal, or M&M cookies. Monster cookies incorporate all three. SCORE!!! Actually, you can put any type of candy, nut, dried fruit, etc. in monster cookies. That is why they are so great, just use what you already have on hand. I like to use my standard chocolate chip recipe and modify some of the ingredients.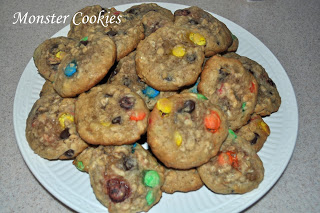 This is what you will need:
1 1/2 - 2 C. flour (start with 1 1/2 and add more if needed)
1/2 C. sugar
1 C. brown sugar (I always add a tad bit more because I love it so much)
2 eggs
1 C. (2 sticks) butter or margarine, softened
1 tsp. vanilla
1 tsp. salt
1 tsp. baking soda
1 C. chocolate chips*
1 C. M&M's*
1 1/2 C. oatmeal*
*The add-ins can be whatever you have on hand. Also, use as much of a certain add-in as you like. For example, I love M&M's so I add extra to the recipe.
Preheat oven to 350 degrees
When making this recipe, do not worry about mixing wet ingredients separate from dry ingredients. I literally dump the butter, eggs, sugar, brown sugar, baking soda, salt, and vanilla into my stand mixer and mix on medium. Then I add the add-ins (chocolate chips, M&M's, oatmeal) and mix on low. Last, I add the flour half a cup at a time until I get the desired texture. As my kids would say, "easy-peasy".
Place the cookies on a cookie sheet using a medium sized cookie scoop. If you are not using a nonstick cookie sheet or baking pad, you should spray the sheet with a nonstick cooking spray.
Bake cookies at 350 degrees for 9-11 minutes. My family likes really soft cookies, almost under done. If you like a well done cookie, up your baking time to approx. 12-14 minutes.
While your waiting for the first batch to finish, grab a glass of milk and enjoy the dough, it is A-Mazing!!!
Elizabeth