Today's summer activities post will focus on family teamwork activities. Our family loves projects. It seems like we always have something we are working on. My husband is such a patient person. Whenever he has a projects (i.e. the backyard, building, painting, etc.) he allows the kids to help with each part. He guides them with tools and explains all the details. The kids love every minute of it. It also helps teach the kids about teamwork and how families should always work together.
Here are a few of my favorite ideas.
1. Clean the garage (this sounds horrible but it can be turned into a game) 2. Dinner and a show for grandparents (the kids can help prepare and serve the meal, they can also put on a play or lip sync a song) 3. Make a family scrapbook or cookbook (my kids love to get in the kitchen) 4. Set up and play a family relay race or scavenger hunt 5. Put together a puzzle as a family 6. Go for a nature walk 7. Build and help the kids run a lemonade stand / bake sale 8. Help the kids cook dinner/dessert and take to a friend 9. Ding Dong Ditch 10. Lay in the backyard and look at the stars 11. Camp out in the backyard 12. Plant new flowers in the yard 13. Build something as a family (last year we built a cover for our patio, the kids helped with every step)
pictured below
14. Family movie night 15. Paint and redecorate their bedrooms or play area 16. Let the kids help plan and prepare for vacation 17. Take a picnic 18. Make a new family summer tradition (we always go to the fireworks at the Texas State Aquarium) 19. Put the kids in the pajamas and park at Sonic for ice cream (there really isn't any teamwork in this - it is just a lot of fun) 20. Do something nice for a grandparent or neighbor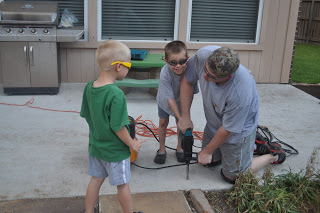 learning how to run a drill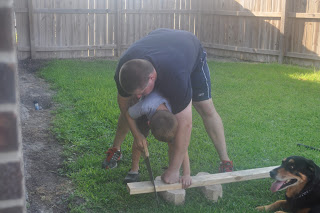 using a handsaw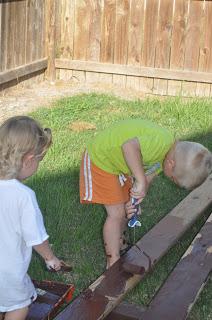 helping pant the slats for the patio cover
There are so many things a family can do together. It makes amazing memories for the kids and the parents. I would love to hear about your family teamwork activities.
Elizabeth