I love one pot/pan dinners. It makes clean up so quick and easy. The other day I was looking through my cookbooks and stumbled across this
Rosemary Chicken and Roasted Vegetables
recipe (Campbell's Recipe Collection). It sounded delicious and most importantly all the ingredients go into one pan. Perfect! I did not have the exact ingredients on hand so I modified where needed. I do that a lot. The best part about cooking is that you don't have to be exact.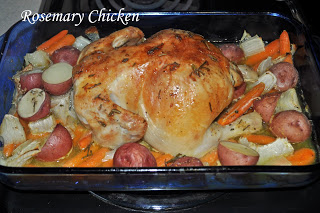 Here is what you will need:
3lb. whole fryer chicken
1 Tbsp. butter, melted
4 medium red potatoes, quartered (I used 6-8 small red potatoes cut in half)
2 C. fresh or frozen whole baby carrots
2 stalks celery, cut into 2-inch pieces (I did not have celery on hand so I left it out and the dish was still very good)
12 small white onions, peeled (I had a medium yellow onion that I cut into large pieces)
1 1/2 tsp. chopped fresh rosemary leaves or 1/2 teaspoon dried rosemary leaves, crushed
1 C. chicken stock
1/2 C. orange juice Brush the chicken with the melted butter. Place the chicken and vegetables into a roasting pan. Season with rosemary. Stir the stock and orange juice in small bowl and pour
half
of the stalk mixture over the chicken and vegetables. Roast at 375 degrees for 45 minutes. Stir the vegetables. Add the remaining stock mixture to the pan. Roast for 30 minutes or until the chicken is cooked through.
**Butcher's Tip
(a.k.a. my wonderful husband who happens to be a third generation butcher) :)
To help keep the meat juicy, roast the chicken breast side down. Like I said, I don't think you need the exact ingredients for this recipe. Just use what you have in your pantry. Just wing it! I know it was a bad joke. Wing it, because it is a chicken... :) I promise I will get out of the house later today. :)
Elizabeth