We are going on week three of the pool building process. So far, we have had more rain in the last two weeks than the last six months. At this point, I feel we have done our part to help our city out of the drought. I knew the moment we had a huge hole in our backyard, it would rain. I was right... But, things are looking up! I was just told today the gunite or concrete or cement (I am still not sure which one to use and at what time) will be sprayed within the next two days. AND...as of now, we don't have any scheduled rain within those days. Here is a look at the progress: Last time, I posted (
Putting in a Pool: Part Uno
) the hole had been dug and we were beyond excited. The second my husband got home that night, he jumped in with the old tape measure. I think he measured every inch of that hole! Thankfully, all was good. I am not really sure what you do with a mistake of that size.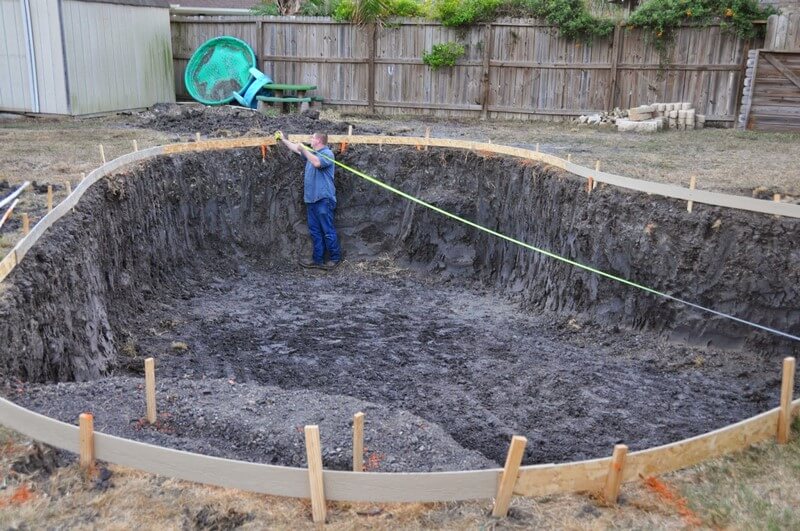 He can't help it. Typically, he is in charge of all projects around the house. This one is a bit out of his hands. So, he measured, and measured, and then measured some more. It soothed his soul. The next morning he went directly to the backyard, came in the house, and reported, "Yep, the hole is still there." Poor baby, I think being out of control on this has made him a bit antsy (not that he would ever admit that). :)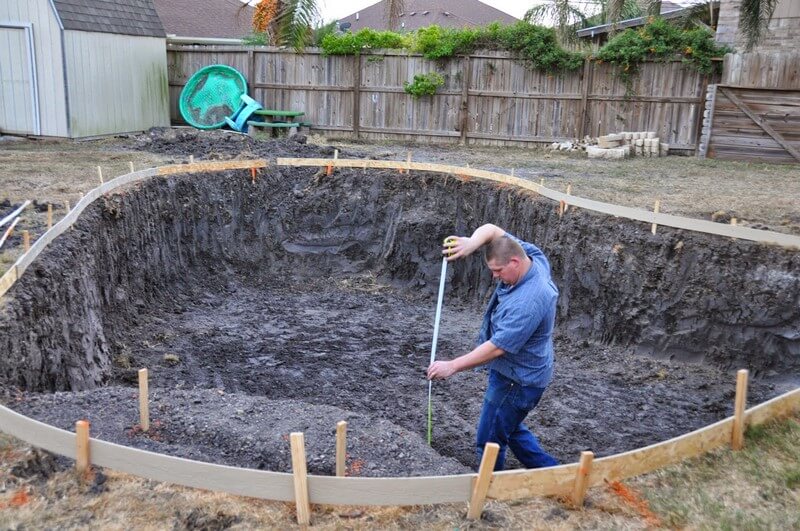 The kids could hardly stand the fact that he was in the hole and they weren't. Believe it or not, all three kiddos managed to stand still (not pushing or shoving) on one kitchen chair. They are so still you can't even see the third and shortest child in the picture. Amazing - they can do it when they really want to!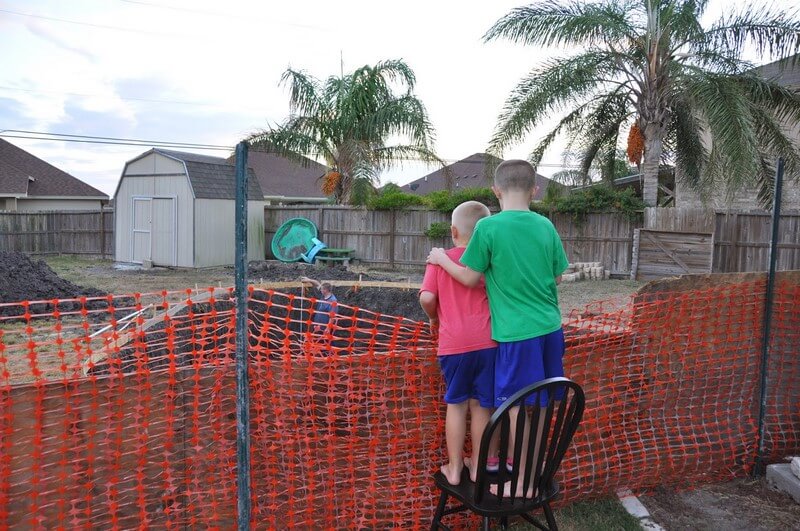 And then...we gave in. We couldn't take it any longer. Water or not, we were getting in our pool hole!!! Just for the record, I did not participate in anything childish like pretending to swim or lounging by the ledge. Nope, I just stood absolutely still and adult-like in our big hole... :)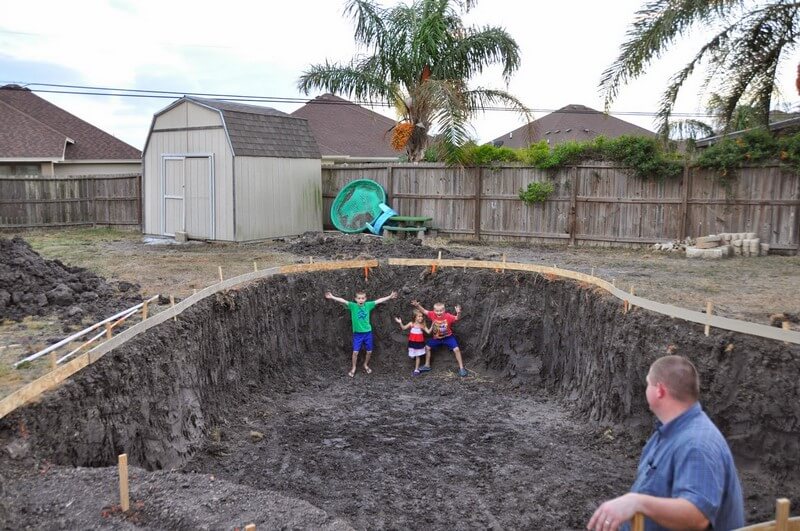 Being in the hole was a completely different feeling compared to looking into the hole. It felt so much bigger when standing in it. It is an odd feeling to be below the ground in your own yard.
The last week and a half has consisted of rain and re-bar; a lot of both.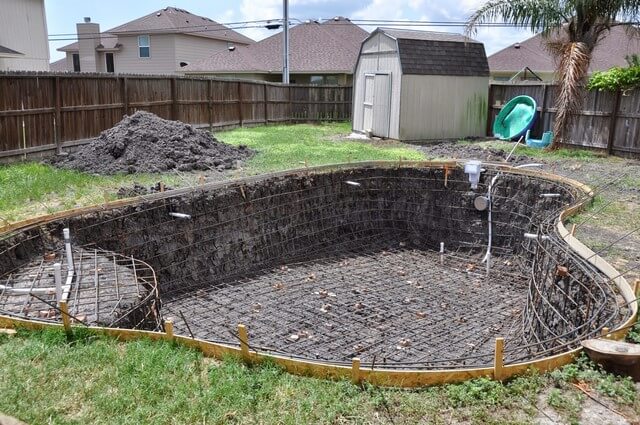 This phase is finished. As you can see, the light (large round circle) has been installed along with some plumbing.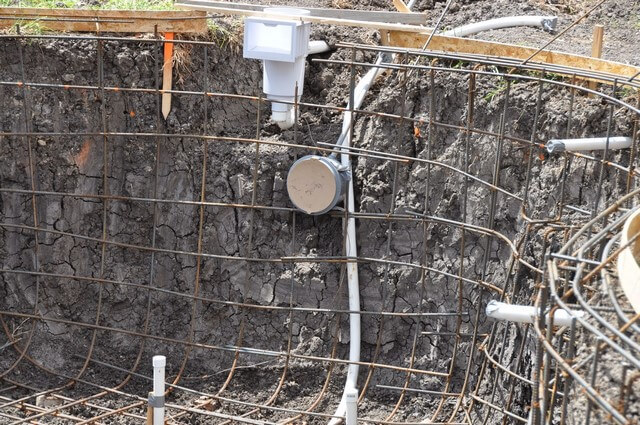 This is the "tanning ledge". Really, that is just a fancy term for a nice shallow place for Pappy (my father) to lounge. He even has two "bubblers" (another fancy pool term for two teeny, tiny fountains). :)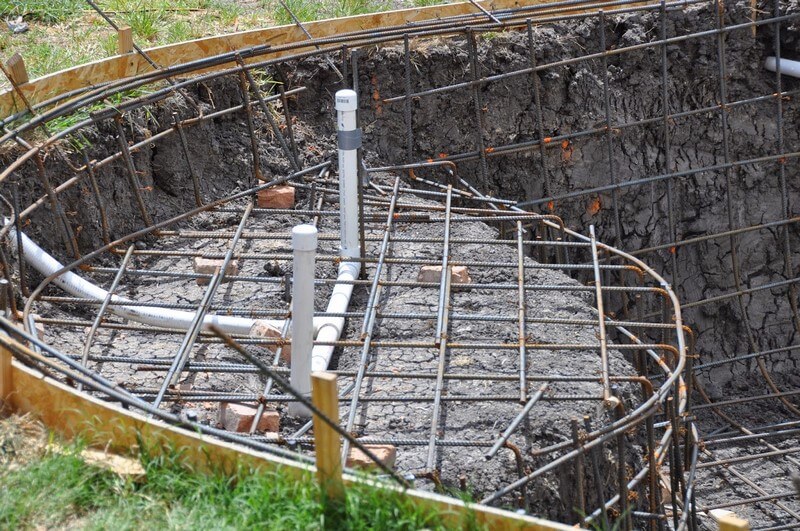 So, fingers crossed we will have gunite, concrete, or cement in the next couple of days!