This is my first food blog. I have no idea what I am doing as far as the blog is concerned. I do, however, know what I am doing in the kitchen! Baking is passed down from one generation to the next in my family. Too bad the love of exercise isn't passed down... Anyway, let's talk cupcakes! I always use box cake mixes and then fancy them up on my own. They are one of those things that just make life that much easier. :)
Ingredients for cupcakes:
1 Butter Recipe Fudge Cake Mix
3 eggs
7 Tbsp. softened butter
1/2 cup water
Ingredients for middle frosting:
1 stick softened butter
2 cups powdered sugar
4 Tbsp. milk
1/2 tsp. vanilla
Ingredients for frosting on top:
2 Tbsp. softened butter
2 cups powdered sugar
2-3 Tbsp. milk Preheat oven to 325 degrees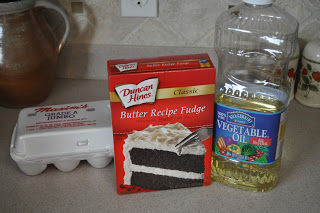 Here is a picture of the exact cake mix I bought. I have never used this particular one but it was on sale.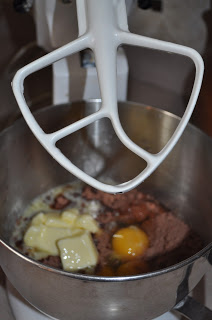 Empty cake mix, water, 7Tbsp. softened butter into a stand mixer. Use the this attachment to mix the batter for 30 seconds.
I must take a minute to mention that my Kitchen Aid was my grandmother's. I have always believed that it has magical powers!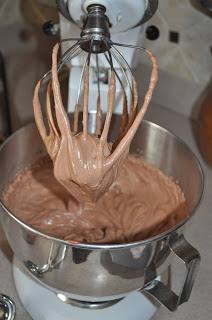 Use the whisk attachment for 3 minutes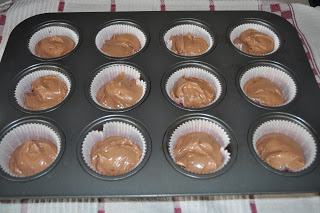 Place batter into muffin tins (I like to use a cookie scoop). The batter will need to bake for 18-22 minutes at 325 degrees.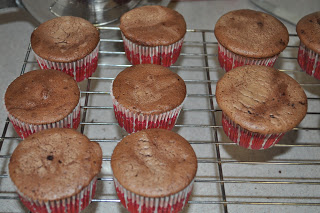 cool the cupcakes on a wire rack
Next I moved onto making the frosting that would be piped into the inside of the cupcake. Yummy!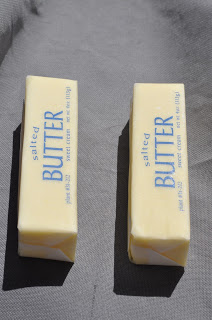 I decided the butter was not getting soft fast enough on the counter so I moved it outside onto the cover of our grill. The weather today is gorgeous!
I forgot to take a picture of the ingredients before mixing the frosting. I used the powdered sugar, vanilla, one stick of butter, and milk (whisk until the texture seems right)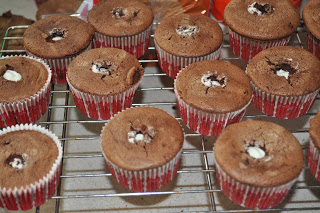 Using a piping bag, I filled the centers of the cupcakes.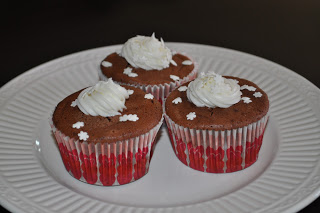 I made another batch of the icing, however, this time I only used 2 Tbsp. of butter. I topped each cupcake with a small amount of frosting (I figured they were already very sweet due to the frosting in the middle).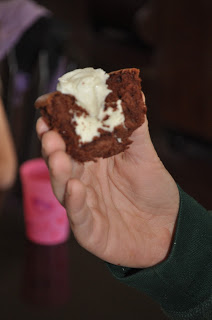 Here is a picture of my son displaying the middle of his cupcake. All three kids gobbled them up in less than 10.5 seconds!
I guess it is a good thing my husband and I did the Insanity workout DVD this morning...maybe I should do it again this afternoon. Then again, there is always tomorrow!
Happy baking,
Elizabeth