Ahhh, "me time" what every mother can never get enough of. It is something that is essential for any mom to survive. Don't get me wrong I love my kids more than life it's self but I also love myself (especially when myself is in a quiet place...ALONE). The fact is most mom's probably don't get the type of "me time" they feel they deserve. I think we can all agree that a secluded beach, good book, and something cold to drink would be an idea way to spend "me time". If you don't like the beach maybe a spa or quiet area in a library. Anyway you look at it, we all need more of it. But what do we do when it just doesn't fit the schedule or budget or any other issue that may come up? I have finally figured out that question, after months of arguing with myself and feeling pitiful that I was the "only" mom that didn't get that special time. I even posted it on Facebook awhile back. My status asked the questions, "How do you spend your "me time" and how often do you get that precious time?" I received so many responses. Some moms had the opportunity to have a couple hours a week, others tried to take a small amount of time each day, and still others hoped to get an ounce of time within a month. After reading all of the posts, I realized that I needed to change my attitude towards my personal time. My husband works six days a week. His work day usually lasts between 10 and 12 hours. Soooo, I needed to get creative. As I have mentioned before, my life has recently taken a huge change. Actually, you could consider it an overhaul! Six months ago I was a 10 year veteran teacher with one child in public school and two children in full time private daycare. A huge bonus to being a teacher is having so many holidays and summers off. I really felt I had the best of both worlds. We were able to have two incomes and I still had a lot of time at home with the kids. What I didn't realize is how easy my alone time was to fit in. Some days I would rush out of school so I could run to Target or Hobby Lobby before I went to pick up the kids. Also, money wasn't an issue so scheduling a pedicure every two weeks was a piece of cake. My how all of this has changed! When we decided I needed to resign and homeschool our children "me time" came to a screeching hault. Now we follow a very strict budget and my children and I spend just about every waking moment together. This was a huge adjustment. Gone were the days of running errands by myself and sitting for 45 minutes while someone massaged my legs and feet. Today, I am totally embarrassed of the way my feet look. Oh well... :) Getting back on track, I had to change my perspective of what my "me time" should look like. I realized that the pedicures, Starbucks, etc. where out of the question. I was unexpectedly saved when my husband and I received the most amazing Christmas present from my parents. Drum roll please.....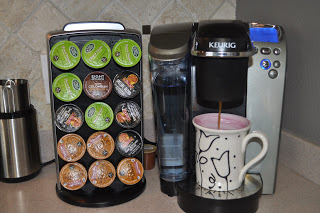 Isn't she a beauty?!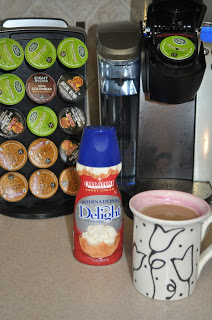 Ahhhh!!!!!
The Keurig!!! It has become my new and might I add, inexpensive me time. Everyday, yes I said everyday, I make a wonderful cup of coffee and that is my "me time". It is not glamorous but it is a guarantee that I will get it. Most of the time I wait until the afternoon to make my precious cup. By that point homeschool is over and the kids are more than willing to play upstairs or in the backyard. So then I get coffee and quiet! AMAZING!!! Yet again, it's the little things in life! So I just have to ask the question again. How do you spend your me time?
Elizabeth
***While I wrote this blog post (during today's "me time") the following things happened:
1. I made my cup of coffee and anticipated a great amount of quiet time, and then...
2. My three year old daughter insisted on sitting in my lap even though I was typing on the laptop.
3. My oldest son decided that this was the best time to discuss many activities in his Cub Scout handbook.
4. My daughter wanted an apron tied around her waist and then two minutes wanted it removed.
5. She also gave me multiple hugs and laid her head on my shoulder. :)
6. My middle son asked to go outside (1 out of 3 isn't bad) :) I wouldn't switch my old "me time" with my new "me time" any day. I love spending so much time with me kids. It really will be gone before I know it. AND when I finally do get that glamorous "me time" it will be so much more appreciated.