"Today, I am going to get that counter cleared off!" How many times have I uttered this statement?! We have one counter in our kitchen that is such a "catch all" and once it is full the stuff just begins to creep to all the other counter tops and kitchen table (and stairs, cubby....) What I mean to say is that when you have three kiddos, everything is a catch all!!!. It is something I have battled for years. I have read so many blogs about organizing your command center. I try and try but day by day the clutter creeps back. I decided on a whim to give it another try. Now, I did not spend a single dime on this organization project. I would much prefer cute baskets and scrap booking paper for my labels but it is just not in the budget this month. My goal was
organized
and
functional
! Maybe on another day I can change out baskets and labels. :) Here it is, in all it's glory...the counter! There is a little bit of everything on it and sadly this is how it usually looks. Even if I get it cleared off with in 5.2 minutes (yes that is actually how long it takes) it is full again. It is actually a step in the right direction that I am letting anyone other than family see a picture like this. Typically, I do a mad clean sweep before anyone comes over. Did I mention I don't like it when people drop by unexpectedly? :)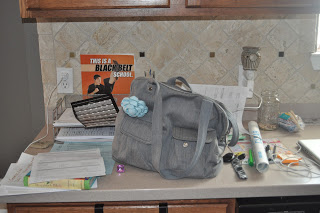 "Catch all" counter - BEFORE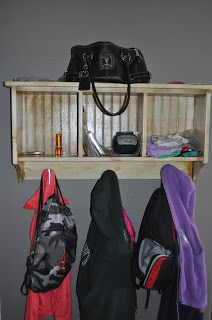 "Catch all" cubby with hooks - BEFORE (This typically looks much worse, but my husband and I recently cleaned it out)
As mentioned earlier, I only used supplies that I already had on hand.
2 plastic baskets
1 small standing divider
packing tape (for securing labels)
card stock
quart sized baggies (one of my favorite household supplies, I use them for everything)
I like to file our bills in quart sized baggies. I have found that it is a quick way to file and have everything together. I keep them in a basket inside a cabinet in our kitchen. We don't have a home office so this is the most practical place for us.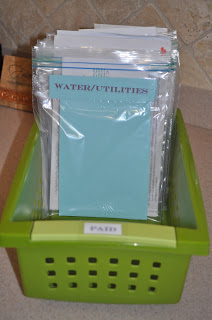 Now the paid bills are easy to file and access if needed.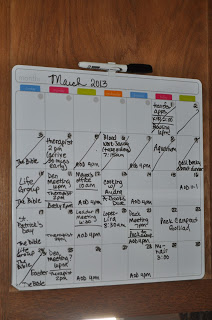 About a week ago I took our family calendar and moved it from the wall to the inside of a kitchen cabinet door. It has been a great change.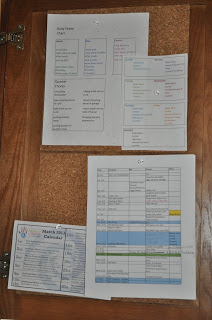 On the inside of the other door, I placed cork squares with Command strips. Here I keep our monthly menu, kids chores, my daily housework, and any other extra info.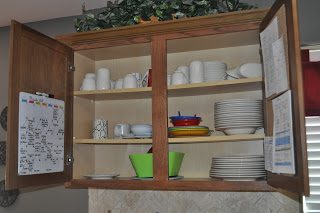 I typically would never show the inside of my cabinets but I really wanted to show how the calendar, menus, charts, etc. are tucked away.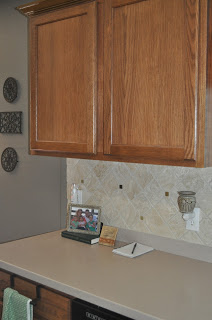 "Catch all" counter - AFTER
Isn't it beautiful!!! I was even able to add a small family picture to decorate. I also have a small spiral notebook and pen ready for any last minute to-do lists.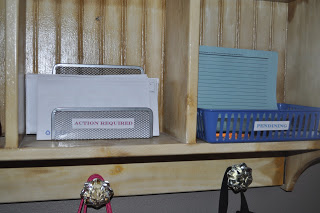 "Catch all" cubby - AFTER
The small standing divider is labeled ACTION REQUIRED (in red to get my attention). This will be designated for bills and any paperwork that needs immediate attention. The blue basket is labeled PENDING (for those items that you can't throw way or file but will need your attention in the near future.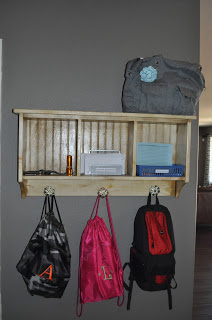 BEAUTIFUL!!!
Okay, so should we make bets as to how long I can keep it this way??? I am going to be optimistic and go for 5.5 minutes! Seriously, I am going to really try and keep it nice and tidy. :)
Time will only tell!
Elizabeth