Chicken Sizzlers!!! Chicken Sizzlers!!! Chicken Sizzlers!!!
Have I mentioned, my husband is a 3rd generation butcher? He works along side his father and brother at the family owned butcher shop, Moody's Quality Meats. It was opened almost 60 years ago by his grandfather. Needless to say, he is an amazing griller! One item that is always very popular at the meat market are the Moody's Chicken Sizzlers. Chicken, bacon, jalapenos all together on the grill, say no more! Here's the how to:
Chicken Sizzlers!!!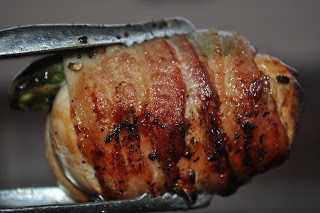 Ingredients:
Italian Dressing
Kikkoman Soy Sauce
6 chicken tenders
3 fresh jalapenos (halved, washed, seeded)
6 strips bacon (raw)
Black pepper
toothpicks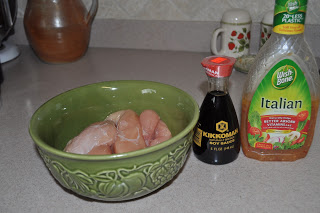 pour 1/2 of Italian dressing plus 3/4 soy sauce over chicken tenders
add approx. 1/2 cup water to thin mixture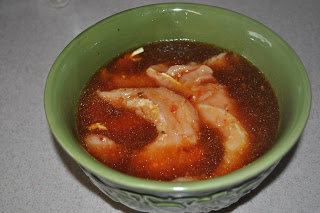 place in refrigerator for at least 2 hours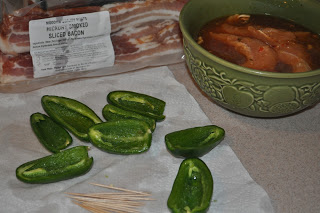 bacon, jalapenos, chicken tenders (after fridge), toothpicks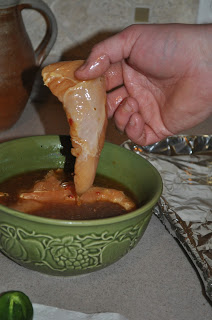 remove one chicken tender from bowl and fold in half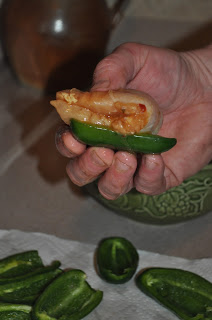 place folded tender on jalapeno
Let me make one thing very clear, these masculine hands are my husband's...not mine!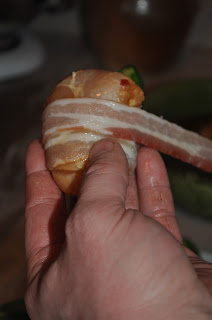 wrap tender and jalapeno with one piece of bacon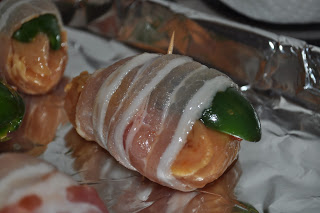 secure with a toothpick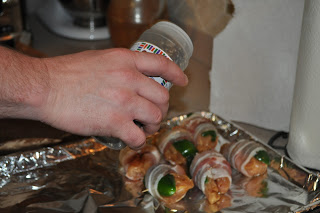 sprinkle with black pepper (we like to use cracked black pepper for a stronger taste)
Aren't they beautiful?! :)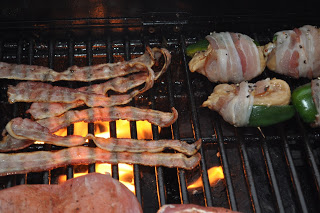 place on grill with a medium to high flame (sizzlers will take about 30 mins to cook depending on the thickness of the chicken tender)
We had some left over bacon and butterfly pork chops on the grill at the same time. I will discuss the pork chops in our next blog post.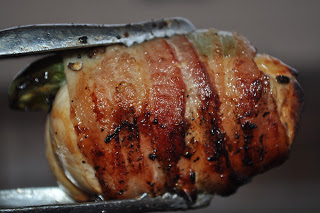 Talk about mouth watering!!! Yum, Yum!
With summer right around the corner, you will definitely want to add these to your grilling menu.
Happy sizzling!
Charlie and Elizabeth