Ok, so this post is not going to be very exciting. For my family members, it will not have pictures of my kiddos. It also does not have any yummy recipes. However, it is about the best educational game I have ever purchased. I think we can all agree that a game that is fun, easy, and educational is a major A+! About six or seven years ago I was invited to a Discovery Toys party. To be honest I really wasn't all that interested in going. I had heard that the toys were really expensive. I always like the items I see at home catalog parties but I always feel torn and stressed because of the sticker price. Plus you know the hostess is earning points, credits, etc. so you want to help her out but you don't want to break the bank! So by the end of the evening, I settled on Busy Bugs. I figured it looked somewhat useful and it wasn't too expensive. Years later, it is my all time favorite educational game. All three of my kids have learned how to sort, pattern, add, subtract, etc. with this game.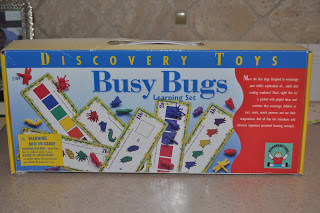 I am also impressed that we still have the box and all the pieces!!!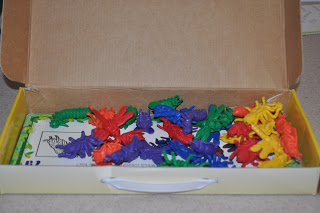 When you open the box you have a stack of cards and rubber bugs.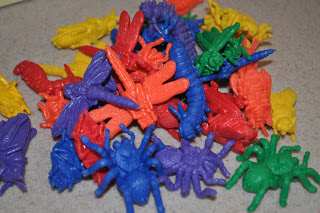 The bugs come in five different colors and types. As you can see the sorting possibilities are endless.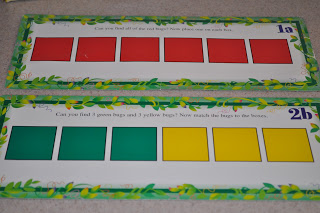 This is an example of the beginner cards. Younger children (toddlers) can practice matching one bug per square to match colors.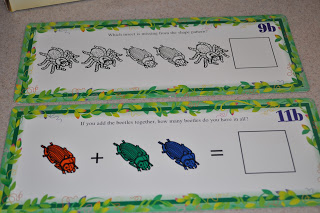 The cards get progressively more advanced.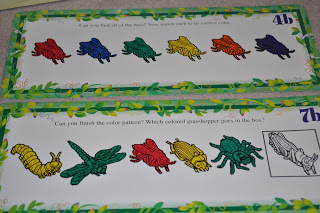 Yet another example of the different types of cards.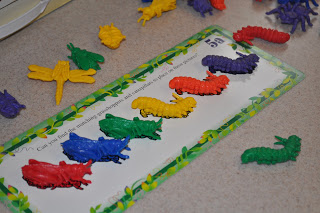 This will be a game I carefully put away in hopes to pull out for my grand kids, someday. I am not sure if Discovery Toys still carry Busy Bugs, but you could always use other objects and cards for the same idea.
Elizabeth