Grilled Pork Chops with Tangerine Marmalade Glaze
This morning I gave my husband instructions to bring something home that we could grill. Sometimes nothing sounds better than something...anything off the grill! I was nicely surprised to see butterfly pork chops (one of my favorites) and a new little jar of some that looked really good. He said it was a new marmalade that they are selling at the meat market. We both decided it would make a great glaze on the pork chops.
Ingredients needed:
4 butterfly pork chops
Moody's Special Seasoning (or your favorite grilling seasoning)
5 Tbsp. tangerine marmalade (orange marmalade would also be good)
1or 2 Tbsp. orange juice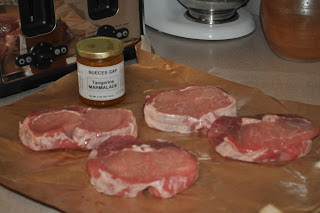 four butterfly pork chops and tangerine marmalade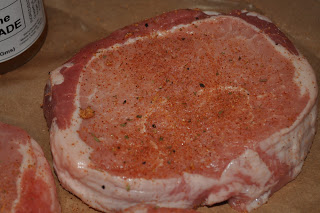 season pork chops with Moody's Special Seasoning (or your favorite grilling seasoning)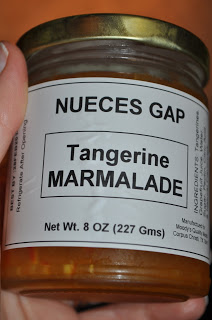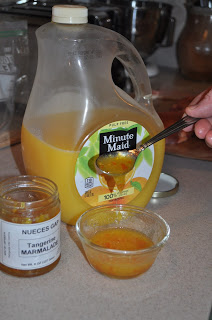 We decided to thin the marmalade with orange juice
(we used about 1-2 Tbsp.). After thinning, move the mixture to the side to use later.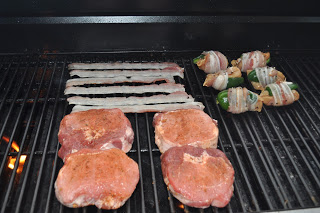 place seasoned pork chops on the grill over a medium flame (grilling time will depend on thickness of the pork chop)
* Chicken Sizzlers are shown at the top right corner of this picture
spoon the glaze over the pork chops toward the end of the grilling time
(glaze will burn if it is put on at the beginning)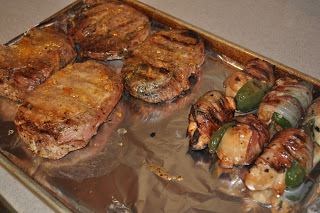 After the pork chops are finished, pour more glaze over the top or use as a dipping sauce on the side.
Happy grilling!
Charlie and Elizabeth