It is Saturday!!! I love Saturdays, the only day we get to sleep in! Wait! Halt! Forget that thought! It is soccer season and we are "lucky" enough to have all games starting at 8am (NOT)! That's right, all of my son's games start at 8am which means, Saturday is just another normal morning. YUCK! You know, wake up at "dark-thirty", drag yourself to the shower, put on the make-up, scratch that - just wash your face and brush your teeth (sweaty little soccer boys could care less about make-up), drag everyone else out of bed and play bathroom referee. YAY! I JUST LOVE SOCCER SEASON! Actually, I do love watching our son play but seriously, 8AM??? Last night I decided to be overly organized and get everything in place for our early morning departure. I even packed the car. Our morning went pretty smoothly. The kids had a couple of "sibling moments" but overall getting to the field was a success. The only hiccup was that we couldn't find our coach, who is always early. We found a couple of the other players from our team and soon learned (from a very annoyed team mom) that the game had been moved to 10am. WHAT?! We missed our one morning to relax and sleep in because of a change in schedule? Ugh! I instantly had a vision of my coffee cup and bathrobe waiting for me. Also, while my husband, mother, and I carried a ridiculous amount of folding chairs, bags, camera bags and snacks, my soccer son tripped and fell...in a huge patch of sticker burs. OH. MY. WORD! I have never seen so many sticker burs on one child. Luckily, they were still soft but they still sent him into a state of worry. The poor child was so panicked that I thought he was going to strip naked in the middle of the field! Once we got that little situation under control, we carried everything back to the car, only to do it again 90 minutes later. We came home, the kids vegged on the couch with cartoons, and I became a crazy, mad woman cleaning and getting multiple chores done. I kept telling myself, if I get everything done now I don't have to do anything this afternoon. It is amazing how I can self motivate! :) I had already prepared myself mentally that I could be flying solo with the new time slot. My husband had to go to work and I wasn't sure if my mom would be able to come back. I mentally started deleting things from our haul. I told the kids, if you want a chair to sit in, you have to carry it. If not, you are sitting on a blanket in the sticker burs. To no surprise, both boys opted for the sticker burs and blanket and my daughter was more than willing to carry her own chair. :)
The second attempt at the soccer game went so, so. We were obviously up against a very aggressive team. My son, who happens to be one of the tallest, was knocked down and rolled around over 6 times! It was rough and our little team was hurting. There were multiple boys in tears and wanting out of the game. Poor little guys, they were ready at 8am. I think the steam was gone when we had to return at a later time. Oh well, they still loved their snack at the end of the game. After all, when you are six years old, the most important part is the snack! :) AND, my sanity was nicely surprised when both my mom and husband made it back to the game.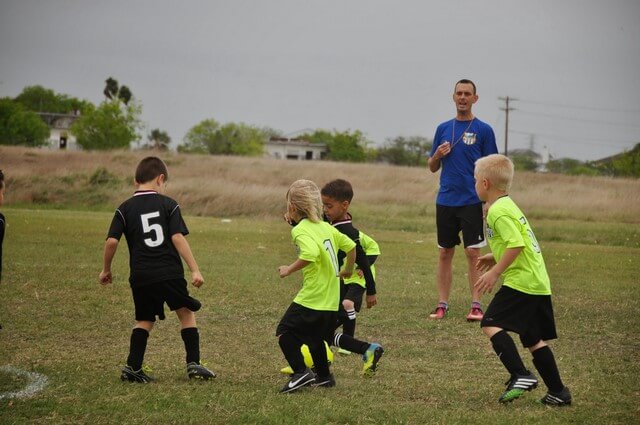 My son is the tall blonde on your right. Yes, the other team was so aggressive they knocked him over more than six times. My mom (like any good grandma) was certain it was on purpose! I must say, I kind of agree with her, but I am trying not to be a "soccer mom". :)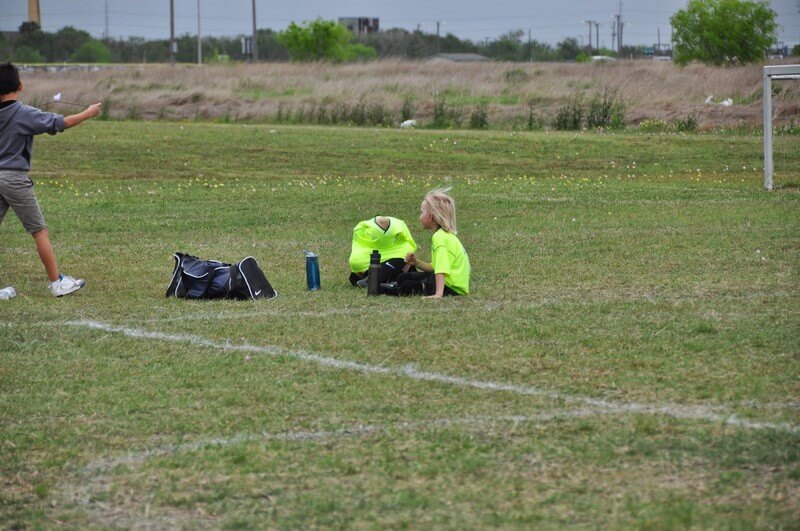 This would be my son during his break...the one that looks like a turtle with his head and arms tucked into his shirt. "Maybe if they don't see me, they won't run me over any more!"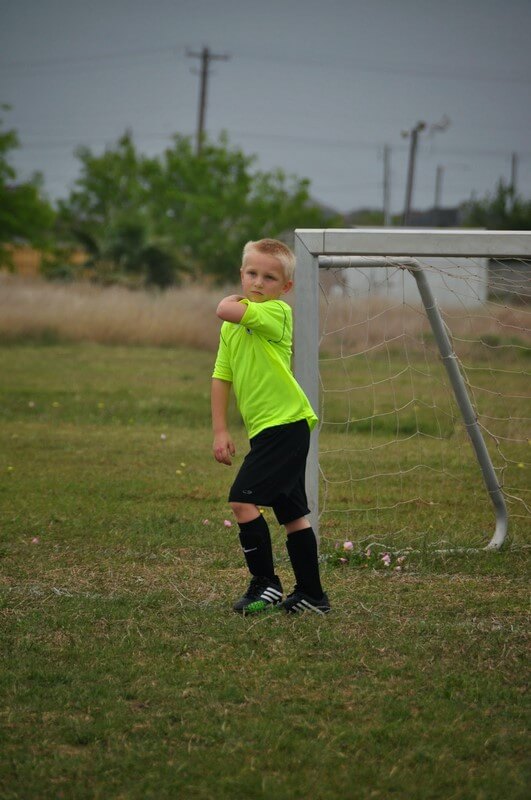 Not sure what is going on here, my oldest son was operating the camera at this point. He is probably trying to reach a left over sticker bur!
**On a side note. We adopted a new puppy last Sunday. Our dog, Lucy, needed a dog to play with so she would leave our 14 year old cat alone. Maggie (the cat) is much happier now that Lucy has her own dog (Ginger). :)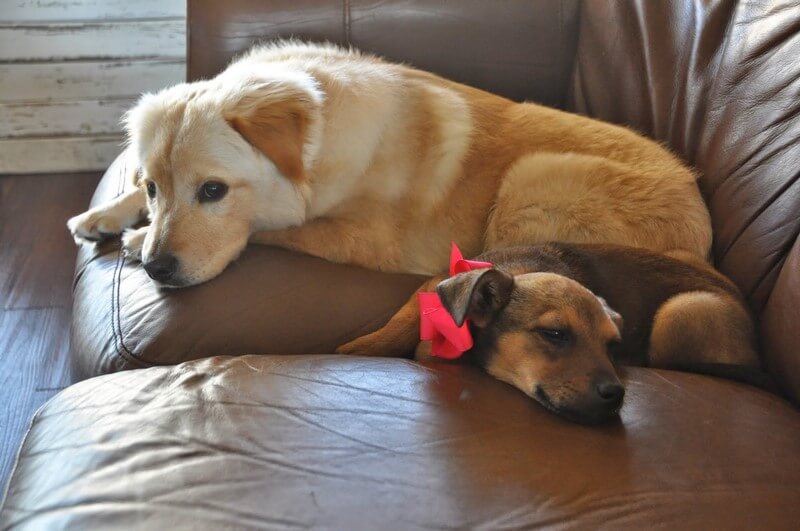 Puppies... :)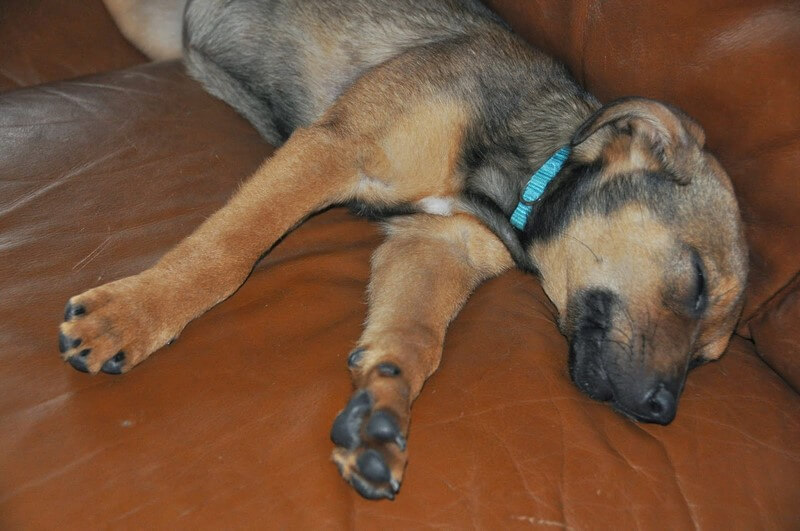 Ginger - 14 weeks old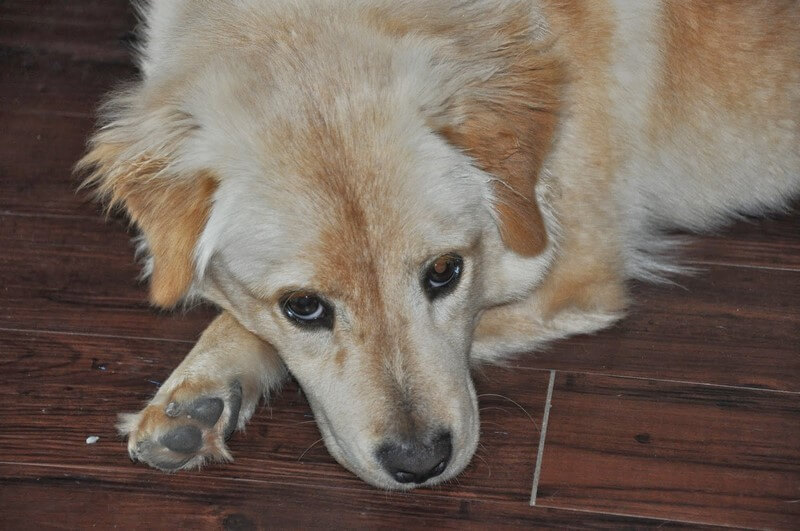 Lucy - 9 months old
Hope your Saturday started after the sun was up! :)